**This post is made in collaboration with Weber Grill.  All content, ideas, and words are my own.
Grilled Rib-Eye Steak with Mushrooms and Cauli-Mash with pools of au jus is this week's flavor bomb dinner in 30 minutes via Weber Grills new cookbook.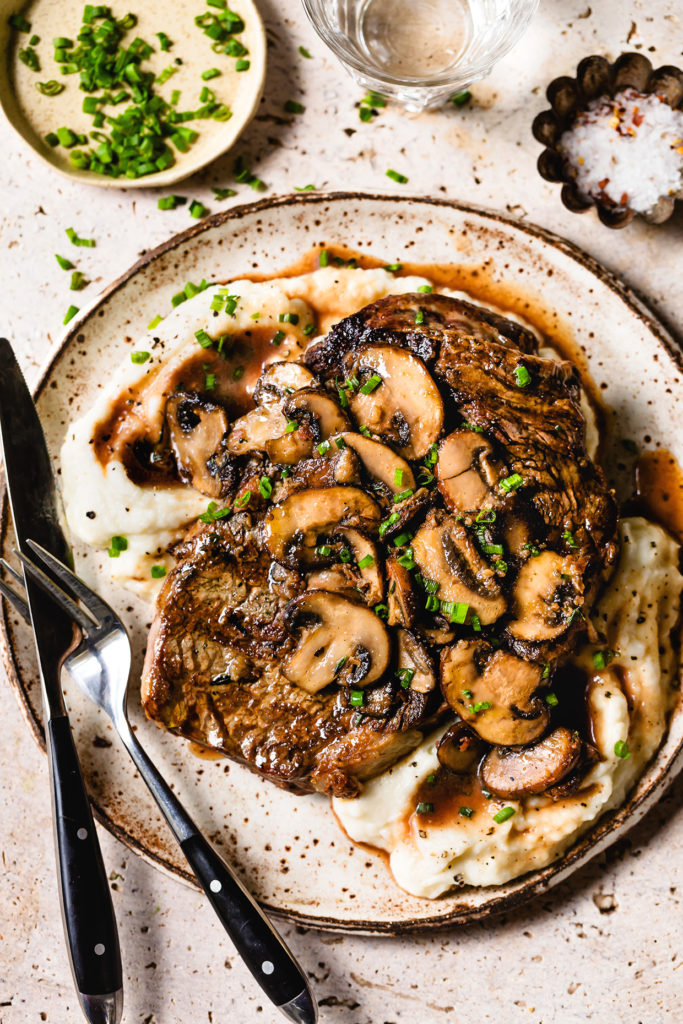 I love dinners like this—low prep, no-fuss and no kitchen to clean up afterwards. If you are a fan of meals like this, then you definitely want to pick up a copy of Weber Grills new cookbook, Weber's Ultimate Grilling, A Step-by-Step Guide to Barbecue Genius. It has 125 recipes, 200 techniques and tips and 750 photos. This is going to be your new go-to grilling book.
The author, James Purviance one of America's top grilling experts, shares some of his best recipes with step-by-step photos to go with it. The book is organized with chapters for proteins like: beef and lamb, pork, poultry, seafood; along with those, there are also chapters for: starters, vegetables & sides and desserts. Within each chapter are added notes for fun food science facts that explains the why of certain techniques to make you a better griller. There's even a "Flavor Bomb" spread that gives you several variations that will also inspire you to have fun and find your own riffs on some of the classic dishes like how to dress rib-eye steaks beyond the sautéed mushrooms you see here.
Trust me when I tell you, if you get one grilling book this is the one to get. It's a recipe and reference book in one. Once you buy the book, don't forget the grill. There are so many reasons why I'm a Weber Grill fan, but above all else—their grills are hands down the best made. They are purpose built, so every last detail has been considered, well thought out and designed to yield the best grilling results.
A few of my favorite features:
Patented tapered burners to ensure even heat distribution.
Precision control at any temperature, so perfect results are a foregone conclusion.
Porcelain-enameled, cast iron grates for the perfect sear.
If I haven't turned you into a Weber Grill fan yet, stay tuned because next up I'll be doing a recipe from their app and reviewing its features. Until then, get out there and get grilling!



Yield: Serves 4
Grilled Rib-Eye Steak with Mushrooms and Cauli-Mash
Ingredients
4 boneless rib-eye steaks, eahcabotu 12 ounces and 1 1/4 inches thick
4 teaspoons extra-virgin olive oil
1 1/2 teaspoons kosher salt
1 teaspoon ground black
Mushrooms
2 tablespoons extra-virgin olive oil
4 ounces pancetta, cut into 1/4-inch dice (about 2/3 cup)
12 ounces large cremini mushrooms cleaned, stem ends, trimmed ad sliced 1/2 thick
1 tablespoons capers, rinsed and drained
1 to large garlic cloves, minced or pushed through a press
1 teaspoon chopped fresh thyme leaves, or 1/2 teaspoon dried thyme
Kosher salt and ground black pepper
2 tablespoon chopped fresh chives
Instructions
To prevent flare-ups, trim the fat along the edge of each steak to no more than 1/4 inch. Rub both sides of each steak with the oil, then season evenly with the salt and pepper. Let the steaks stand at room temperature for 15 to 20 minutes to warm slightly. This step helps them cook more evenly.
meanwhile, prepare the grill for direct cooking over high heat (450 to 550 degree F). brush the cooking grates clean. Place a large cast-iron griddle or skillet over direct heat on half the grill, close the lid, and preheat for 10 to 15 minutes.
Grill the steaks on the grates over direct high heat, with the lid closed, until they have nice grill marks and are cooked medium rare (125 degree F), 6 to 8 minutes, turning once or twice. Transfer the steaks to a platter and let rest while you prepare the mushrooms.
While grilling the steaks, if a flare-up occurs that lasts longer than a few seconds, slide the steaks, to a cool section of the grill and wait for the fire to burn down before moving the back.
Add the oil and pancetta to the griddle and cook until the pancetta is lightly browned, 1 to 2 minutes, stirring occasionally. Add the mushrooms, spreading them out in an even layer, and cook, with the lid closed as much as possible, until seared golden brown and tender 6 to 8 minutes, stirring occasionally.
Add the capers, garlic and thyme and stir until the garlic is fragrant, 30 to 60 seconds. Remove from the heat. Season to taste with salt and pepper if needed. Divide the steaks among four servings plates and top with the mushroom mixture. Drizzle with any accumulated juices from the platter. Garnish with the parsley and serve.