Grilled Pork Banh Mi ~ This classic Vietnamese sandwich is a staple in my family. It's built on a crisp French baguette and layered with sweet, umami flavored grilled pork slices and topped with crunchy pickled vegetables for a contrast in flavor and texture. Of course, don't forget the jalapeños and cilantro to finish the ensemble.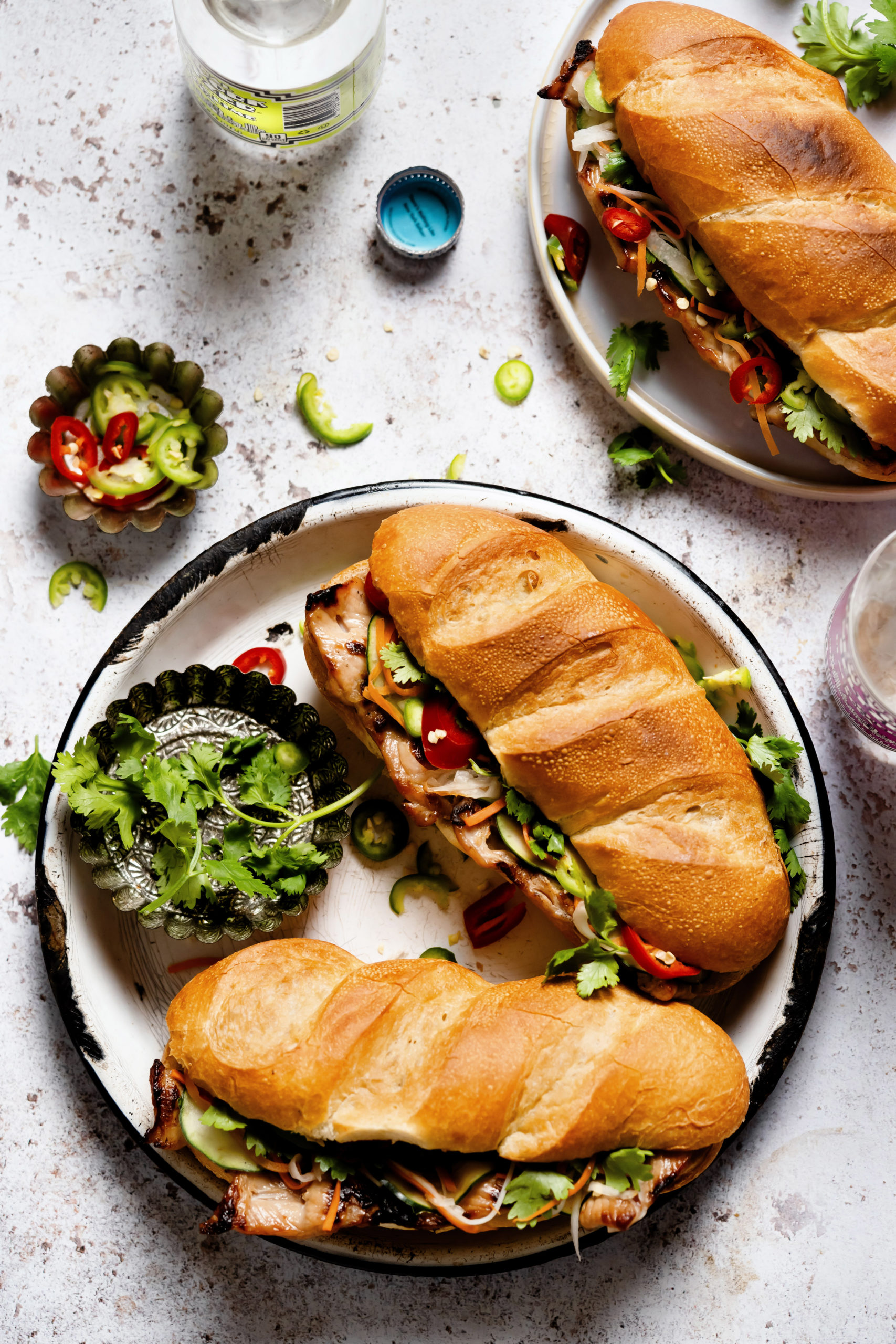 **This is a sponsored post in collaboration with National Pork Board. All thoughts and opinions are my own.
I am stretching summer out as long as possible and turning all my favorites into grilling classics.
Naomi introduced me to this homemade version when we first met. Since then, we've made all kinds of banh mi variations, but this pork version is my favorite—especially for summer when you need a recipe that delivers but doesn't take a long time to make.
I'm here to tell you, pork is easy and simple to grill! This recipe grills fast and requires a just a few flips of the skewer to reach the correct doneness of 145 degrees F. It's a weeknight dinner that you can easily pull off. Here's to more weekday grilling and a taste of Asia.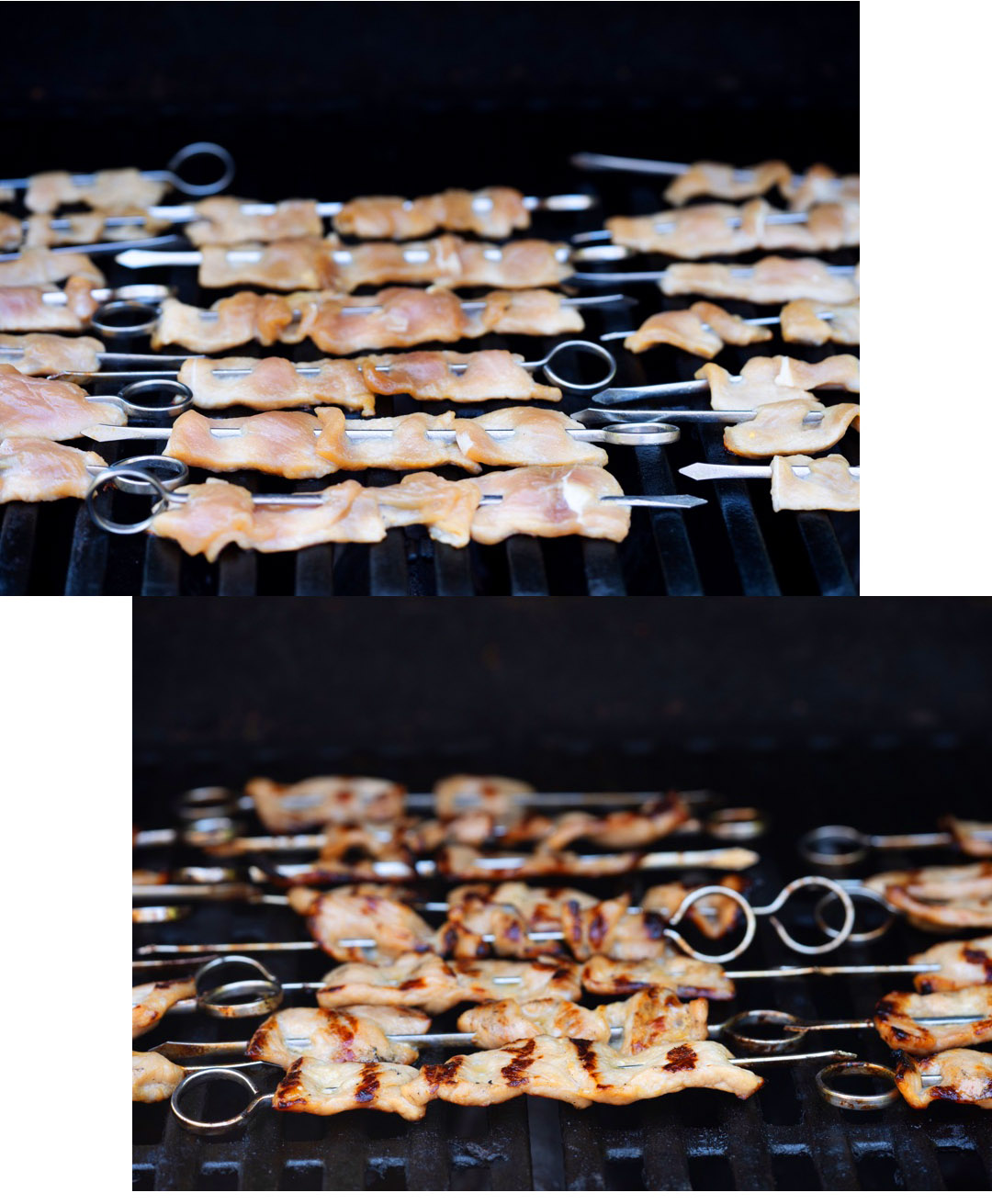 Naomi and I, plus the boys, were planning a trip through South East Asia, but since travel isn't quite back to normal that's on hold. Instead, this summer we've settled on tasting our way through it. Stay tune because up next I'll be sharing another Asian inspired pork recipe—the perfect vehicle to highlight the flavor and seasonings of some Korean Bulgogi.
For now, head over to pork.org for more recipes.
Yield: Serves 4
Grilled Pork Banh Mi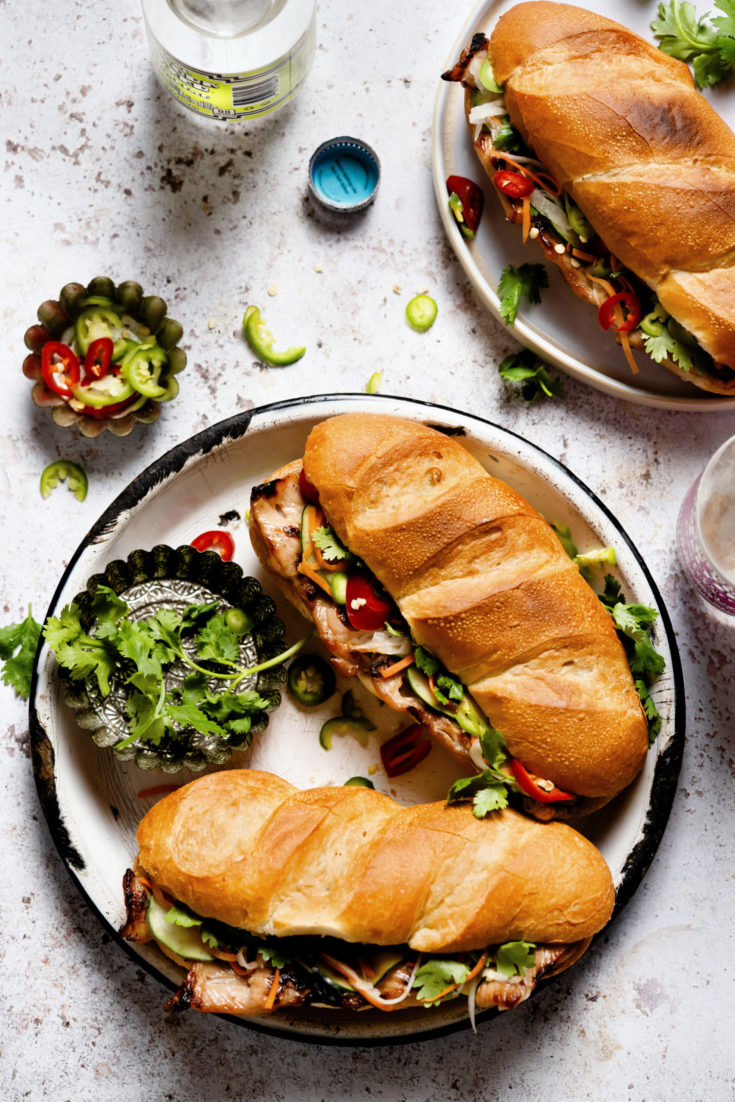 Ingredients
¥ 1 lb. pork loin, sliced 1/4-inch thickness
¥ 2 large garlic gloves
¥ 1 shallot
¥ 1 tablespoon dark brown sugar
¥ 1 tablespoon fish sauce
¥ 1 tablespoon Mirin
¥ 1 tablespoon light soy sauce
¥ 2 tablespoon canola oil
¥ 4 French Rolls, halved horizontally
¥ 1 cup pickled Vietnamese slaw (**recipe follows)
¥ 4 tablespoons mayonnaise
¥ 4 tablespoons butter, softened
¥ 1 zucchini, sliced thin
¥ 6 to 8 cilantro sprigs
4 jalapeños, sliced
Instructions
To make the pork: In a mortar and pestle crush the garlic
and shallots to a paste. Transfer to medium size bowl and add in brown sugar, fish sauce, Mirin, soy sauce and canola oil. Whisk to combine. Add the pork and make sure each slice is well coated. Cover with plastic wrap and marinate for at least an hour or overnight.

Thread pork on skewers for easy grilling. Grill pork over
medium high heat for 5-7 minutes or until pork is slightly charred, make sure to turn skewers frequently. The pork is safe to eat once it reaches an internal temperature of 145 degrees F.

To assemble sandwich: Split bread length-wise. Spread about 1 tablespoon (or more to taste) of butter and mayonnaise on one side. Fill sandwich with pork, zucchini pickled slaw, cilantro and jalapeños. Serve immediately.

**To make the pickled slaw: In medium [JD1] saucepan,
over high heat, bring 1/4 cup distilled vinegar, 1/4 sweet rice vinegar, 1/4 sugar and 1/2 cup water to a boil. Transfer to a large shallow bowl and add in 1/2 cup julienned match-like strips of carrots and daikon with 1 teaspoon kosher salt. Stir to blend. Set aside for 30 minutes then drain.