Summer is king in my home. There are few things I enjoy more than barbecuing and sitting poolside or beachside—well, of course, there might be one thing more —Father's Day.
This year to celebrate, I'll be gathering the dads in my life for a casual picnic where I'll be grilling chicken kabobs and cocktails. Yup. Cocktails. Grilled. It's a must. Sure you could skip the grilling, but then you would be missing out on the sweet charred flavor that it adds to this Caipiroska, the vodka version of a Caipirinha.
For this version, I went with a sweet and spicy kick of grilled pineapples and jalapeños. Sure you can skip grilling the two. But you would be missing out on the concentrated flavor and added sweetness of grilled pineapples and the smokiness of charred jalapeños. Grilling the fruit coaxes all the flavors to the surface by caramelizing the natural sugar in it. So trust me on this-grill, baby, grill!
Of course if spicy cocktails aren't your thing, swap the jalapeño out for basil. And if you find the pineapple is too sweet, reach for some citrus to tone down the sweetness. Whatever variation you go for, don't forget Hangar 1 Straight Vodka. A premium vodka that's made from fresh picked ingredients, ensuring the best quality to elevate your cocktail from good to great.
When it comes to the the food, I kept it simple with some chicken kabobs, a salad, cheese plate and some hummus dip. This way we can graze while catching up. It's low-key, informal and exactly how I want a Father's Day gathering to be.
Fire up the grill and cheers to all the dads in your life this June 19th.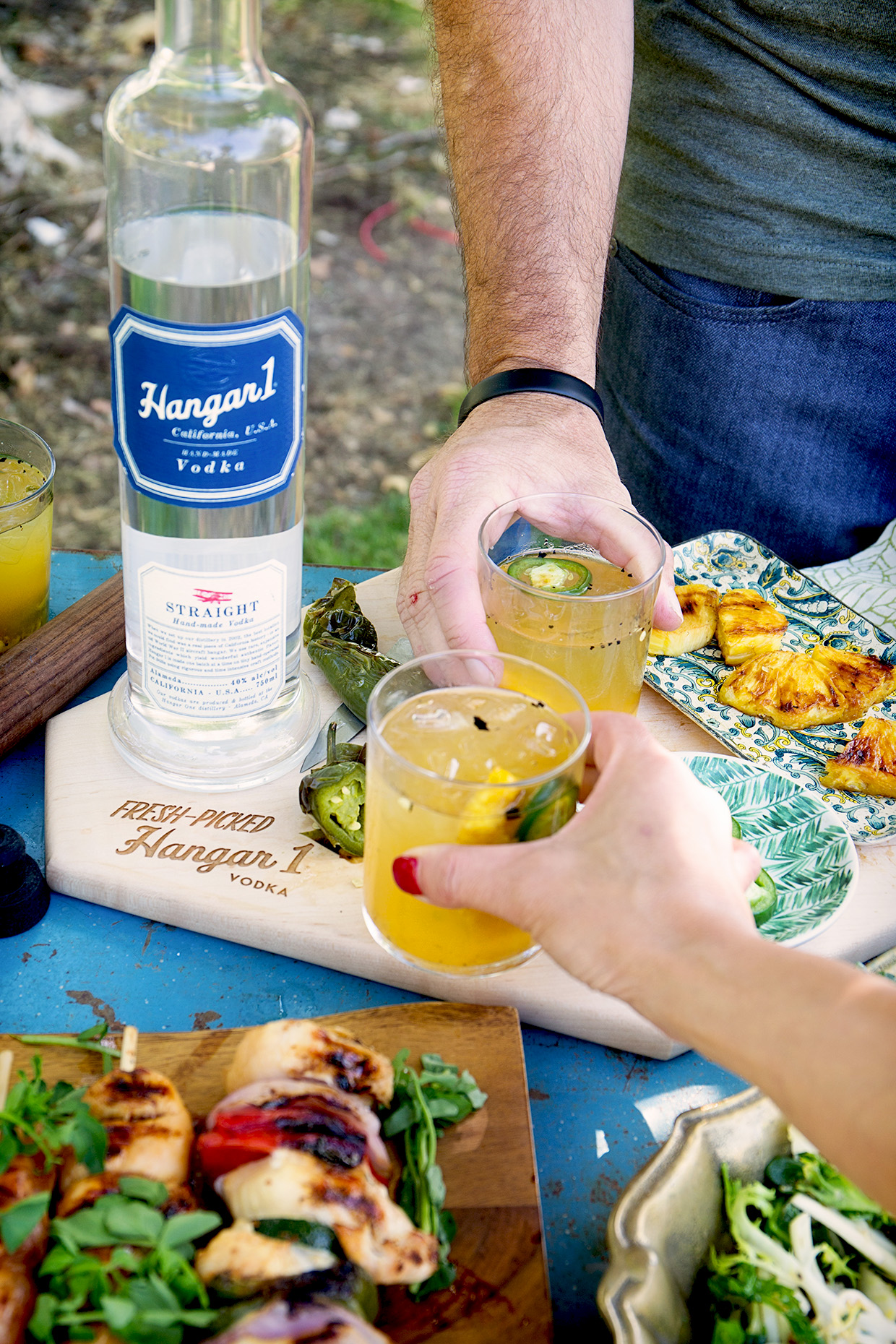 This post was created in partnership with Hangar 1 Vodka  


Yield: 1 cocktail
Grilled Pineapple and Jalapeno Caipiroska
Ingredients
• 2 oz. Hangar 1 Straight Vodka
• 3 oz grilled pineapple
• 1 oz. grilled jalapeño
• 1 oz sugar
Instructions
In a cocktail shaker, muddle pineapple, jalapeno and sugar. Add vodka, shake. Pour into ice filled glasses. Garnish with a slice of grilled pineapple and some jalapeño. Serve immediately