Grilled Pimento Cheese and Ham Melt ~ Your grilled cheese sandwich just got a mega upgrade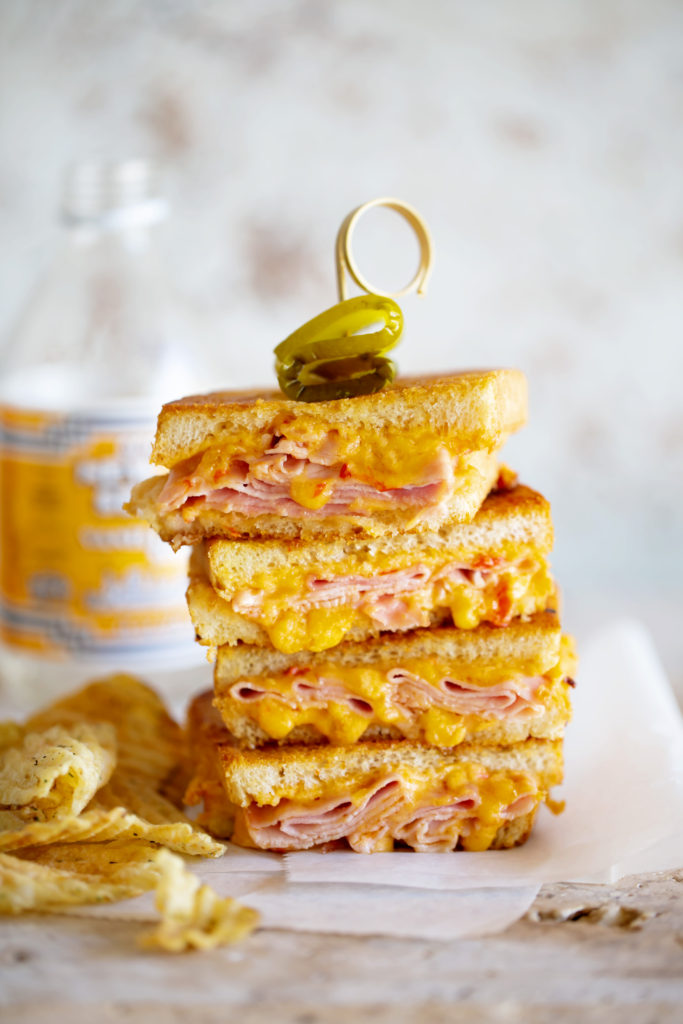 Calling all pimento cheese lovers, this one is for you. I should be admit pimento cheese is a new thing for me. Yes, I grew up a very picky eater, so this isn't something that was on my radar or my plate. It's is new to me. I discovered it last time I was in Nashville and have since introduced it to me kids. The little guy loves while the other won't touch it they are mayonnaise adverse.
I can't win them over on everything, so I'll take what I can get. In this instance it was just me, Naomi and the little guy who enjoyed this Grilled Pimento Cheese and Ham Melt. The original recipe is from Serious Eats. I didn't mess too much with it. In fact that only thing I did was omit the homemade pickles in the sandwich for jar pickles served on top.


Yield: Makes 4 sandwiches
Grilled Pimento Cheese and Ham Melt
Ingredients
4 tablespoons mayonnaise
2 teaspoons dry mustard
1/8 teaspoon cayenne pepper
2 cups (8 ounces) extra-sharp orange cheddar cheese, finely grated
4 ounces cream cheese, softened
2/3 cup drained jarred or canned piquillo peppers, finely chopped
1 tablespoon Worcestershire sauce
Salt and pepper
Instructions
To make pimento cheese - In a small skillet, melt 2 tablespoons mayonnaise over medium heat. Add onion, dry mustard, and cayenne, cook and stir until onion is softened, about 3 minutes. Remove pan from heat and transfer mixture to large bowl and cool to room temperature, about 5 minutes.
Once cooled, add cheddar cheese, cream cheese, peppers, Worcestershire, and remaining 2 tablespoons mayonnaise to bowl and stir to thoroughly combine. Season to taste with salt and pepper.
Pimento cheese can be made up to 1 week ahead. Cover and store in the refrigerator. Bring the spread to room temperature prior to using in this recipe or serving.
To assemble: Brush one side of each slice of bread with melted butter. Place unbuttered side up and spread 1/4 cup of pimento cheese on top. Layer with 3 slices ham and remaining 4 slices of bread.
Heat large skillet or griddle over medium heat. Cook sandwiches until golden and beginning to ooze cheese, 2 to 3 minutes per side. Transfer sandwiches to cooling rack and allow to rest 2 minutes before cutting in half. Alternatively, place sandwiches in an airfryer and cook until golden brown on each side, about 3-4 minutes per side.