Admittedly, I'm not much for salad. Generally they are too light, and often times it's hard on my stomach. But throw some hearty meat in there like grilled lamb sliced paper-thin and I'll take it all with some crunch—gotta have the crunch, because crisp lettuce is just not enough texture.
I know it's untraditional to throw tortillas strips in a Mediterranean-like bowl but I'm taking some liberties and mixing things up.
That's how I like it in my home. Lamb doesn't always have to be straight up Greek or Mediterranean style. In fact, I'm always on the hunt for new ways to serve it, especially since it's a lean meat with only 175 calories per a 3-ounce serving (the FDA definition for lean) and it's packed with protein. And yes, while I'm not on a "healthy" diet, I do like to eat well between the not-so healthy indulgences, so lamb's nutrient rich meat gives that added source of vitamin B12, niacin, zinc and selenium, balances it all out.
And for this grilled lamb recipe, you can serve it on some salad like I did here to get your greens in, or serve it over some rice, quinoa, or anything you prefer. Grilled lamb goes with just about anything, so get creative and find your healthy bites in lamb! For more inspiration and recipe ideas, check out Lean on Lamb.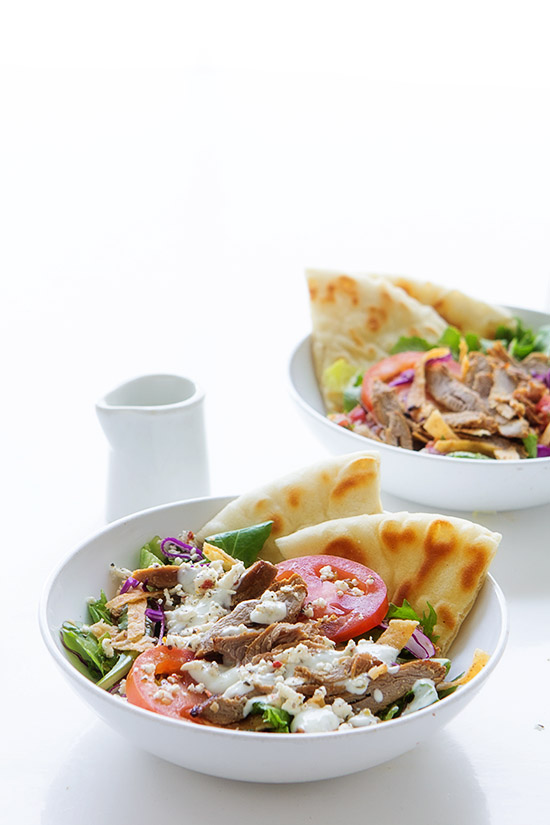 Yield: 4
Grilled Lamb Salad Bowls
Ingredients
3-4 lbs leg of lamb, de-boned and butterflied
1/2 cup extra virgin olive oil
3/4 cup lemon juice (about 2 lemons),
2 tablespoons lemon zest (about 2 lemons)
2 tablespoons red wine vinegar
3 tablespoons chopped fresh rosemary
3 tablespoons chopped fresh oregano
3 cloves of garlic, minced
2 teaspoons kosher salt
Serve with
Tzatziki Sauce (homemade recipe follows)
1 4 oz. mixed greens bag
1 cup tortilla chip strips
3-4 roma tomatoes, sliced
Instructions
To grill the meat:.In a large bowl, whisk together the marinade ingredients. Place it in plastic bag with the meat and set it aside in the refrigerator for at least three hours or overnight.
Remove it from the refrigerator 30 minutes prior to grilling to bring it to room temperature. Bring grill to medium heat. Place lamb on grill and cook until meat is at 130 degrees F, making sure to turn frequently. Remove meat from grill and set aside to rest before slicing. Once the meat has rested for about 10 minutes, slice to preferred thinness.
To serve: Toss mixed greens with tortilla chip strips and tomatoes. Divide salad mixture among 4 bowls and layer with sliced lamb, Tzatziki sauce. Optional: Serve with Feta cheese and pita wedges.
HomemadeTzatziki Sauce - Ingredients: 8 oz container of plain Greek yogurt; 2 teaspoons lemon juice; 2 teaspoons fresh dill; 1 teaspoon kosher salt, or to taste. Instructions:: Chop cucumber and toss in kosher salt. Place in a colander and set aside for 30-60 minutes to draw out excess moisture (this will prevent the sauce from being too thin). Place remaining ingredients in a blender or food processor and pulse until liquefied.

This is a sponsored post in partnership with The Tri-Lamb Group; however all opinions are my own. Thank you for supporting the brands that help make running this site possible.