Grilled Chophouse Ribeye Pork Chops with Grilled Potato Salad ~ Life is busy, so dinners should be easy. That's why I'm all about AdapTable Meals.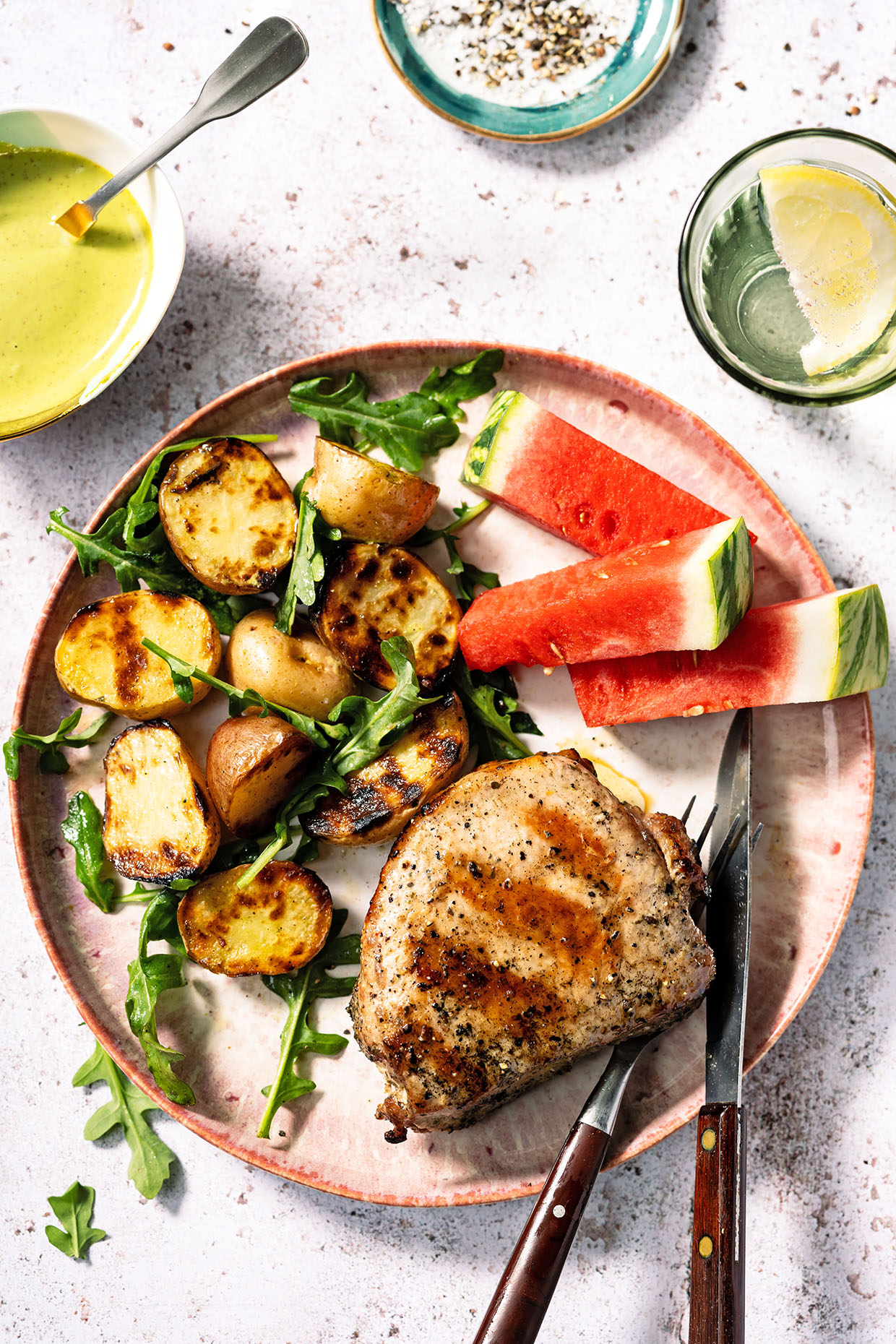 AdapTable Meals makes real food, real fast a reality. The meats are pre-seasoned with all-natural ingredients, so you can move from package to plate quickly and easily.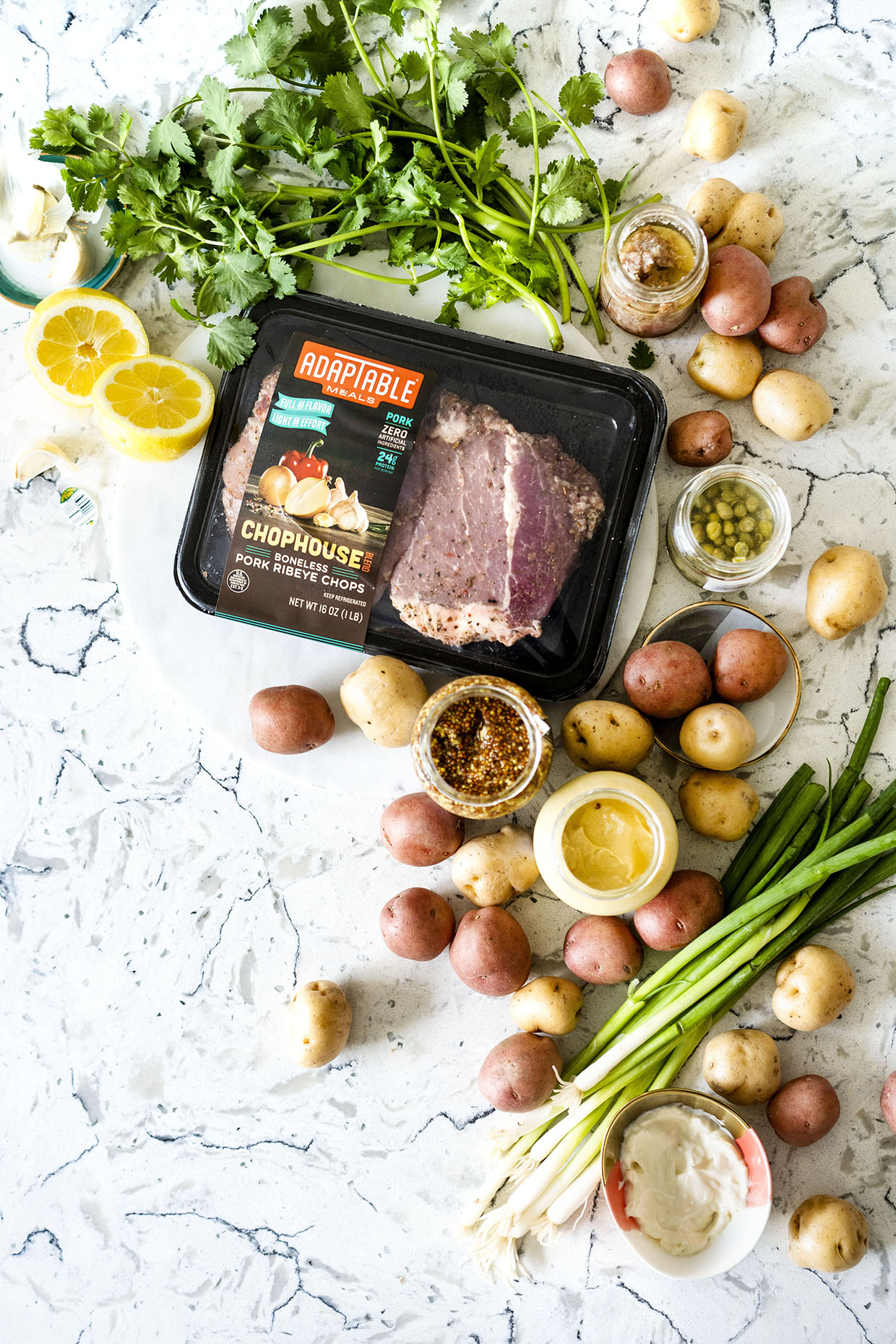 If you are like me, you're always looking for fresh and easy ways to feed your family. This meal idea hits all the buckets. With summer coming up, meals look a lot like what you see here—grilled.
Here's the low-down on the menu:
Easy does it:
Grab some Adaptable Meals meat because it's preseasoned, which means no fussing with meat prep. To further minimize prep and clean up, grill what you can to avoid kitchen messes. You can also grill the potatoes in a grilling basket next to the pork chops to cut down on time. If you plan ahead and make the dressing for the potato and arugula salad ahead of time, you can have dinner done in less than 25 minutes.
Keep it fresh:
Another reason you'll want to reach for AdapTable Meals meats is that the preseasoned ingredients are made with zero artificial flavors. It's convenience without sacrificing quality. Pair your meat with some greens and an easy-to-grill (or cook) starch like potatoes. –And as odd as it may sound, I almost always serve fruit with dinner, because it's a good palate cleanser between bites. In this case, the watermelon can even be grilled, but my kids like their watermelon cold and crisp.

To get started on this meal, below are a few answers to questions you may have:
Where can I find AdapTable Meals?
The easiest way is to head to adaptablemeals.com and use the store locator.
What's the best way to prepare AdapTable Meals Chophouse Blend Pork Ribeye Chops?
You can pan cook the meat or use the grill as seen in this post. To pan cook, heat 1 tablespoon of oil in a skillet on medium-high. Make sure the pan is screaming hot, then add the meat and sear until it's brown and a crust forms. Next lower the heat and cover the pan with a lid. Cook on medium low until the meat reaches 145 degrees F, about 5-7 minutes on each side. Remove from heat and let rest for 3 minutes prior to serving. For the grilling instructions, see below for the recipe card.
What is the food-safe temperature for pork?
Pork should always be cooked until it reaches 145 degrees F on a meat thermometer.
What's the best way to prep my AdapTable Meals meat?
All cuts come preseasoned with 100% natural ingredients, so prep is not needed.
Now that you are in the know, let's talk giveaway! That's right, I'm sharing an AdapTable giveway on my Instagram. Click through this link to see how you can win $100 worth of AdapTable Meals products to kick start your grilling season!
Yield: Serves 6
Grilled Chophouse Ribeye Steak
Ingredients
3 AdapTable Meals Chophouse Blend Pork Ribeye Chops
1 1/2 lbs. fingerling potatoes
2 cups arugula
1 ½ to 2 cups of Scallion & Mustard Dressing (*recipe follows)
Instructions
Place the potatoes in a large saucepan, cover with water and bring to a boil. Add a generous pinch of salt, lower heat and let potatoes simmer for about 15 minutes. Drain and set aside to cool. Once potatoes are cool enough to handle, halve potatoes lengthwise then lightly toss in oil and place in a grilling basket.

Prepare the grill for direct cooking over medium heat (350° to 450°F). Brush the cooking grates clean then lightly brush the grates with oil where the chops will go.

Place the potato-filled grilling basket on the un-oiled side and the chops on the oiled side.

Grill with the lid closed, making sure to turn the chops once or twice. Chops are ready when an instant-read meat thermometer inserted into the center of the pork chop registers 145°F, about 8 to 10 minutes. Remove from the grill and let rest for 3 to 5 minutes.

Toss potatoes and arugula salad with dressing. Plate alongside pork chop with fruit.

*Scallion & Mustard Dressing ~ Place 8 scallions (pale and dark green parts only), 3 tablespoons cilantro, 2 jalapenos (seeded), 1/2 cup olive oil, 3 tablespoons water, 2 tablespoons white wine vinegar, 2 teaspoons lemon juice, 1 teaspoon honey, 1 tablespoon mayonnaise, 1 tablespoon Dijon mustard, 1 tablespoon whole grain mustard, 1 tablespoon anchovy (about 1 ½ anchovy filet), 1 tablespoon capers in a blender and process until smooth. Season with salt and pepper to taste.