*This is a sponsored post in collaboration with the Mango Board. All thoughts and opinions are my own.*
Like many of you, finding time to make dinner is always a challenge. No matter how I plan the day, it always seems that 5:30 comes around faster than I can scream noooo! That's why delicious and easy recipes like this Grilled Chicken Kabob with a Mango Tahini Sauce is a life-saver. It takes less than 30 minutes from start to finish.
I do a lot of chicken around here, so finding ways to mix up is key. Meet my latest obsession – mango tahini sauce! It's incredibly easy to throw together and goes great with this recipe and so many others. The biggest plus to the recipe is: (1) I can make it spicy or mild by adding in Sriracha, jalapeño jam, or any hot sauce – take your pick and (2) mangos are a year-round fruit  so you'll be able to easily source them from almost anywhere. If I did have to pick one of my favorite recipes of the season, this would be it!
And since I like to serve this recipe with fresh spears of mango, here are a few tips when selecting and prepping mangos:
• Ripe mangos are indicated by feel, not color, because every variety looks a bit different and can have various combinations of yellow, green or red colored skin. To tell if your mango is ripe, gently squeeze it. A ripe mango will give slightly and sometimes have a fruity aroma. Mangos continue to ripen after harvesting, so if your mango isn't quite ready yet, don't worry! Mangos ripen at room temperature and to speed up the ripening process you can place it in a brown bag.
• To cut mangos, start by finding the stem. The long, flat seed runs from stem to nose. Cut around the seed by making two cuts on either side of the stem. Finish by dicing or slicing and scooping out the flesh. Learn how to perfect your mango cutting technique by clicking here.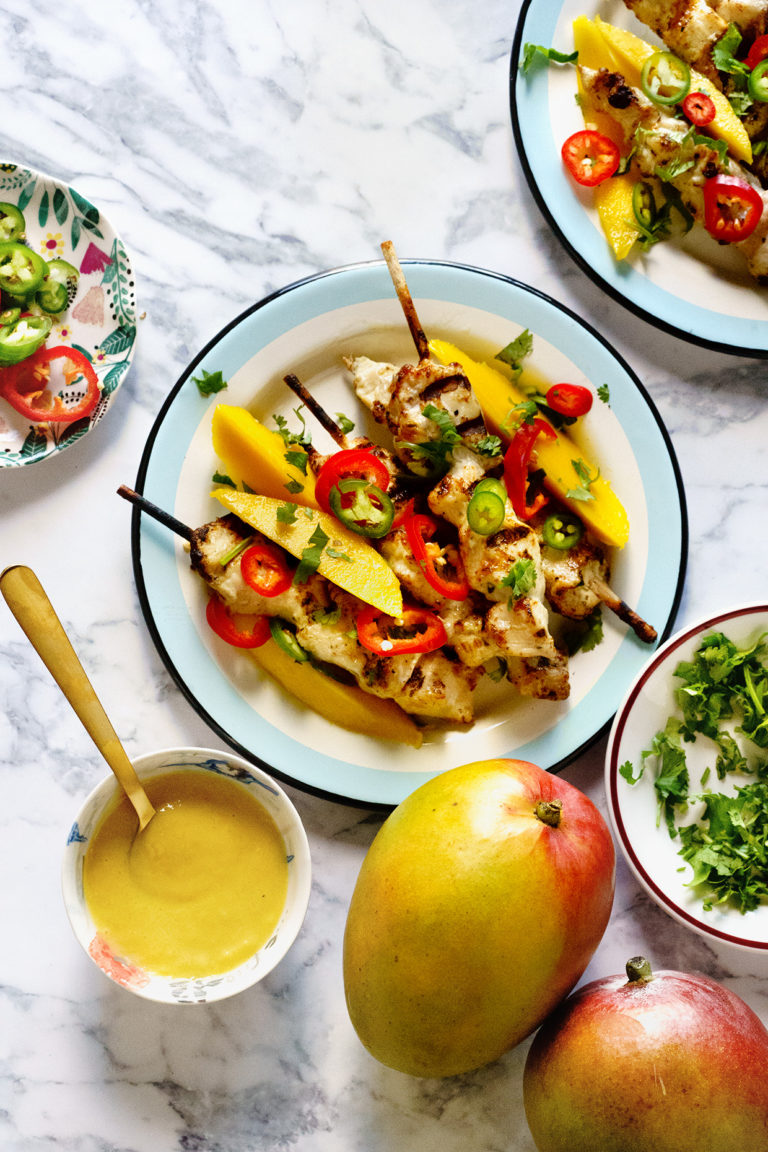 Mangos are a top-five fruit in my home. My boys go through them just about as fast as they go through cereal. They like it straight-up, in salads, as a base for smoothies or puréed and turned into pops. I love it because along with all those things, mangos are a great source of vitamin C and A. One cup of mango provides 100% of your vitamin C daily and the vitamin A is important for immune function and skin health.
Who can say no to all those benefits or to this fast and easy weeknight meal, right?


Yield: Serves 4
Grilled Chicken with Mango and Tahini Sauce
Ingredients
Grilled Chicken Kabobs
1 stalk lemongrass, roughly chopped
2 tablespoons vegetable oil
2 tablespoons fish sauce
2 light brown sugar
1 tablespoon freshly squeezed lime juice from 1 lime
1 tablespoon soy sauce
2 teaspoons freshly minced garlic (about 2 medium cloves)
1 pound skinless, boneless chicken breasts, sliced into ½-inch strips lengthwise
Bamboo skewers, soaked in water for 30 minutes prior to use
Mango Tahini Sauce
2 fresh whole mangos
2 tablespoons tahini
1 garlic clove
1 tablespoon toasted sesame oil
1 tablespoon rice vinegar
1/2 teaspoon fresh grated ginger
Instructions
To make chicken:
In a bowl, vigorously whisk together lemongrass, oil, fish sauce, sugar, lime juice, soy sauce and garlic until smooth and well combined. Alternately, blend everything in a blender on high for 30 seconds.
Pour marinade in a re-sealable plastic bag and add the chicken. Transfer bag to refrigerator and marinate for 1 to 2 hours, turning bag occasionally to marinate evenly.
Remove chicken from the marinade and thread onto wooden skewers.
Turn grill on to high, close the lid and let heat for 10 minutes. Open lid and turn heat down to medium high.
Grill the chicken until browned on both sides and cooked through, about three minutes per side.
To make Mango Tahini Sauce:
Place all ingredients in a blender or food processor and process until smooth.
Serve grilled chicken kabobs with fresh mango spears and mango tahini sauce. Optional: garnish with cilantro, red jalapeños and Thai chilies.