I realize it's January and not everyone wants copious amounts of bacon, cheese, waffles, tater tots—you know, the usual suspects that make frequent appearances here.
With that in mind, I decided a more "lean" option is a must for some when it comes to game day eats. Yeah, as promised, I'm still on my Super Bowl food week, so let's do this Grilled Chicken Pesto Melt.
It's super easy and something you can throw together during half time, especially if you grill your chicken ahead of time. From there, layer that lean cut of meat between White Bread Done Right from Dave's Killer Bread and then spread pesto on it and give it a slice of cheese. Give it a quick cook in a pan, or on a griddle if you are serving a crowd – and done!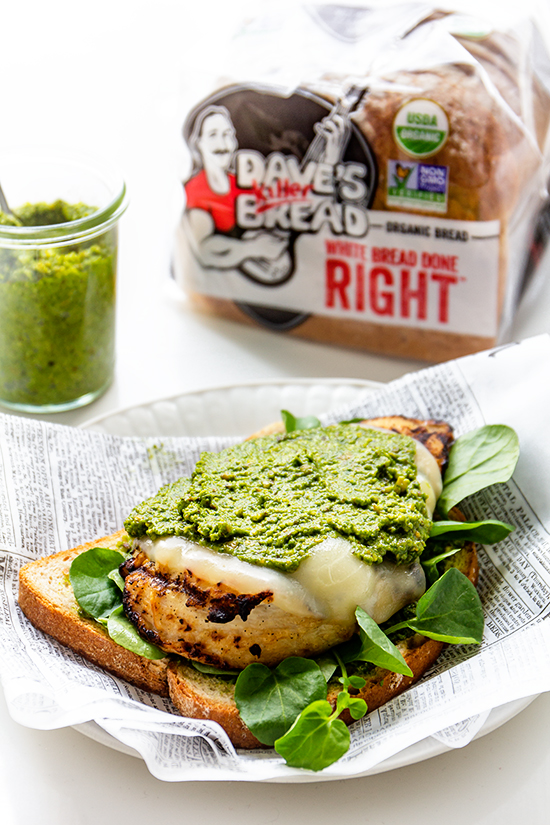 Yield: Makes 1 sandwich
Grilled Chicken Pesto Melt
Ingredients
2 slices Dave's Killer Bread White Bread Done Bread
1 tablespoon butter
1 grilled chicken breast
2 tablespoons pesto
1-2 slices of Fontina (or your preferred cheese)
Instructions
Heat medium size pan over low heat. Assemble sandwich by evenly buttering each slice of bread. on the opposite side of each slice spread pesto. Place one slice of bread, buttered side down into warm pan. Layer with chicken and cheese. Turn heat up to medium. Cook until bread is brown and crispy, about 2-4 minutes. Flip sandwich and cook until just browned. Place a bowl on top to cover sandwich and cook for another minute or so to melt cheese.
This conversation is sponsored by Dave's Killer Bread. All opinions and text are my own.