**This is a sponsored post in collaboration with Knorr Selects.
Baseball season has officially come to a close in our home, and while I know I will miss it, I am enjoying the last couple of days. Immensely. Not waking up in the middle of the night thinking about practice or a game strategy, lugging baseball equipment to and from games, and the in-game stress of trying to put the right boys in the right position at the right time to give us the best chance to win. It's exhausting. And while I love it, I'm so excited for a break. So, summer has officially begun here and I couldn't be happier about that.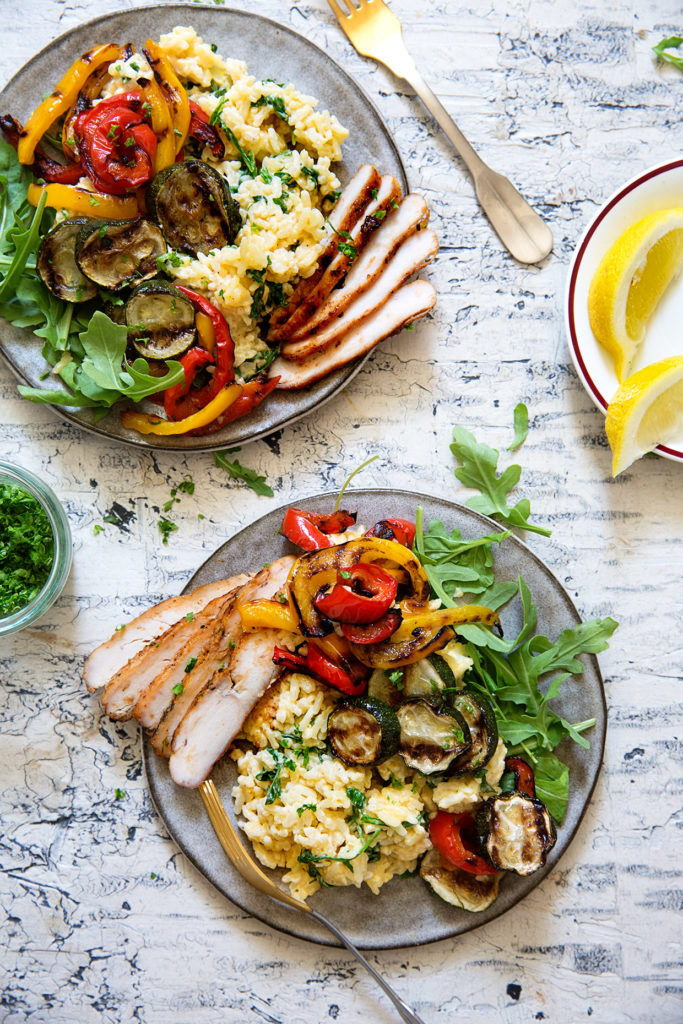 And with that, it means I get to spend more time in the kitchen or on the grill making meals for Naomi and the boys. Big high-five from Naomi for that. While I have been coaching all-stars, she has been tasked with the vast majority of meals around here. I'm sure the boys love it, but I know she needs a break. And to ease my way back in, I decided to grill up some chicken with some red and yellow bell peppers & zucchini, and compliment them with Knorr Selects Four Cheese Risotto. Cole couldn't be happier, he loves anything cheesy and the Four Cheese Risotto is flavored with four cheeses that adds a perfect flavor compliment to the chicken and veggies.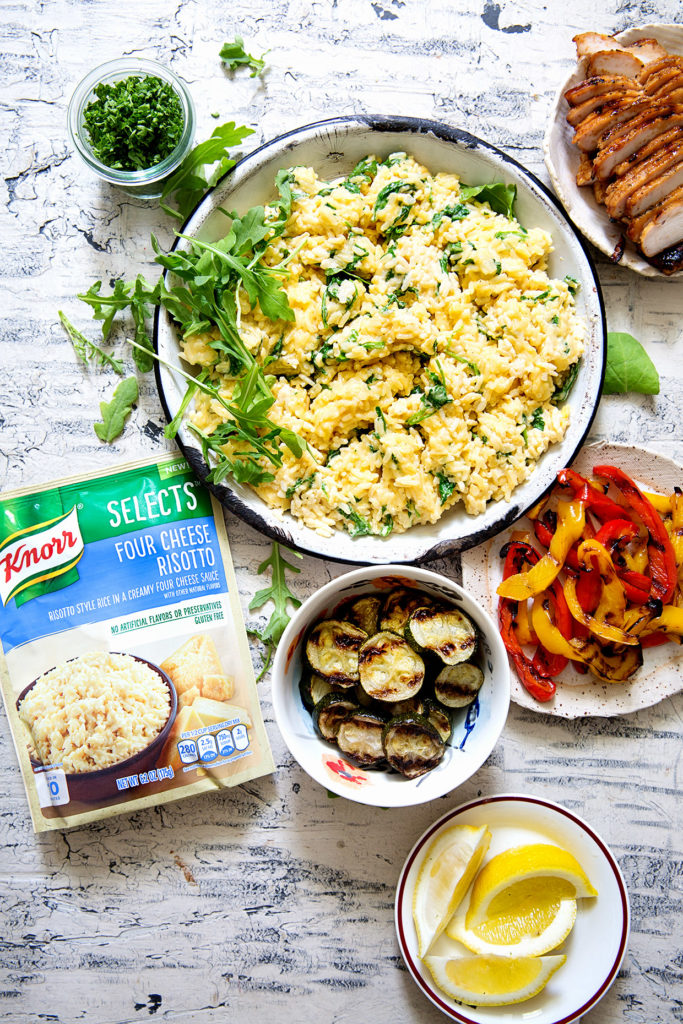 Yay to getting back to feeding my family and to easing some of the burden off Naomi. And a huge yay to Knorr Selects for helping me out. I could easily eat their Roasted Garlic Alfredo, Four Cheese Risotto or White Cheddar Broccoli as is. They are all full of flavor, crafted with culinary expertise from chefs. They are also made with no artificial flavors or preservatives and are gluten-free, using responsibly sourced rice from Arkansas. And knowing that they all pair well with chicken, beef, veggies or cheese (all favorites in our home), I know the family will be full of smiles at the dinner table. And that's a great thing, because that always leads to fun dinner conversation, and I am hoping that means we talk about our summer road trip plans as opposed to who should start on the mound in the next game.  Can you tell I'm ready for summer?!
Yield: Serves 6
Grilled Chicken and Veggie Risotto
Ingredients
2 red bell peppers, sliced
2 yellow bell peppers, sliced
4 zucchinis, sliced
2 4.5 oz Knorr Selects Four Cheese Risotto
2 cups arugula
2 large grilled chicken breast, sliced
1 tablespoons of lemon zest
parsley
lemon wedges
Instructions
Heat grill to medium high. Spray grates or cover a grilling basket with non-stick spray. Add sliced zucchini and the red and yellow bell peppers and grill until done, about 8 minutes' total. Remove from grill and set aside.
Make Knorr Select Four Cheese Risotto according to package. Once risotto is ready, stir in: lemon zest, arugula, grilled chicken and roasted veggies. Serve with parsley and lemon wedges.