Repurposing food in my house is nothing new, especially when there are two food bloggers in one house. It may not be fashionable, but it's very practical and time saving when it comes to dinner. This past week Naomi made a batch of this spinach and artichoke dip for her pizza here and I took the left overs for what you see here. This went so well, we might strategize this "double-play" again, because time is the dictating factor when it comes to meals lately.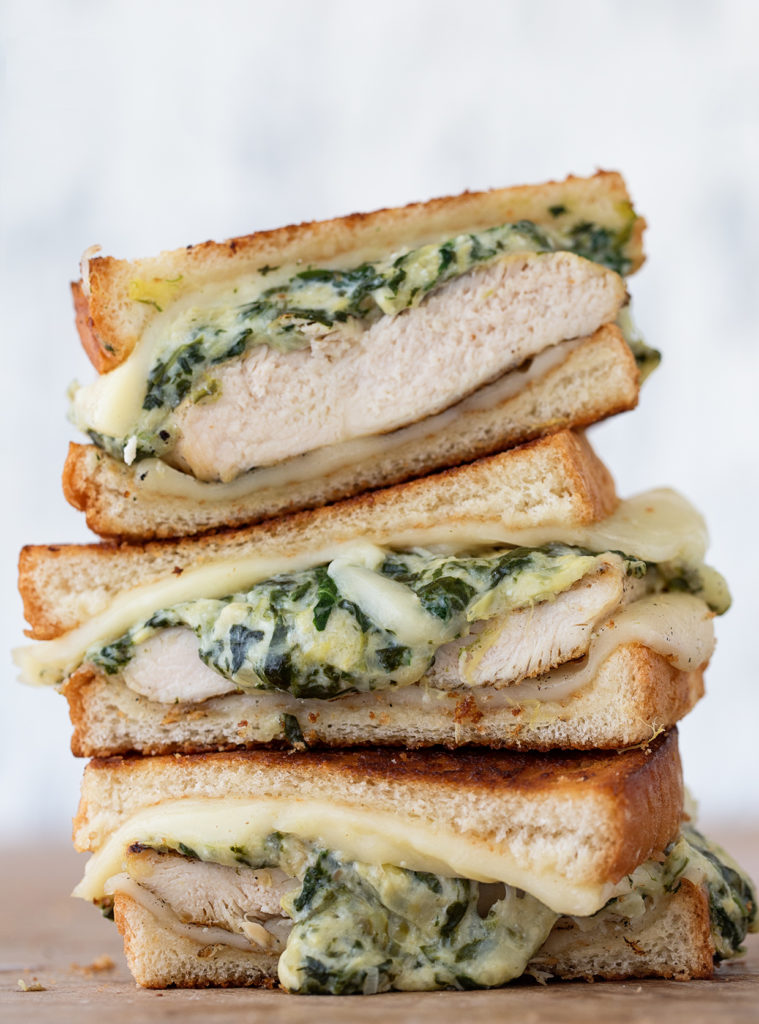 If I can get two meals like this melt and pizza out of one component . . .  well, why not? The only problem is hiding it from the kids. Because let's face it, if they could just eat dip with chips they'd be all over it. As a snack, yes. As  dinner, no! Throwing in grilled chicken just gives them some added protein.
Something I'm increasingly aware of as Cole is stretching out and complaining of growing pains and while Connor is shooting up like a beanstalk. Now if only this would take care of my aches and pains that have nothing to do with growing pains and everything to do with aging. Ugh.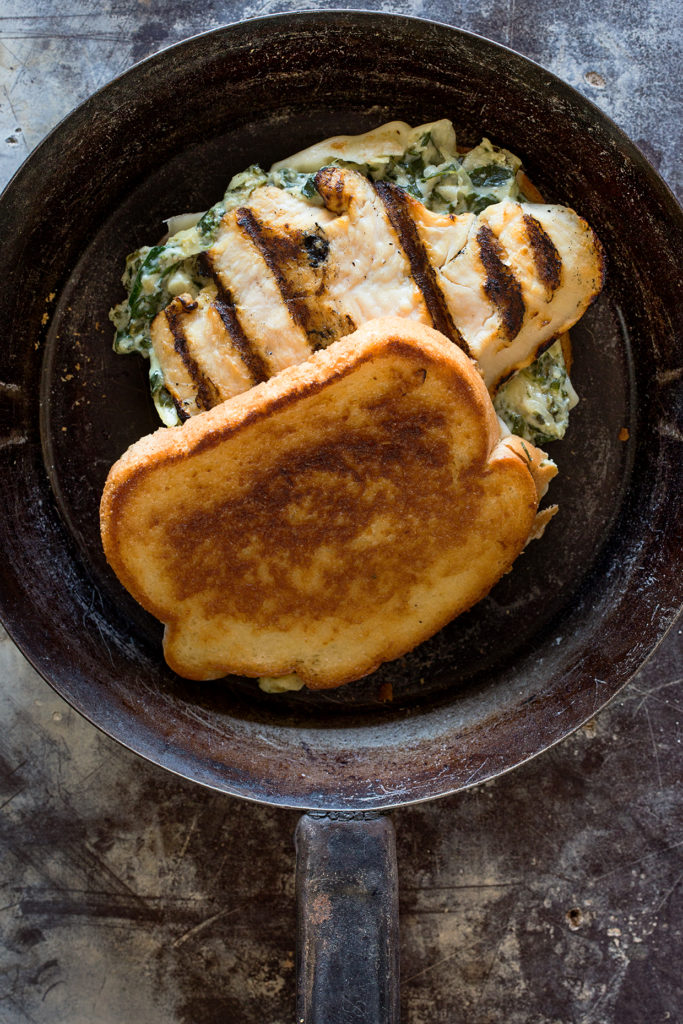 Yield: 1 sandwich
Grilled Chicken and Spinach Artichoke Dip Melt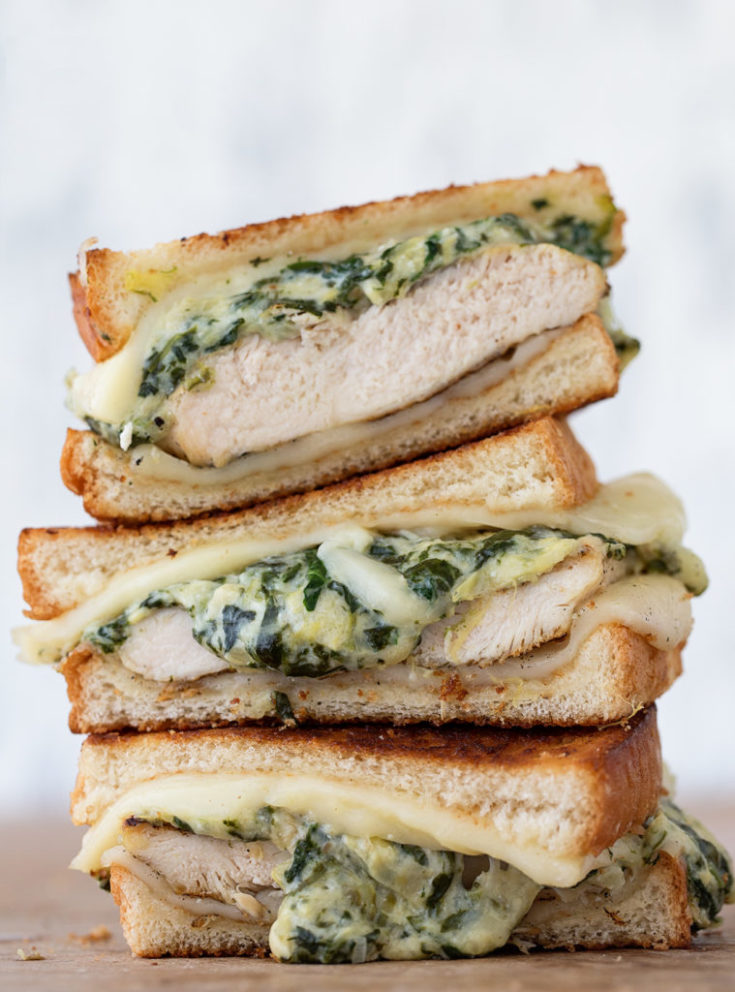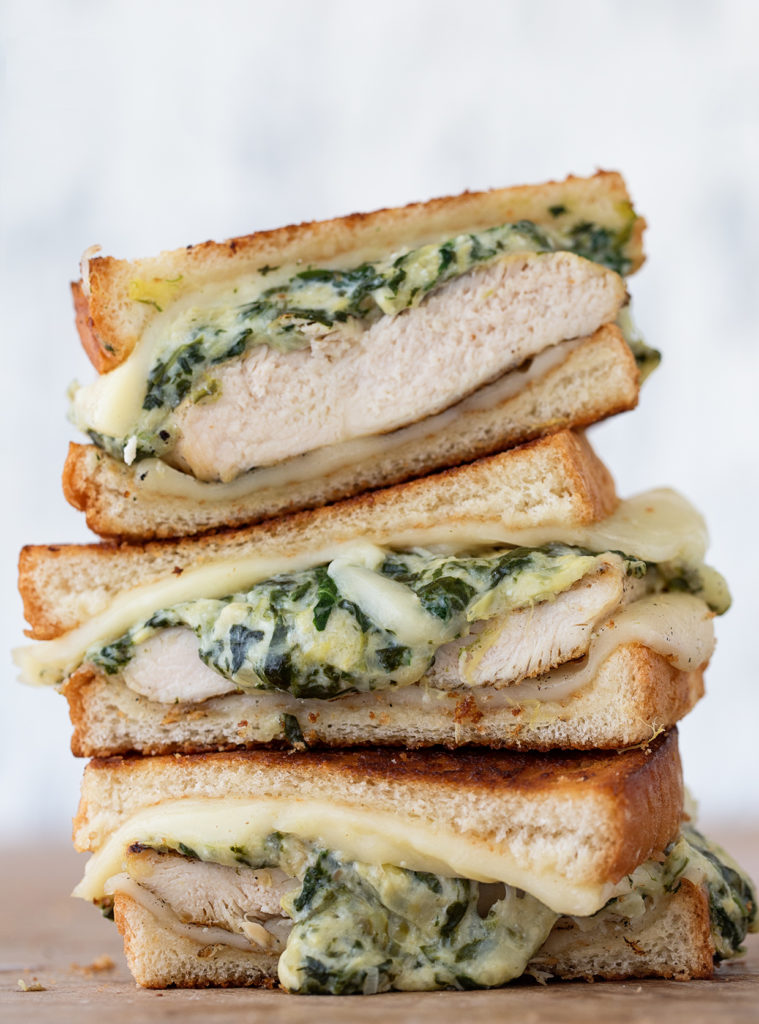 Ingredients
2 slices of bread
1-2 tablespoon mayonnaise
1 tablespoon butter
2 slices mozarella cheese (fresh mozzarella works best)
1/2 cup spinach and artichoke dip
1 grilled chicken breast
Instructions
Spread mayonnaise on both slices of bread; set aside. Heat a small skillet over medium heat. Melt half of butter, then place one slice of bread, mayonnaise side down, into pan. Layer with sliced cheese,* spinach and artichoke dip, grilled chicken breast and a second slice of cheese. Top with second slice of bread, mayonnaise side up. Cook until bottom piece of bread is golden brown, about 4-5 minutes. Lift sandwich and add remaining butter. Flip sandwich and gently press down sandwich for even cooking. Cook until second side is golden brown. Remove from heat. Serve immediately.
Spinach and Artichoke Dip recipe here: http://www.bakersroyale.com/grilled-chicke…hoke-dip-pizza/