It's a crepe, it's a quesadilla . . . its something. Couldn't come up with a clever name without laughing. But it's really good. Sure, I could have made this as a straight quesadilla, but everyone in my house (except me) gets tired of tortilla-stuffed food.
So I went with what you see here—scallion and parmesan crepes for the quesadilla casing—slam dunk. They were better than I expected.
You can of course just chop the green onions the traditional way, but since I was tweaking the classic quesadilla I thought, why not go against traditional—and it was way less work. Speaking of untraditional, I went and tossed in some parmesan cheese, because I pretty much throw that into everything to bump up the flavor. It worked out great. So when you give this a try, I would love to hear what you think about these crepes.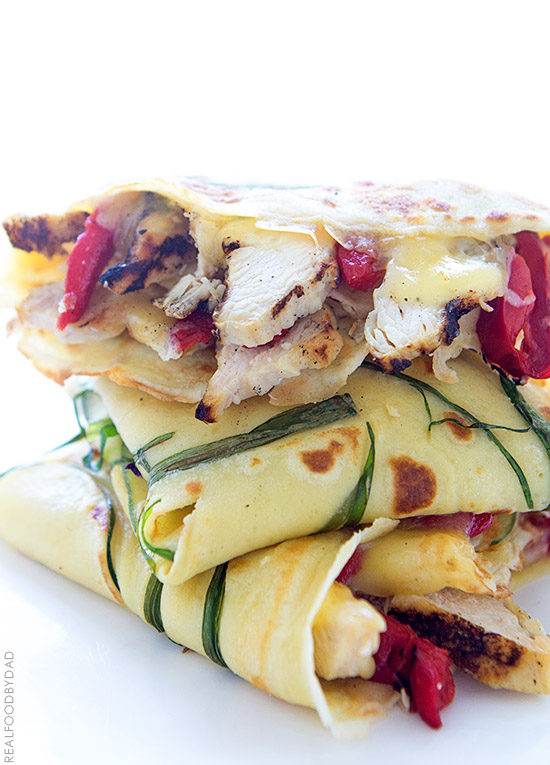 Here are a few things to keep in mind before you start: The recipe is adapted from here. I boosted the butter for a more browning, and as I mentioned, added the Parmesan cheese for some extra flavor, along with the green onions. You can skip the roasted red bell peppers, like my boy did, but you would be missing out on the sweetness they provide in this dish.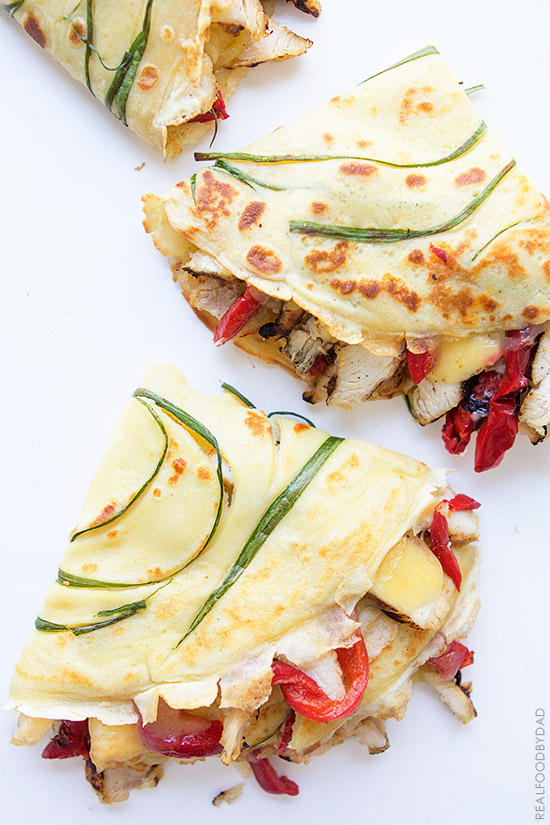 Yield: 4-6 servings
Grilled Chicken and Peppers Crepe-Quesadilla
Ingredients
2 eggs
3/4 cup milk
1/2 cup water
1 cup flour
4 tablespoons butter, melted and cooled
2 tablespoons finely grated parmesan cheese
4-5 sprigs green onion, sliced lengthwise
2 large grilled chicken breasts, sliced
1 cup roasted red bell peppers
2 cups white cheddar cheese
Instructions
Place the eggs, milk, water, flour, butter and parmesan in a blender and pulse for 15-20 seconds. Tap blender cup down on counter to break most bubbles.
Coat a large a 10-inch non-stick pan over medium-high heat. Pour 1/4 cup of batter into pan, holding the pan handle tip and swirl the pan as needed to move the crepe mixture around to create a thin layer. Quickly place scallions on top. Cook for 30-60 seconds; flip and cook for another 30-60 seconds. Transfer cooked crepe to a parchment lined plate to cool. Continue until batter is gone.
Preparation: Turn on oven broiler to high.Line a baking sheet with parchment paper. Layer one half side of crepe with chicken, roasted bell peppers and cheddar cheese. Fold crepe into quarters Repeat with remaining crepes. Transfer assembled crepe onto a parchment lined baking sheet. Cover pan with foil and place on bottom rack of oven to melt cheese, about 3 minutes. Remove from oven and serve immediately.