Do you ever have one of those days where you can't decide which way to go? That was me with this—the filling—I could have gone with a pasta toss, but in the end I went with this tart because I was out-voted.
And honestly, the crust was already made and all I had to do was roll it out. Who am I to go against the family, especially when all I had to do was make the filling?
That filling is one you don't want to miss. Beyond the grilled chicken and asparagus there is also strips of crispy bacon for added flavor, caramelized onions for some sweetness, fontina cheese for the gooey, nutty factor and it's finished with a heavy sprinkling of parsley and finely chopped sun-dried tomatoes.
Now do you see why I wanted to toss that all with pasta? But I'll admit, it was really good against a buttery crust. and we ended eating it like pizza — with our hands and by the slice. And yay to that because I served it with paper plates and had just a few less dishes to do – notable only because Cole and I are cheering on Golden State in the finals and the game was going on.
There you have it, a fast and easy weeknight dinner for the family. You can shortcut this recipe by using store-bought crust. Or plan ahead and make your crust two-three days ahead.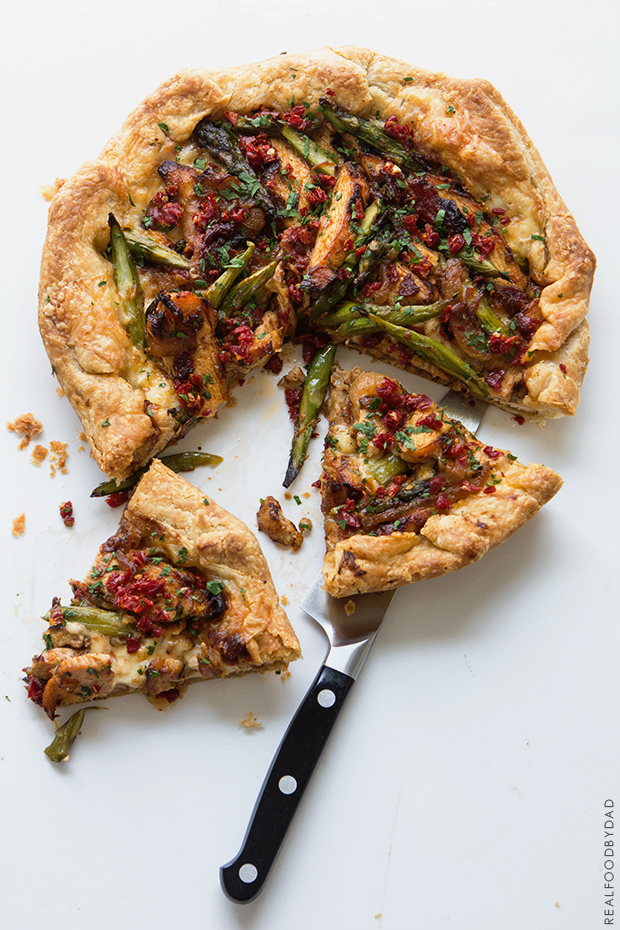 Yield: 6-8
Grilled Chicken and Asparagus Tart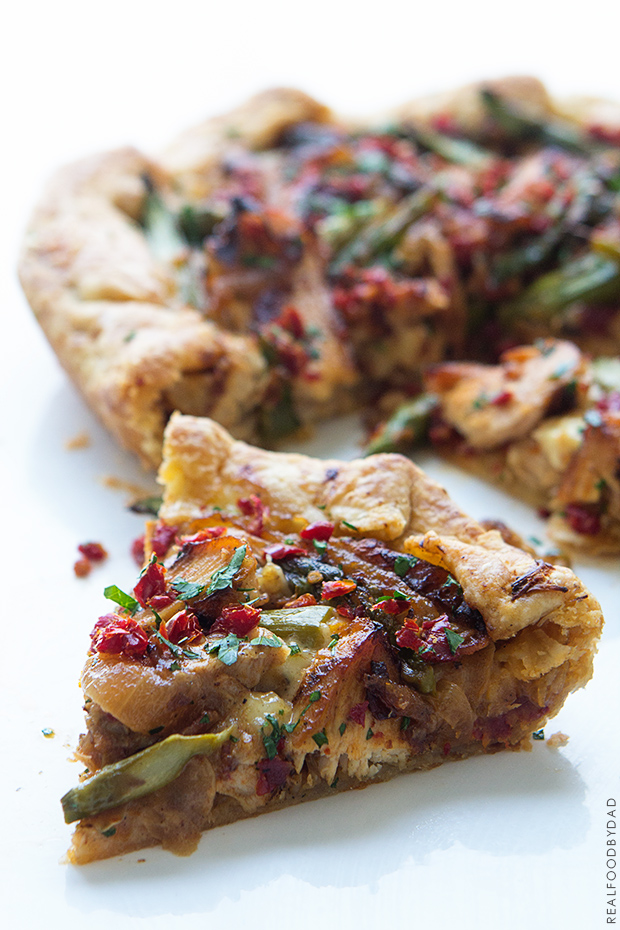 Ingredients
Pate brisee:
1 3/4 cups all-purpose flour
1 teaspoon salt
1 teaspoon sugar
1 cup (2 sticks) unsalted butter chilled and cut into small pieces
1/4 to 1/2 cup ice water
Filling
1 small yellow onion, sliced
1 tablespoon olive oil
4 slices bacon, cut into small strips
3/4 cups chicken broth
1/3 cup heavy cream
2 chicken breast, grilled and cut into strips
5-6 large asparagus stalks, cooked and sliced to 1 inch pieces
1 1/2 cups fontina cheese, grated
1/4 cup Parmesan cheese, grated
salt and pepper to taste
3 tablespoons finely chopped Italian parsley
2 tablespoons finely chopped sun-dried tomatoes
Instructions
To make crust (recipe adapted from Martha Stewart): Place flour, salt, and sugar in a food processor. Add butter, and process until the mixture resembles coarse meal, 8 to 10 seconds. With machine running, add ice water in a slow and steady stream through feed tube. Pulse until dough holds together without being wet or sticky; be careful not to process more than 30 seconds. To test, squeeze a small amount together: If it is crumbly, add more ice water, 1 tablespoon at a time. Divide dough into two equal balls. Flatten each ball into a disc and wrap in plastic. Transfer to the refrigerator and chill at least 1 hour. Remove from refrigerator. Roll dough to an 1/8 inch thickness. Return rolled out dough to refrigerator while filling is being made.
To make filling: Place onions into a large frying pan. Cook and stir over high heat for 5 minutes. Add in olive oil and cook for another 5 minutes on high, or until onions are soft and caramelized.Turn heat down to medium high and add in bacon pieces, cook until crispy. Add the chicken broth and simmer until the broth has almost disappeared. Stir in cream cook until liquid is reduced by a little more than half. Transfer mixture to a large mixing bowl and toss in both cheeses, chicken and asparagus.
Assemble and finish: Transfer dough to a 9 inch pie pan (or alternately, skip the pan). Scrape filling on to the dough. Fold and pinch edge over filling. Transfer tart to an oven and bake at 350 degrees F for about 20-30 minutes. Remove from oven and allow to cool for 5 minutes. Sprinkle with parsley and sun-dried tomatoes. Serve immediately.