There's a lot of breakfast, brunch, brekkie, whatever you want to term it, around here and in our home. We kinda like eggs in my home, can you tell?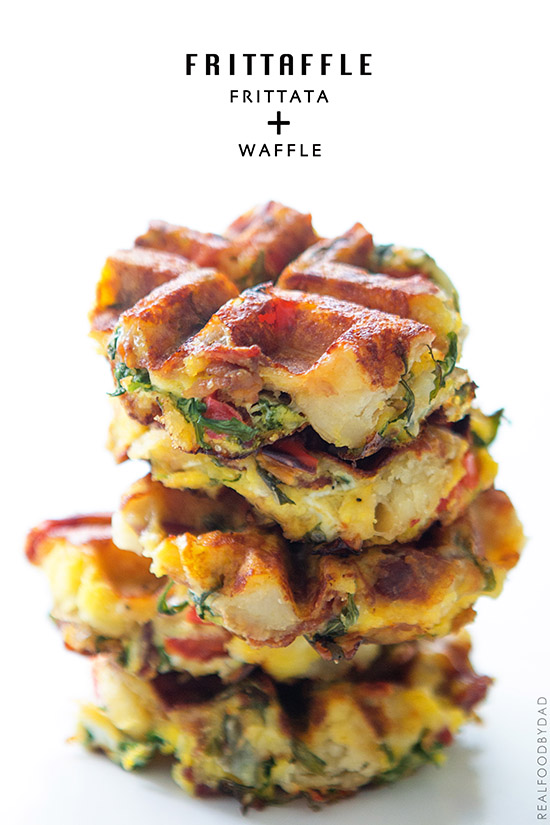 The latest egg creation are these Frittaffles. That's right, Frittaffles – a breakfast fusion of frittatas and waffles. If you are a regular reader then you know I love seeing what I can waffle. If you enjoy these don't forget to check out these Potaffles, potato pancakes "waffled" to bypass the deep or pan frying.
These are some serious fun. I have to admit, when I teamed up with Dreamfarm and they wanted me to create something inspired by their creative line of kitchen tools, I was pumped. Being a kitchen gadget fanatic and having two bloggers in the house, our drawers are overflowing with tools. So any tool that can combine two or more tools into one handy design, is a space-saving must have.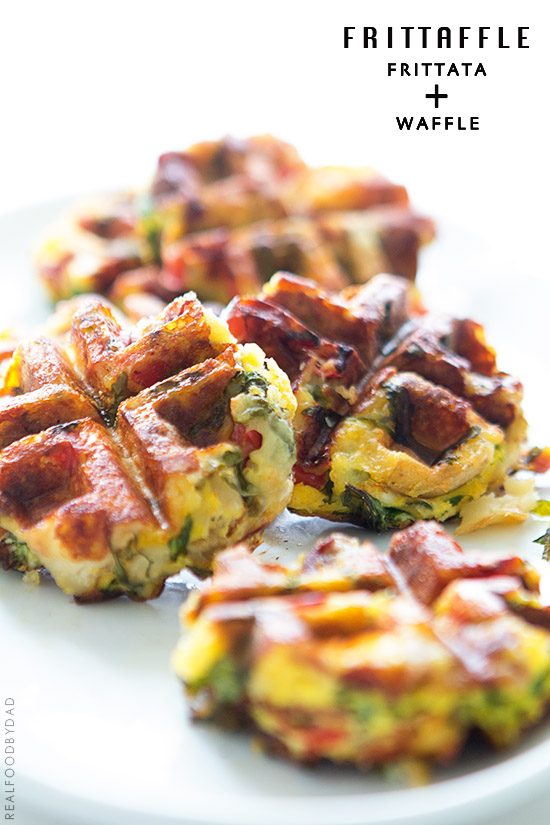 For this recipe I used the Supoon, an all-in-one scrape, serve and sit-up tool.No more having to use a spoon rest or having messy counters while working. The mixing end of the Supoon never touches the counter.
And since their philosophy is based on solving a problem, I kept that in mind when deciding on what to make.
With school just around corner, I know I wanted to make something to solve or at least chip away at the morning chaos. Breakfast is the one meal I always insist on. It's the one thing I don't want to shortcut—so sugary cereal isn't an option around here.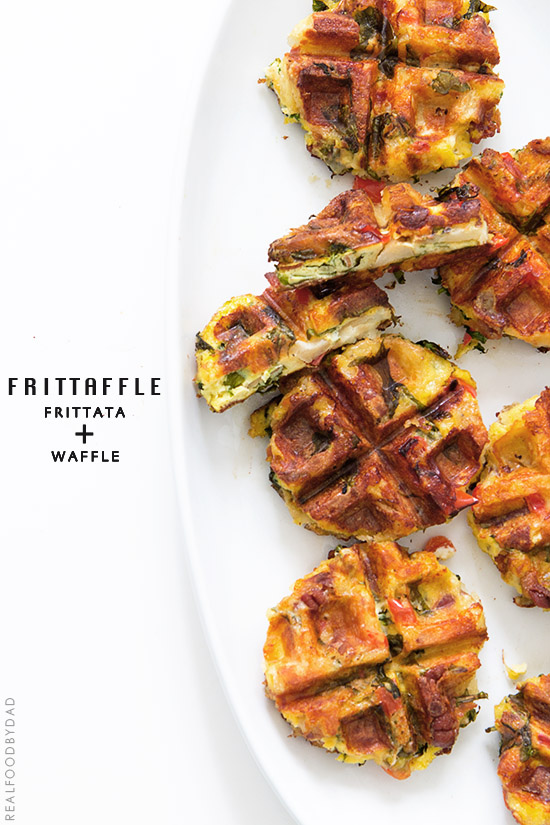 Frittaffles allow us to eat at the table or if we are running late, eat on the go. You know how I feel about finger foods for kids – they always eat more. Along with that, the handy thing about this is you can make the frittata the evening before, punch out your rounds and heat in the waffle iron (my latest obsession).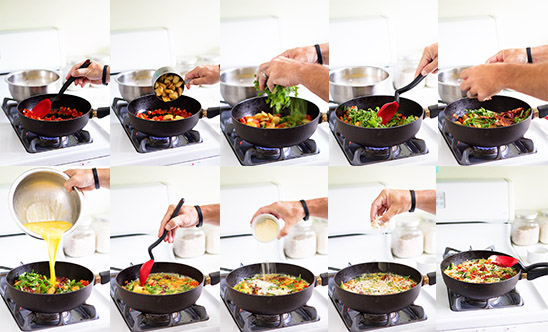 Fill your frittata as you like, but for me I like it pretty simple: bacon, potatoes, arugula, red bell peppers and some cheese. Naomi insisted on the arugula, I balked at first, but guess what—you can't really taste it and it's a good way to get greens in.
If you get busy Frittaff-ling, come back and let me know what you think.
And hey, there's a giveaway going on here!
Head on over to Dreamfarm's Facebook page and show them what's in your junk drawer! You could win one of 8 Dreamfarm prizes!
Here's how you enter: Dig through your junk drawer to the very back and find your most useless gadget. Take a photo and submit it. You can submit as many photos as you like by the submission end date. Win one of 8 cool Dreamfarm tools! Each week 2 winners will be chosen at random.
You could win one of the following Dreamfarm tools:
Garject Lite, Smood, Scizza, Large Vebo, 9" Clongs, BBQ Clongs, Chopula or Supoon.
Disclaimer: This post is sponsored by Dreamfarm and written by me. All opinions are my own.
Yield: 4
Frittaffle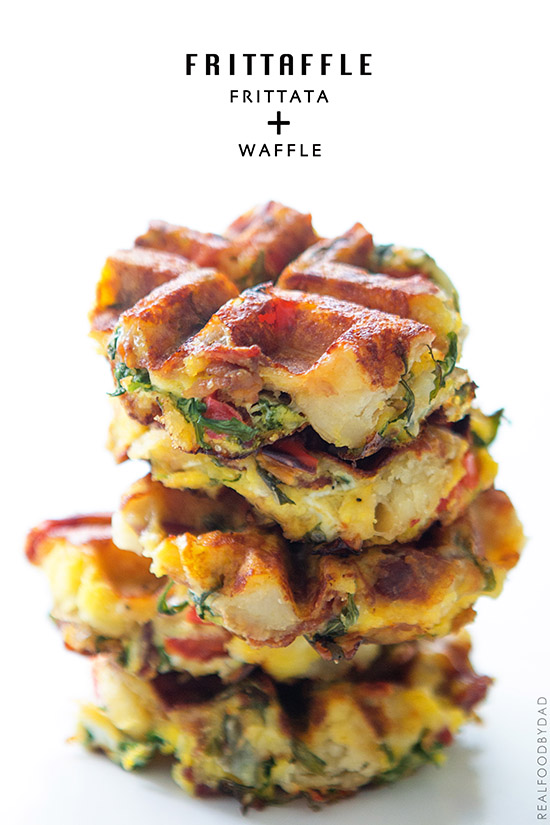 Ingredients
1 tablespoon canola oil
1 large red bell pepper (7oz), diced
2 cups roasted potatoes (homemade or store bought), cubed
2 cups argula
8 pieces bacon, broken into 1-2 inch pieces
salt and pepper to taste
8 large eggs, whisked and combined
1/2 cup parmesan romano
1 cup mozzarella (or any cheese you prefer
Instructions
Add canola oil into a 9 in. non-stick, oven proof pan and heat over medium high heat. Stir in red peppers and cook until soft. Add in potatoes and stir until warmed through. Add-in arugula and bacon and stir to combine with the other ingredients.
In a bowl combine whisk together salt, pepper, parmesan romano and eggs. Pour mixture into pan and evenly distribute it throughout. Stir in 3/4 cups of mozzarella and sprinkle the remaining 1/4 cup on top. Cook over medium high heat for another 1-2 minutes or just until a slightly crust forms around the edge. Transfer pan to oven and bake at 375 degrees F for about 8- 10 minutes or until set. Remove from oven and slide out of pan to cool on a wire rack. Transfer to refrigerator and let chill for at least two hours. Remove from refrigerator and using a round 2.5 inch ring and stamp out rounds
Heat waffle iron and cover with canola oil. Place a round in the center and heat until warmed through.
**NOTES** (1) Make sure you use a high quality non-stick pan that is also oven proof. If your non-stick pan is not so "non-stick" lightly cover pan with a non-stick spray like PAM, making sure to cover the side walls. (2) Of course you don't have to waffle this. It's delicious and great as a stand-alone frittata.