Day 3 of the TABASCO 10-Ingredient Challenge and I'm pulling from my tailgating reservoir of recipes.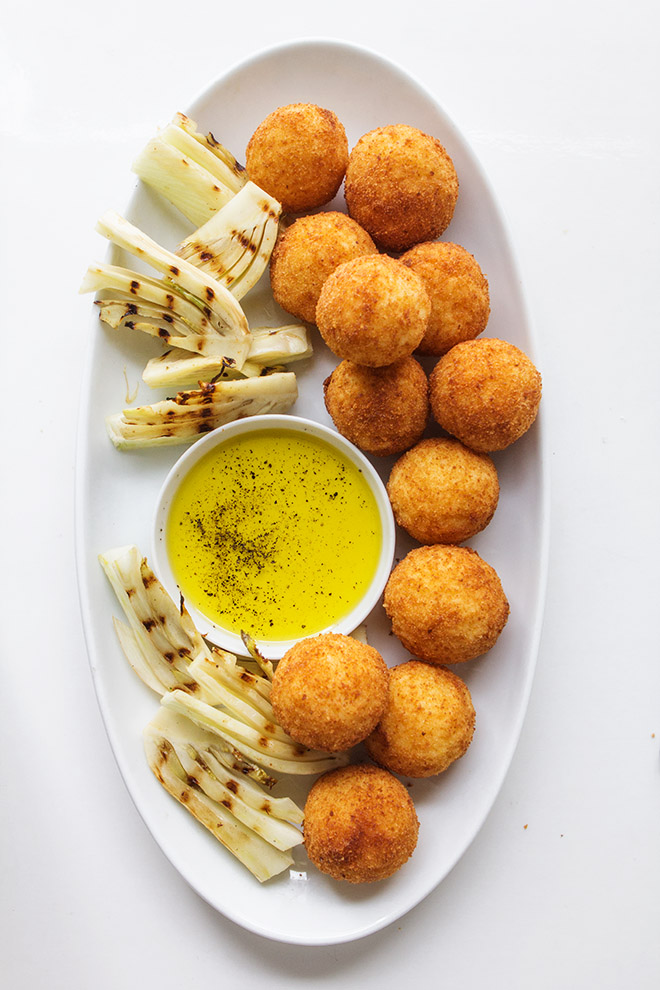 Are you familiar with rice balls or otherwise known as Arancini balls? If not, you are in for a treat.
My little guy and Naomi gobbled these down. But to be fair, fried food usually goes over well in my home. For these fried rice balls keep in mind I'm limited to keeping to only the ingredients listed below. Whoa! So while there are all kinds of ways to go crazy with rice balls, today I'm keeping it fuss-free and every bit as delicious.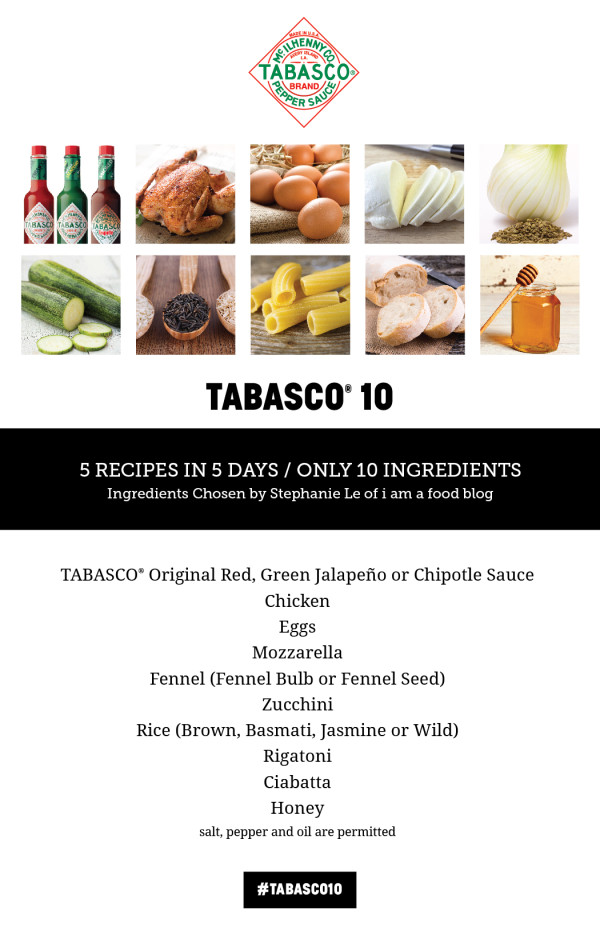 To start, I toasted some fennel seeds and mixed in the fronds of the fennel to the bread crumb mixture for an added layer of flavor. And of course since the traditional rice ball is stuffed with mozzarella, I stayed the course and just made sure to pack it with a copious amount. To finish I'm serving them alongside grilled fennel with salt and pepper in olive oil for dipping – a little sweet bite to cleanse your palate between between the cheese-filled rice balls.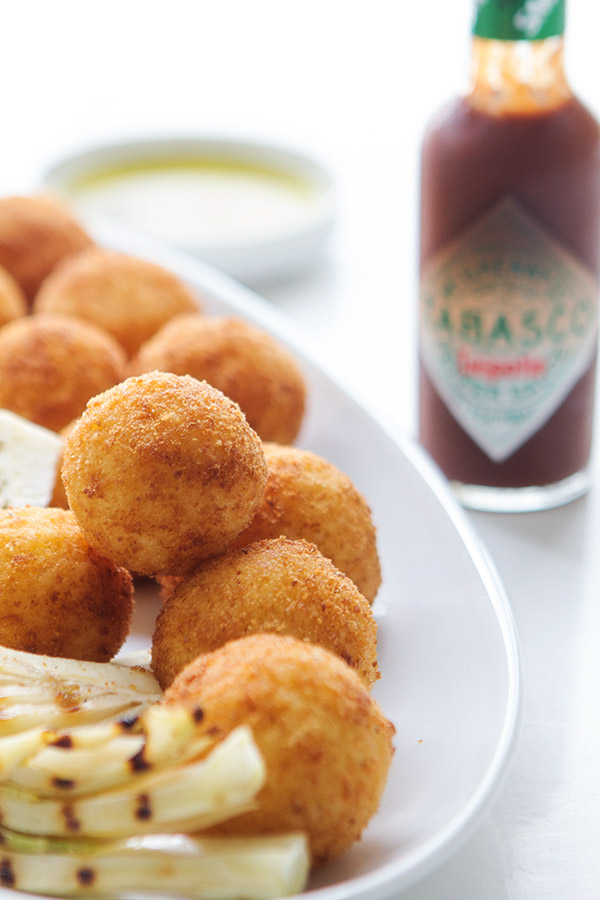 Yield: Makes 18 rice balls
Rice Balls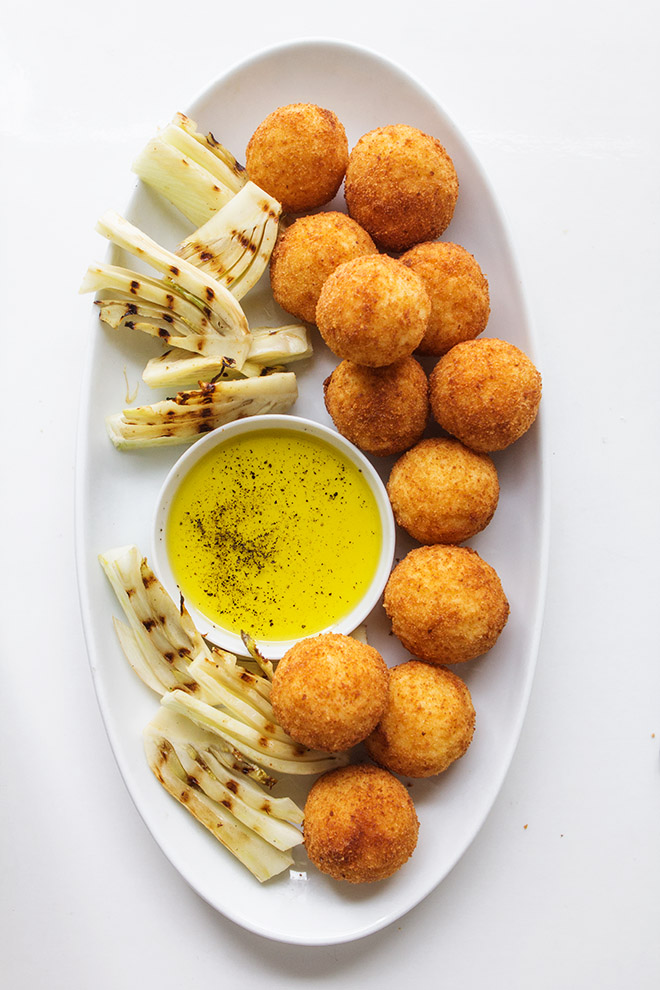 Ingredients
4 cups sticky white rice (something like basmati), cooked and cooled
1 tablespoon TABASCO Chipotle Sauce
9 mini mozzarella cheese balls, halved
1 cup breadcrumbs
1 1/2 teaspoons fennel seed, toasted
2 tablespoons fennel fronds
2 eggs, beaten
Peanut or grapeseed oil
Instructions
Toss rice with TABASCO Green Pepper Sauce. Slightly dampen each hand and scoop out enough rice to form a golf-size rice ball. Insert a piece of mozzarella in the center and enclose cheese with rice.
In a medium bowl, toss to combine bread crumbs, fennel seed and fennel fronds. Place beaten eggs in a shallow bowl. Create an assembly line by placing rice balls next to the eggs and bread crumbs. Dip rice balls into the eggs, allowing any excess to drip off. Next roll egg-coated rice ball in bread crumbs until it is completely covered. Repeat with remaining rice balls.
Pour oil into a heavy bottom sauce pan a third of the way up. Heat oil over medium-high heat until it reaches 340 degrees F. Deep fry rice balls in batches until golden brown, about 1 1/2 minutes to 2 minutes. Remove with a slotted spoon and set aside on a grated cooling rack to drain. Serve immediately.

This conversation is sponsored by TABASCO. The opinions and text are all mine.