Yes, you read that right: Fried Mac and Cheese Balls! They are crazy, they are good and they are everything you need right now. Okay, so I may be exaggerating on the latter, but really, make these, and watch the magic.
These were gone in seconds in my home. In fact after I had Naomi and the boys taste test the first one, they were picking them off the cooling rack almost as fast as I could deep-fry them.
I know deep-fry is like a dirty word in some homes, but can I say, "Everything in moderation makes life balanced and better". Are you with me?
Yes. Okay good, because seriously these are the bomb.
The breading on the outside–that's no ordinary breading. Nope, those mac and cheese balls are rolled in a combination of bread crumbs and Kettle Brand's Pepperoncini Chips.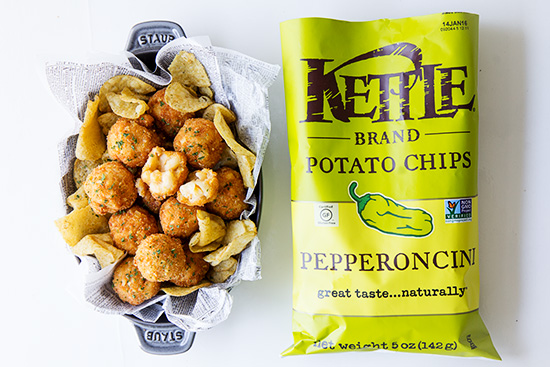 This is a recipe inspired by my trip to the Kettle Brand headquarters a few weeks ago. You know the chips that are " . . .real chips made with real ingredients by real people.". Of course, I love their ethos because "real" is a big thing in my kitchen as well.
Given that, visiting their headquarters and hearing from Carolyn, a food scientist by trade and Kettle's Chief Flavor Architect (coolest job title ever) talk about the rigorous testing that each new flavor goes through before hitting the shelf was the highlight of the trip. It's no wonder that when you pick up a bag Kettle Brand chips, the chips on the inside taste just like the flavor that's printed on the outside.
As a huge fan of their chips, I've now tried every flavor and variation, and my current obsession – the Pepperoncini has been on repeat for the last two months, so of course I had to crush it up for the breading on these deep fried mac and cheese balls. Next up, Buffalo Bleu is going meet another family favorite for a mash-up that I can't wait to share.
Yield: Makes 12-18 Mac and Cheese Balls
Fried Mac and Cheese Balls
Ingredients
3 cups Mac and Cheese, chilled
1/4 sliced pepperoncini, finely diced
3 oz. Kettle Brand Pepperoncini Chips, finely crushed
1/3 cup Panko bread crumbs
2 eggs, beaten
Instructions
Combine and fold chilled mac and cheese with diced pepperoncini. Scoop and form mac and cheese into 1 1/2 inch ball, transfer to parchment lined bakesheet. Continue until all balls are formed
In second bowl, combine and toss Kettle Brand's Pepperoncini chips with Panko bread crumb; set aside. Roll mac and cheese ball into beaten eggs and then cover with chip mixture. Transfer ball to parchment lined bake sheet. Continue until all mac and cheese balls are fully assembled.
Clip a deep fry thermometer to side of medium pan. Fill pan with enough oil, so that mac and cheese balls can be submerged by at least an inch. Heat oil to 350 degrees F. Slowly lower just a few mac and cheese balls into oil (exact number will vary according to pan size), make sure not to crowd the pan. Deep fry for 30-45 seconds, or until golden brown. Remove from oil and transfer to cooling rack.

This conversation is sponsored by Kettle Brand. All text and opinions are my own.