If you are a regular reader here, you know I go back and forth between light and crisp dishes like this and over-the-top dishes like this, this and this.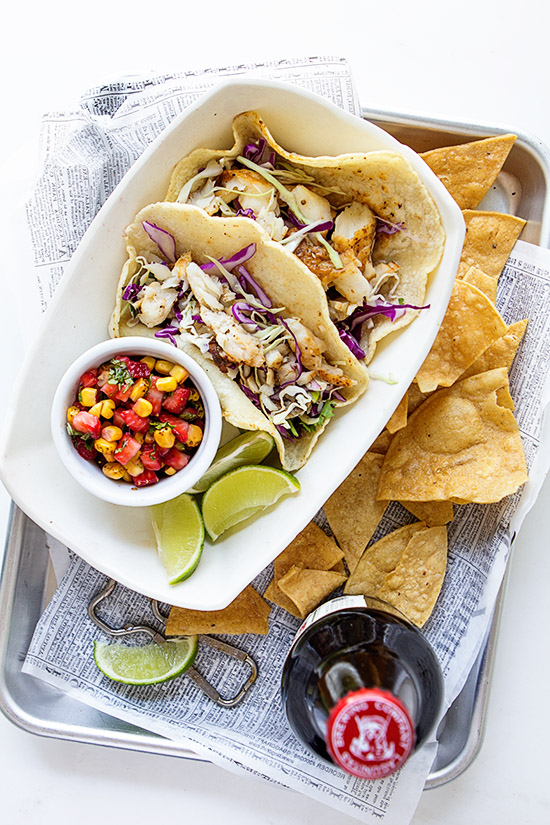 Good thing about that is we are never bored with food in our home. The downside is because of that, my cravings are all over the place.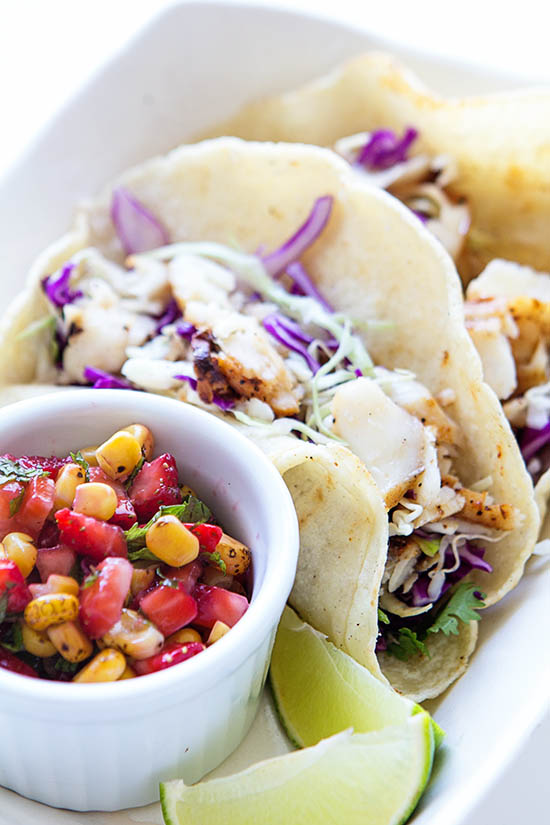 This past week my taco cravings were in overdrive, but I wanted something different than my usual chicken or steak cravings. The result…this fish taco with the strawberry corn salsa that was inspired by my latest trip to Pismo Beach with several other bloggers. While we were there for the California Strawberries 12 Reasons to Love California Strawberries Farm Tour, one of the meals featured salmon with a strawberry salsa. The strawberry salsa made the recipe.
So naturally, I had to try a variation of it here with my fish tacos. And it was every bit as good as I thought it would be. In fact, the strawberry salsa makes it.
And in case you need a few more reasons to dig right in, here did you know:
One serving, about eight strawberries, provides more vitamin C than an orange.
Strawberries contain a number of heart protective nutrients that lower markers of heart disease.
Because of strawberries high antioxidant and anti-inflammatory activities, they are being studied for their ability to slow or prevent age-related declines in cognitive function.
For more reasons to dig right in and increase your strawberry consumption, go to California Strawberries Nutrition Fact Sheet found here.
Now that I have you on board, get busy! And pssst, you may want to double the salsa recipe. My family was eating it like it was a salad rather than just salsa.
Yield: Makes 8 tacos
Fish Tacos with Strawberry Corn Salsa
Ingredients
Strawberry Salsa
1 cup diced strawberries
1/4 cup roasted corn kernels
1 tablespoon fresh lime juice
1 tablespoon chopped fresh cilantro
1/8 teaspoon salt
1 jalapeño pepper, seeded and minced
2 tablespoons olive oil
1/2 teaspoon salt, divided
1/4 teaspoon freshly ground black pepper, divided
4 (5-ounce) tilapia fillets
8 (6-inch) corn tortillas
1 small jalapeño pepper, thinly sliced
1 1/2 cup angel hair coleslaw (optional)
8 lime wedges (optional)
Instructions
To make salsa: Combine all ingredients and set aside. Sprinkle fish evenly with salt and pepper. Heat a large nonstick skillet over medium-high heat. Coat pan with olive oil. Add fish to pan, and cook for 3-4 minutes on each side or until fish flakes easily when tested with a fork.
Warm tortillas according to package directions. Divide fish, salsa and remaining ingredients evenly among tortillas. Optional: Serve with angel hair coleslaw and lime wedges.