When I was a kid, if you tried to give me a fish taco, there is no doubt my response would not have been polite. I don't mean outwardly, I mean impolite in all the ways a face can contort and twitch to show a resolute no. Fast forward to my life as a father and I'm revisiting that look on the face of my toddler.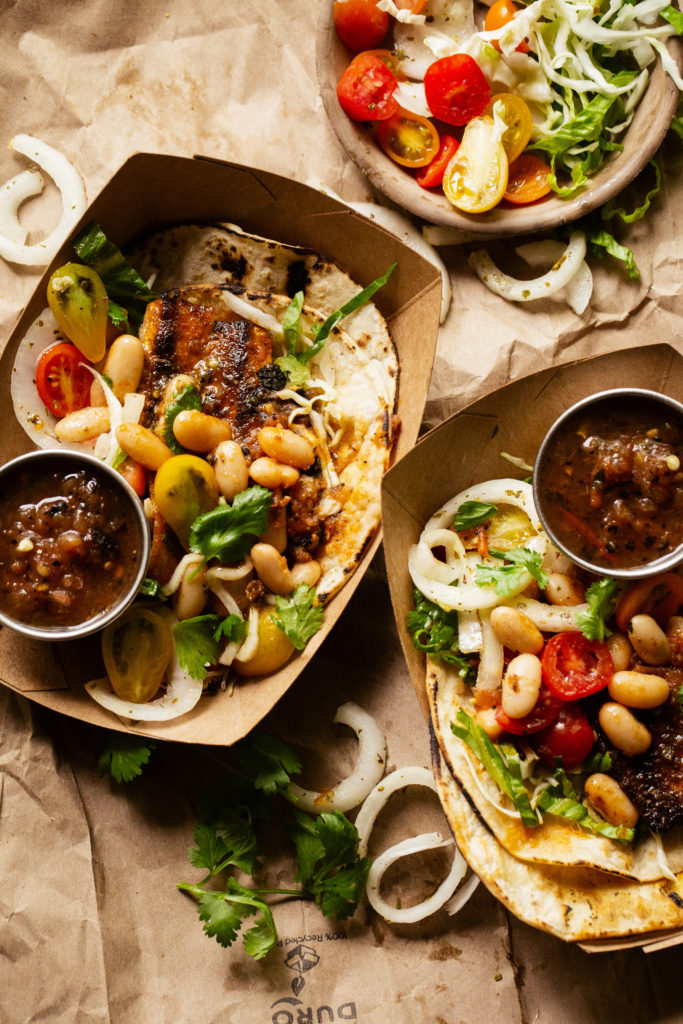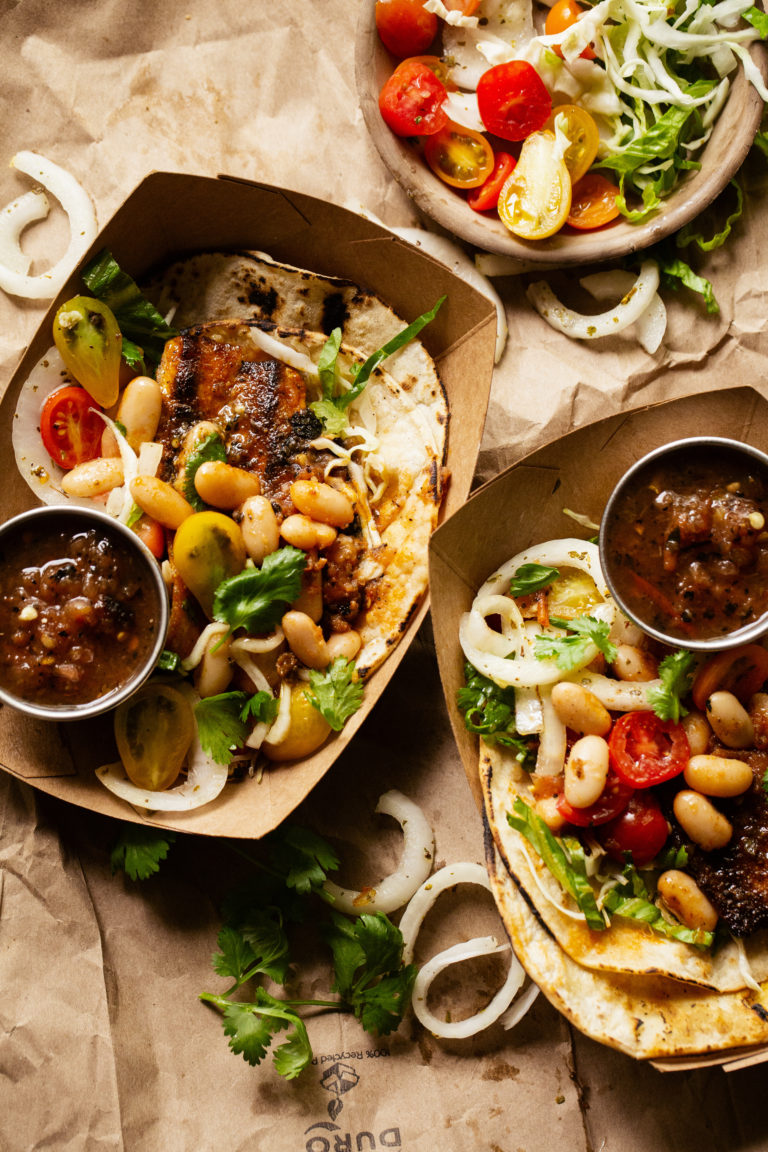 No amount of pleading, bribery and straight up begging would unclamp his jaw. One visit to a fish market with Naomi and he swore off fish forever—he hates the so-called sliminess and smell. Of course I've explained to him hundreds of times, "Yes, fish markets smell, but not all fish smell" and the sliminess is limited to raw fish, but I might as well be explaining Alegebraic equations to him because his response is always the same, "No".
I don't like no, so one day he will understand that he actually does like fish because on those occasions, when I'm not tired and sleepless, I remember to omit the word fish in any recipe name. A work-around that I use often, but try not to abuse.
So for this meal while the rest of us had fish tacos, he sat there, mouth shut until I gave him his favorite: mac and cheese. That's just how it goes somedays. I'm learning to pick my battles.
A few notes:
This is recipe is adapted from Bon Appetit.
I swapped out the pineapple salsa for a my tomato and bean relish
I skipped making adobo paste from scratch and used store bough adobo sauce from Frontera–same thing with the achiote paste–I used store bought rather than making it from scratch, because I couldn't source a a few of the peppers.
Yield: Serves 8
Fish Tacos Al Pastor
Ingredients
2 cups of adobo paste, I used Frontera Guajillo Pepper Adobo Sauce
3 pounds skinless striped bass, cut into 1-inch strips
½ cup fresh orange juice
¼ cup achiote paste, homemade or store bought
4 garlic cloves, finely minced
--Tomato and White bean Relish--
1 teaspoons white vinegar,
1 garlic clove finely minced
2 teaspoons sugar
1 tablespoon Dijon mustard
¼ cup olive oil
15 oz. cannellini beans, drained but do not rinse
½ pint heirloom cherry tomatoes, halved
1 ½ cup sliced onions
1 cup finely shredded romaine lettuce
½ cup cilantro leaves
Vegetable oil
16 corn tortillas
Lime wedges (for serving)
Instructions
Place fish in a baking dish.
To make chili sauce: In a large bowl whisk together adobe sauce, orange juice, achiote paste, garlic cloves, ¼ cup lime juice, and 1 tablespoon salt. Reserve 1 cup chile sauce for serving; leave uncovered at room temperature. Pour remaining sauce over fish; toss to coat. Cover and chill for 1 to 3 hours.
To make tomato and white bean relish: Place tomato and white beans in a bowl; set aside. In a jar add 1 teaspoon white vinegar, 1 finely minced garlic clove, 2 teaspoons sugar, 1 tablespoon dijon mustard and 1/4 cup olive oil, place the lid on top and shake jar to blend; set aside.
Prepare a grill for medium-high heat; clean grates and brush with oil. Working in batches if necessary, grill fish, leaving a few inches of space between each piece, until marinade is dried and begins to caramelize and char, 2–3 minutes. Using a fish spatula, release fish from grates, turn, and continue to grill until charred on second side and flesh flakes easily with a fork, 2–3 minutes more. Transfer to a cutting board and let rest 10 minutes.
Grill tortillas until just beginning to char, about 30 seconds per side. Top each tortilla with a piece of fish and a light spread of reserved chile sauce. Top with tomato and bean relish, cilantro. Serve with lime wedges for squeezing over.
Recipe adapted from Bon Appetit: https://www.bonappetit.com/recipe/fish-tacos-al-pastor