I must be getting old. My boys literally wipe me out! Would I have it any other way? Heck no. But it's a fact. By the time Sunday rolls around, I am completely spent of energy. Basketball games, taking the baby to the park, Christmas shopping, driving all over town, you name. it. So when it comes time to think about what's for dinner, a trip to the grocery store seems like the biggest chore. So instead, I made a trip to the fridge to see what I could create. Sometimes I love doing that though, and this was one of those times.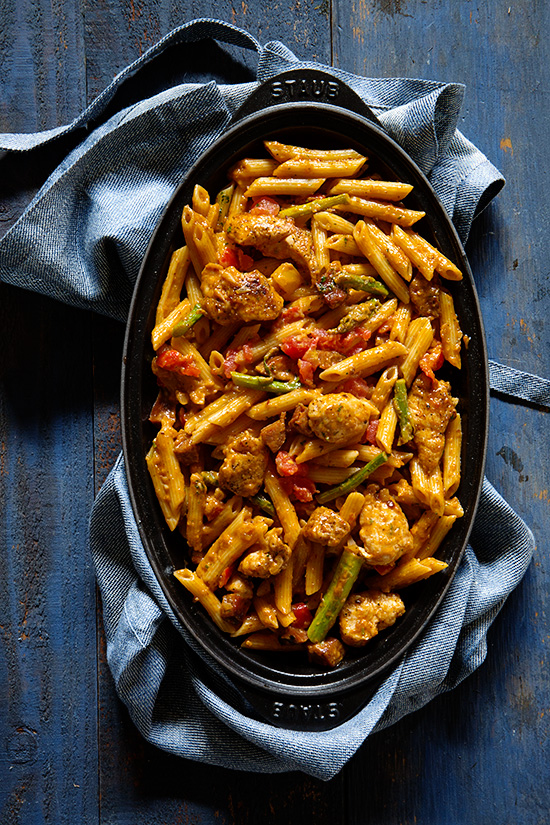 None of us were in the mood to eat out or eat anything too heavy. So I grabbed the bookmarked recipe from here, and some penne pasta out of the pantry, some chicken and sausage, tomatoes, asparagus and cheese out of the fridge and got to it. The result was absolutely awesome. Anytime I can throw dinner together in less than a half hour and it's a huge hit, I know I nailed it. No looks of disappointment on anyone's faces. Which isn't always the case when you have a 14-year -old, an 8-year-old and a baby. Although the baby will eat just about anything and be perfectly happy.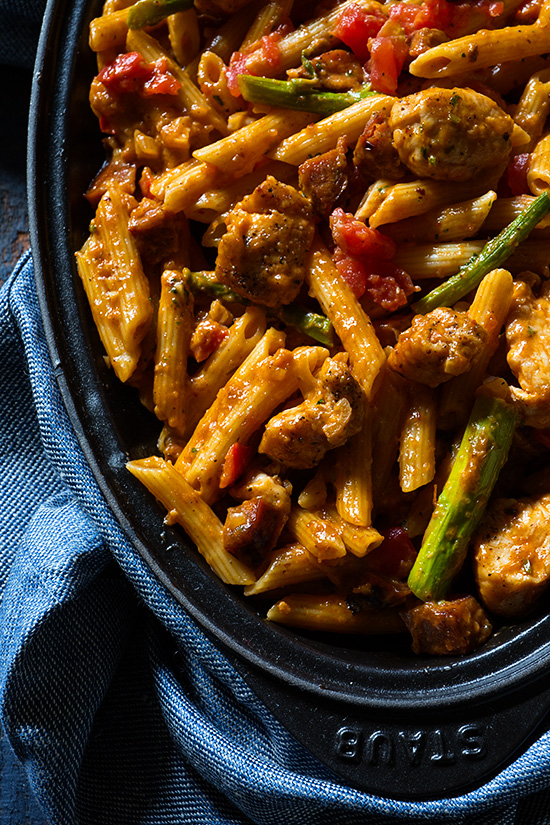 This is definitely one I will make again, whether or not I am wiped out from the boys. It's light, has tons of flavor, and hey, protein and vegetables. Can't got wrong with that. And with leftovers, I know what I'm packing in Cole's lunch tomorrow and what I'm eating after my mid-day workout.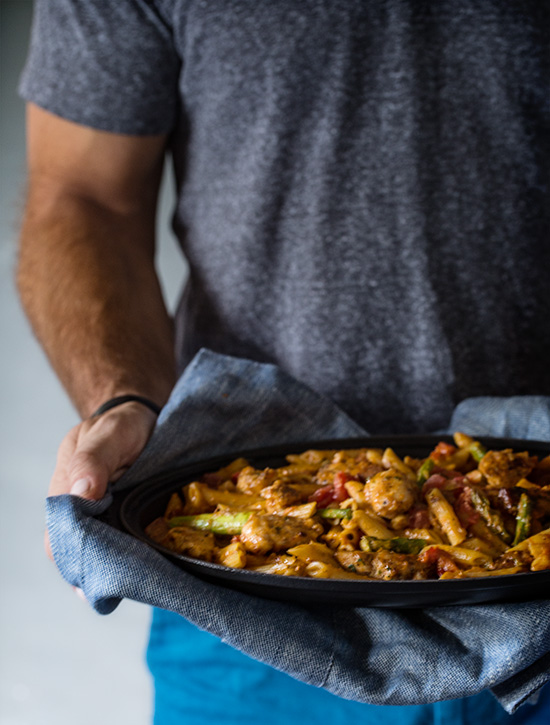 Yield: Serves 4
Everything Pasta Dinner
Recipe adapted from Bon Appetit
Ingredients
1 tablespoon olive oil
4 large garlic cloves, finely chopped
1 cup chopped drained oil-packed sun-dried tomatoes
1 cup whipping cream
1 7.25-ounce jar roasted red peppers, drained, chopped
1/2 teaspoon dried crushed red pepper
2 cooked chicken breast, sliced
2 cooked sweet sausage, sliced
1 cup chopped fresh basil leaves
1 pound penne pasta
1 cup freshly grated Parmesan cheese
Instructions
In a large saucepan, heat oil over medium heat. Add garlic; sauté 1 minute. Add tomatoes, cream, red peppers and crushed red pepper; simmer over medium heat 2 minutes. Stir in 1/2 cup basil and simmer 1 minute longer.
Cook pasta in large pot of boiling salted water until tender but still firm to bite, stirring occasionally. Drain, reserving 3/4 cup pasta cooking liquid. Return pasta to pot. Add sauce, chicken, sausage, cheese and 1/2 cup basil and toss to coat. Add enough reserved cooking liquid to pasta to moisten if dry. Season with salt and pepper.