Mother's Day is around the corner, so I'm baking some cake. I know, not in my wheelhouse at all, but it's Naomi's favorite food, so I had to.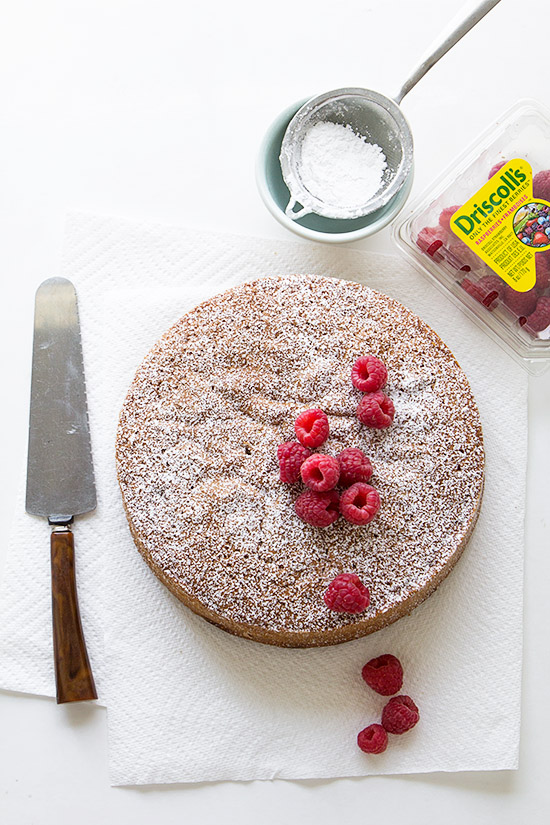 Aside from that, I roped Cole into helping me, especially since he's had an explosion of food interest lately. I blame Food Network. Next to Team Titans, he loves watching Chopped and Cutthroat Kitchen. And before I could even brainstorm ideas with him, he told me it had to be an olive oil cake—his mom's favorite, everyday type of cake.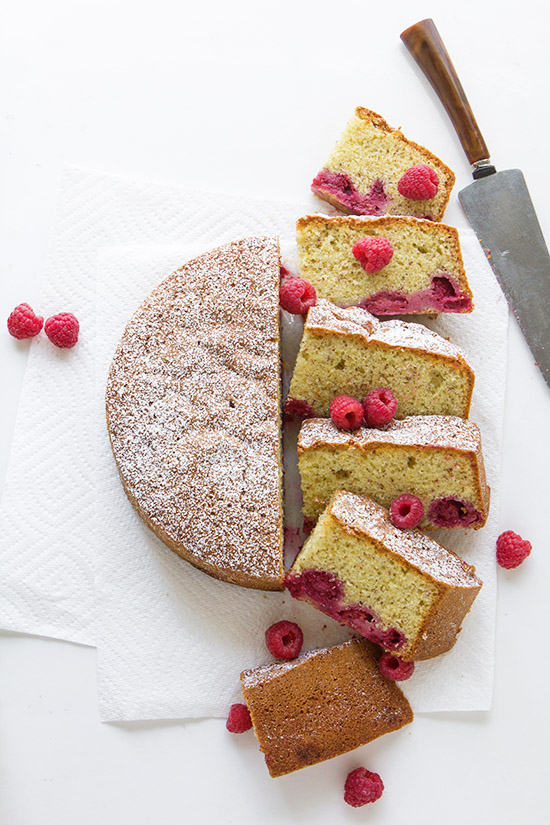 I won't pretend to wax poetic about the difference between butter vs. olive oil cakes, but I will say, this olive oil cake is virtually a fail-proof cake that's elevated with some Driscoll's raspberries—a favorite in our house. In fact, alongside the raspberries you will also find that my fridge is regularly stocked with Driscoll's strawberries, blueberries and blackberries. What can I say, we like berries around here. They are repeat offenders in morning smoothies, as baby snacks, and of course in many of Naomi's cakes.
So this raspberry cake was no-brainer. I kept the cake simple and rustic, the way she likes it, which really made things easy for me and Cole. I don't think I can whip a pastry bag around like Naomi, and I wouldn't want to.
So here's to our Mother's Day cake. Now, let's just hope it turns out as well the day of. I say that, because on our way to perfecting this recipe, Cole and I forgot the leavener and that, as you can imagine, not only produced the flattest cake patty ever, but the texture was horrifically dense. That being said, when you approach this recipe, don't forget any ingredients or this nearly fail-proof recipe will in fact fail. And don't leave out the raspberries, because that's where all the bright flavors are!
Are you ready for Mother's Day? If not, don't forget to click on over to Driscoll's for more raspberry recipes to inspire you.
Yield: 8 servings
Easy Raspberry Cake
Prep Time 15 minutes

Cook Time 35 minutes

Total Time 50 minutes
Ingredients
1 2/3 cups all-purpose flour
1 teaspoon baking powder
1/2 teaspoon baking soda
1/4 teaspoon salt
3 large eggs
1 1/4 cups granulated sugar
1 teaspoon vanilla extract
1/4 cup whole milk
3/4 cup extra virgin olive oil
2 6 oz. raspberries boxes
Instructions
Preparation heat oven to 350 degrees F. Lightly cover a round 8 inch cake pan with bake spray. Line bottom with parchment.
In a small bowl, whisk flour, baking powder, baking soda and salt until combined.
Place eggs and sugar in a stand mixer bowl fitted with a whisk attachment and beat on medium high until pale and fluffy.With mixer still running, slowly add in the vanilla and milk; beat to combine. Gradually beat in the olive oil. Turn off mixer, and using a sturdy spatula, fold in dry ingredients until streaks of flour are no longer visible. Be careful not to over mix. Gently fold in one 6 oz. box of fresh raspberries. Transfer batter to prepared pan and bake for about 35 minutes, or until cake tester inserted comes out clean. Remove from oven and transfer to a cooling rack for 10 minutes. Remove cake and let cool completely. Sift powdered sugar on top and serve with remaining box of raspberries.

This is sponsored post from Driscoll's. However, all thoughts and opinions are my own.