*This is a sponsored post in collaboration with The Hershey Company. All thoughts and opinions are my own.
This is my go-to chocolate cake recipe—nothing fussy, no special piping, just an elegant naked cake finish with a caramel drizzle.      `
Here's the key to making a better chocolate cake: good ingredients. I know it sounds simple, but good ingredients really do make a difference. For me I prefer to use HERSHEY'S Kitchens SPECIAL DARK Chocolate Chips for a more intense flavor along with blooming HERSHEY'S Unsweetened Cocoa Powder. By blooming, I mean making sure to use boiling water, not just warm or hot water in step one of the recipe. The blooming brings out the flavor of the cocoa powder and makes it easier to incorporate.
Now that we have ingredients and flavor covered, let's talk texture. The key factor in achieving a toothsome texture without being dense is mayonnaise. I realize mayonnaise cakes aren't too popular nowadays, but I don't understand why. It's the perfect fat for this recipe, and it works better than butter or oil. The mayonnaise gives it just the right amount of density and moistness. Of course make sure you use the full fat, and not reduced fat or olive oil based mayonnaises.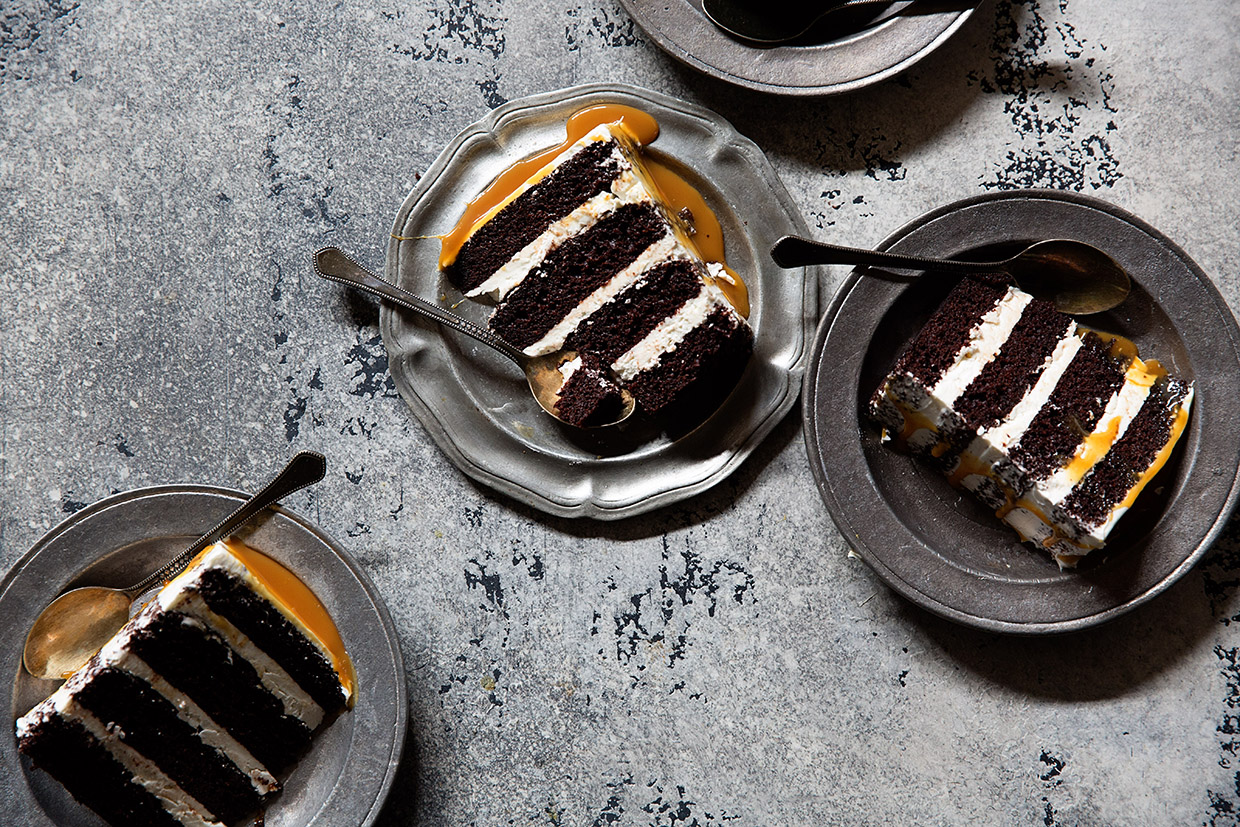 For the cake decorating, you can finish it like you see here: naked with a drizzle. Or if you want a little something more, double the frosting recipe to create a more decorative finish.
However you decide to finish this cake, I want to hear what you and your family think about this updated chocolate mayonnaise cake recipe.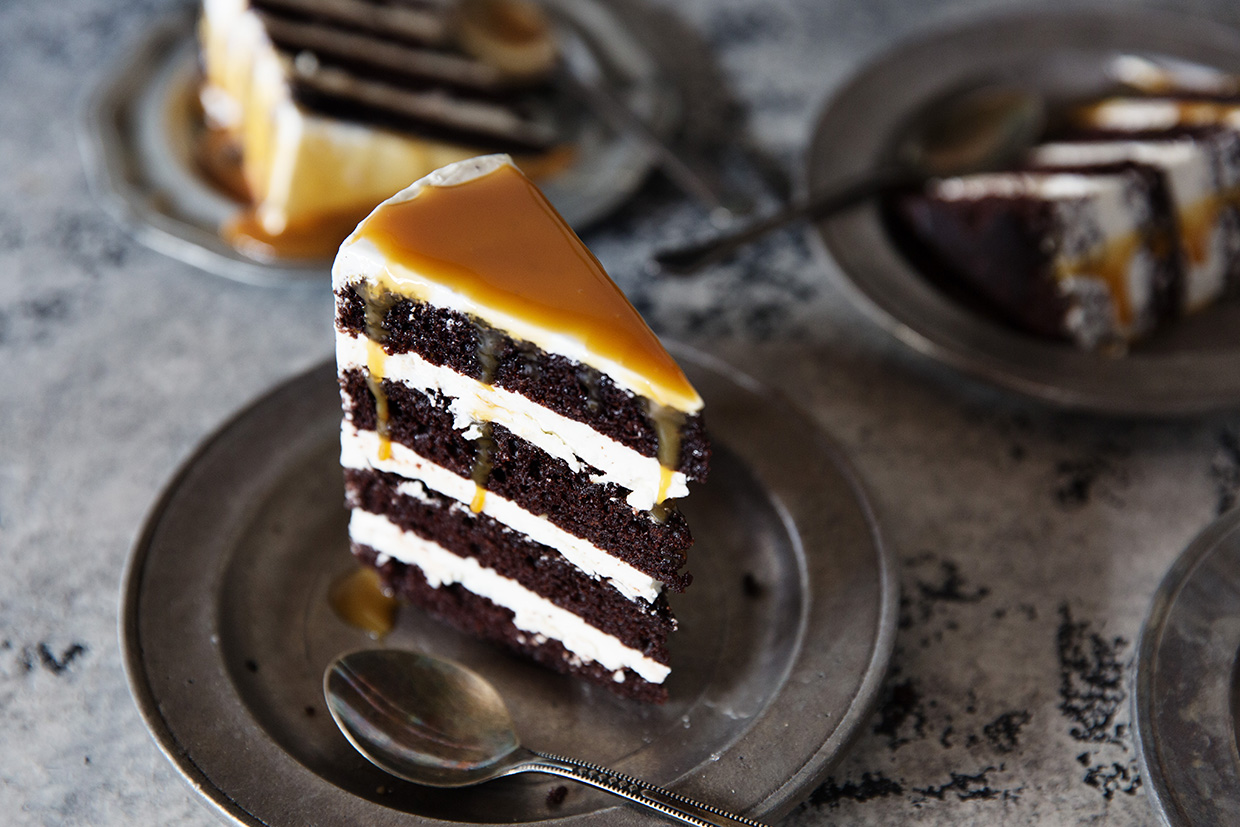 Yield: 8-10 servings
Easy Chocolate Cake Recipe
Ingredients
Chocolate cake
¼ cup HERSHEY'S Kitchens SPECIAL DARK Chocolate Chips
1/3 cup plus 2 tablespoons HERSHEY'S Unsweetened Cocoa Powder
1 ¼ cup boiling water
2 1/3 cups all-purpose flour
1 teaspoon baking soda
¼ teaspoon baking powder
¾ teaspoon salt
¾ cup sugar
¾ cup light brown sugar
1 ¼ cup mayonnaise (full fat)
2 large eggs
1 egg yolk
2 teaspoons pure vanilla extract
Vanilla frosting
1 cup unsalted butter, softened
1/4 teaspoon fine sea salt
4 cup confectioners' sugar, sifted
4 tablespoons cup milk
2 teaspoons vanilla extract
Topping
½ cup HERSHEY'S Caramel Topping
Instructions
Preparation: Heat oven to 350F. Line two 8-inch round pans with parchment on the bottom. Lightly butter and dust pan with HERSHEY'S Cocoa Powder.
To make cake: In a heat-proof bowl, combine HERSHEY'S Kitchens SPECIAL DARK Chocolate Chips, HERSHEY'S MINI KISSES Chocolates, and HERSHEY'S Cocoa Powder, then pour boiling water over the top. Stir until smooth.
In a large bowl, sift together flour, baking soda, baking powder and salt. In another bowl, beat together both sugars and mayonnaise until well combined, about 1-2 minutes. Add eggs and egg yolk one at a time, until just incorporated. Beat in vanilla until just combined.
Add flour in three additions, alternating with the chocolate mixture; beating until just blended after each addition.
Evenly divide and pour batter into prepared pan. Bake until the cake springs back when gently pressed and a toothpick inserted into the center comes out clean, about 20-25 minutes. Transfer to a wire rack to cool completely.
To make frosting: Place the butter in a large mixing bowl and beat until creamy. Sprinkle in salt and beat to combine. Add 1 cup of sugar and 1 tablespoon of milk, beat on low until combined. Increase speed to high and beat until smooth. Repeat with remaining sugar and milk, adding 1 cup and 1 tablespoon at a time and beating until creamy before the next addition.
To assemble: Remove cakes from pan. Slice each cake in the middle horizontally. Place one cake layer onto preferred serving dish and spread ¼ inch layer of frosting. Repeat with remaining layers and buttercream. Drizzle HERSHEY'S Caramel Topping to finish.