Today's cheesy recipe is a fast and easy pull apart bread built on roasted garlic, Gruyere cheese, and some herbs. And it just so happens to be perfect Super Bowl game day food.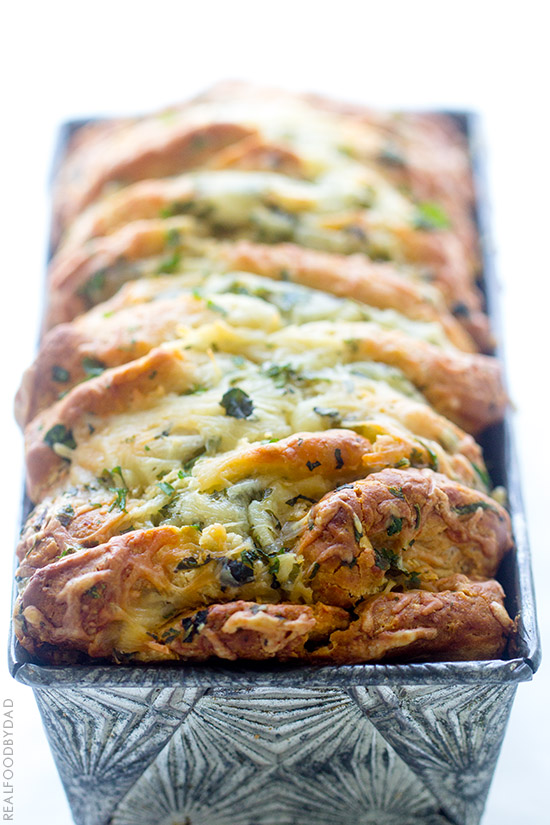 I know, pull-apart bread has been making the rounds around the internet and it's all over Pinterest, but when Naomi posted these on her Facebook, I got busy and had to do my own version.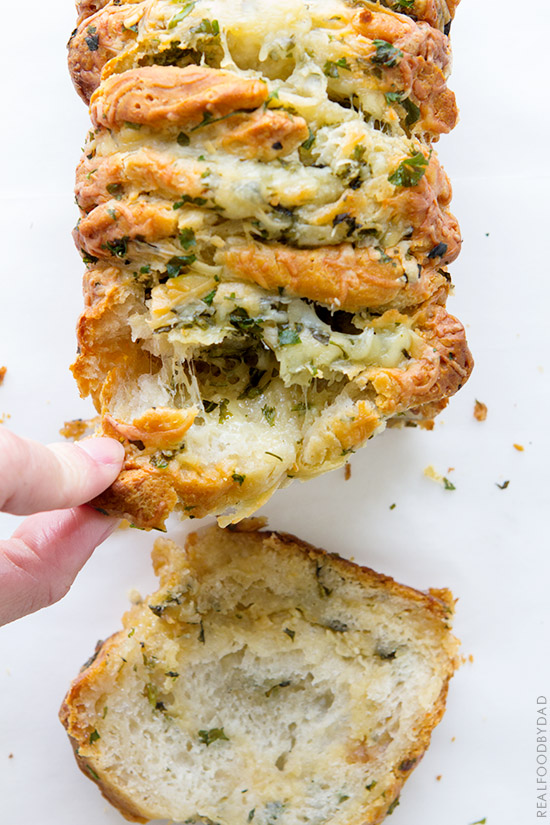 Here's the thing, I don't really have 90 minutes for kneading and proofing, so I went with a shortcut and used Pillsbury Grand Biscuits. Where you don't want to shortcut, the roasted garlic—it makes the recipe. To stay ahead, you can roast the garlic up to two days before. For the herbs I used fresh, but you can use dried herbs as well. If you do, change the portions to 1 tablespoon parsley and 1 1/2 teaspoons basil. For the cheese, I went with something nutty and used Gruyere. One, because that's what was in the refrigerator and two, because, well, that's what was in the refrigerator. But Fontina would work just as well or swap it out for any cheese you prefer. And don't be forgetful like me. Add some crushed bacon to this. It will take this from great to ridiculously great.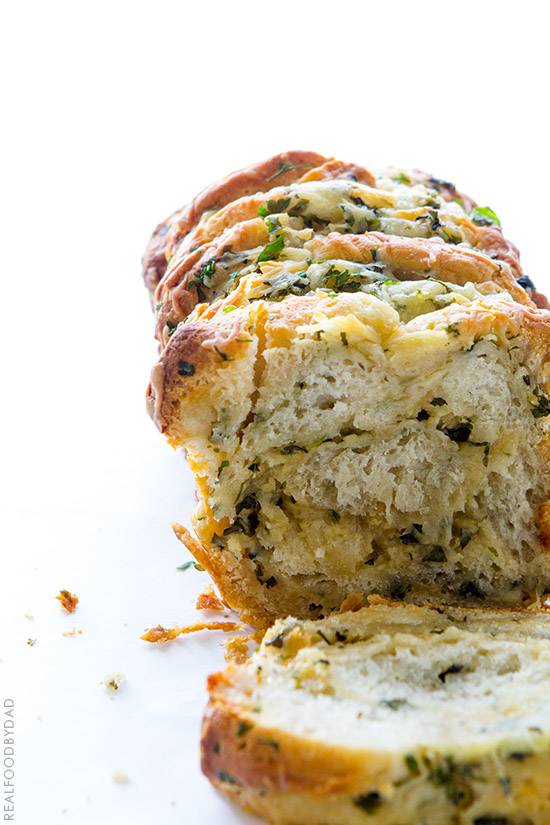 Whatever you decide to do or go with, this pull-apart bread is highly adaptable so mix and match however you like. Next time I make this, I'll be trying it with a pizza profile, per my little guy's request. Because here's the thing about pull-apart bread, it's like a blank canvas waiting to get stuffed, sprinkled, smeared and layered – or anything else you can think of.

Easy Cheese and Roasted Garlic Pull-Apart Bread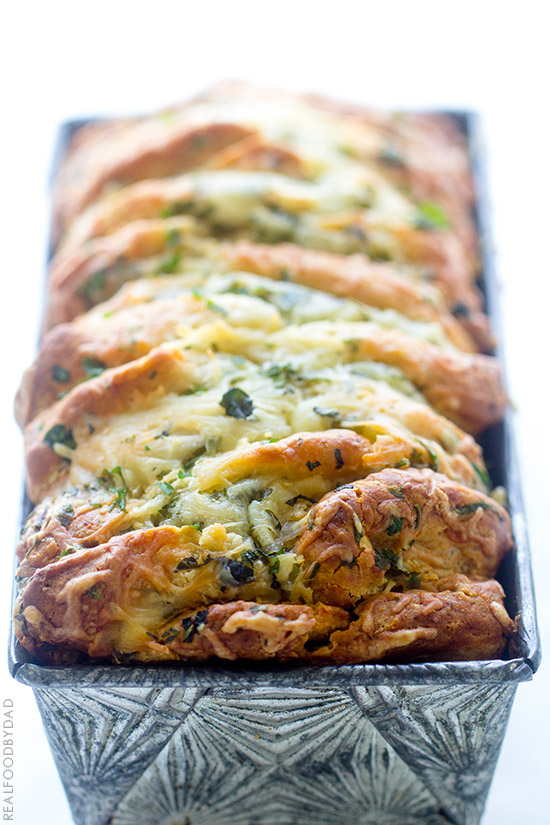 Ingredients
2 14oz. Pilsbury Grand Biscuit cans
16 oz. Gruyere cheese, shredded
1/4 cup roasted garlic (recipe follows)
3/4 cup parsley, minced
3/4 cup basil, minced
1/3 cup canola oil
Instructions
Preparation: Heat oven to 350 degrees F.
Place cheese, garlic, parsley, basil and oil into a bowl and mix to thoroughly combine.
Divide biscuits and fillet each biscuit in half. Sprinkle cheese mixture on top and stack one slice on top of another. Transfer stacked slices to 9x5 bread pan. Bake at 375 degrees F until center is cooked, about 40-45 minutes. If top starts to brown too quickly, cover with foil.
Notes
Roasted Garlic
1 (or more heads)
Preparation: Heat the oven to 400°F:
Peel away the loose, papery outer layers of garlic. Make sure the head stays intact and cloves are connected. Cut about 1/4 inch off the top of the garlic. Drizzle 1 of olive oil on top of cut surface. Sprinkle salt and pepper on top. Wrap in foil and roast on a bake sheet for about 40 minutes or longer. The garlic is done when a center clove is a deep golden brown. Exact roasting time will depend on the size of your garlic.
*If you roast extra garlic heads, it will store for up to 2 weeks.