I hate when holiday weekends come to an end. Why can't we all shut it down 3 days a week every week? One can only dream I guess. Seriously though, there's nothing better than these weekends, where everyone is in celebration mode, kids are out playing, laughing, swimming until late at night without a worry in the world. That's when I am at my happiest, watching them and playing with them. And summer is the time to have fun and take it easy. And with that, I am all about making easy meals no matter the time of day. That's precisely what I did with these Easy Baked Breakfast Taquitos.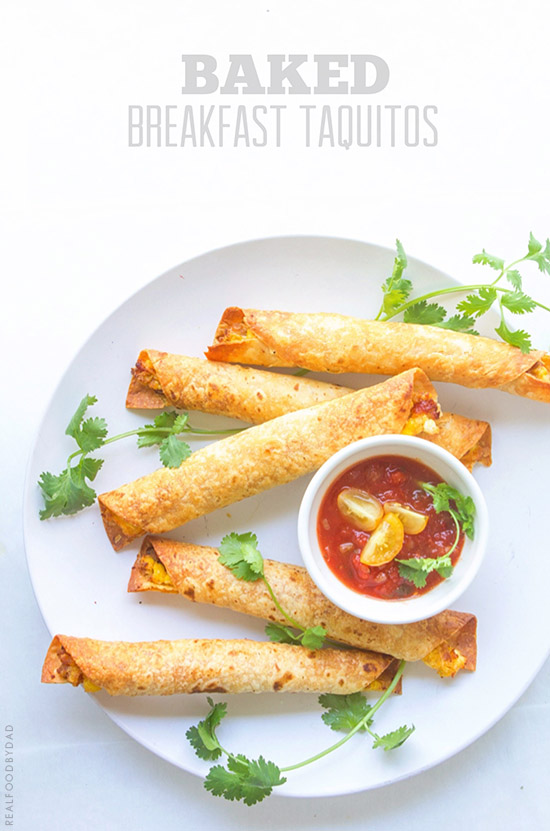 Mornings (especially Mondays) tend to be a little hectic here in our home. With two food bloggers in the house, that's when we get up, hit social media hard and fast, read our favorite blogs, and start planning our next recipes, along with the inevitable daily trip to the grocery store. However, in between everything, we've also got kids to love on, entertain and keep mentally stimulated. And it's important to start the day with a good meal, which usually contains eggs, or as Cole likes to call them, "brain food". These taquitos fit that perfectly. Quick, easy, nutritious and seriously tasty.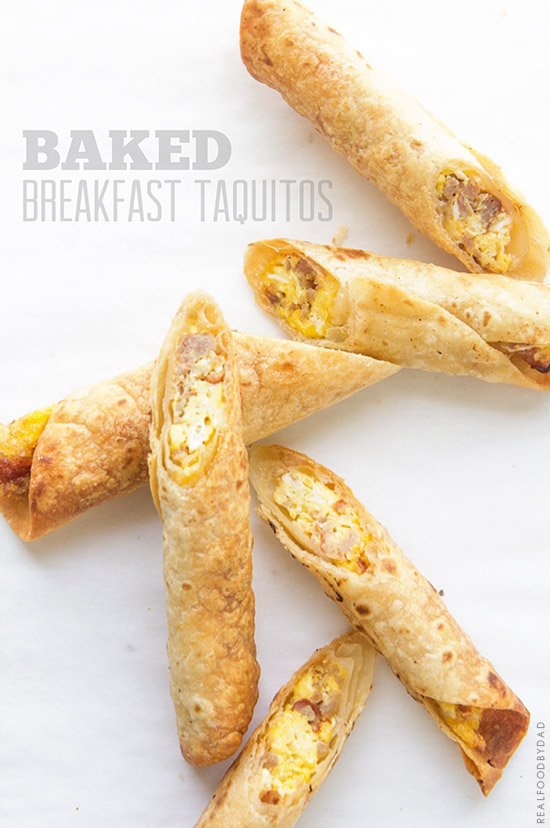 Cramped for time in the morning? Then make these bad boys. They were so good that I saved a few and had some before I went to bed too. Usually the thought of refrigerating and eating eggs as leftovers grosses me out for some reason, but not with these breakfast taquitos. They were actually just as good, maybe even slightly better later for some reason. And so easy – scrambled eggs, Mexican cheese, sausage and tortillas. That's it. No need for additional seasoning since the sausage is full of that. I smeared a little butter and canola oil on the flour tortillas before wrapping the scrambled eggs & sausage inside, then tossed them into the oven to crisp them up. The butter and oil really ended up giving these the perfect browning and crisp that I love in a good taquito. Dipped into sour cream and salsa, and you've got yourself the perfect, quick & easy breakfast for all.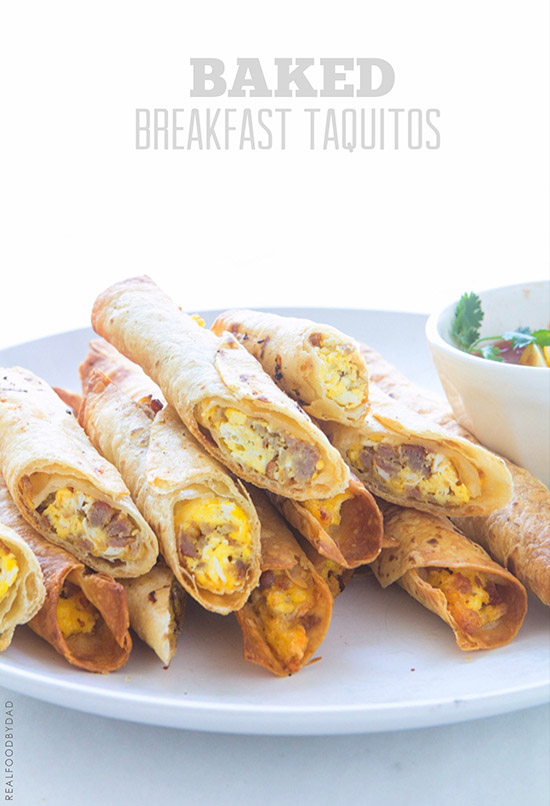 These will definitely be a part of our breakfast rotation throughout the summer. Here's to a great week!
Breakfast Taquitos
By Matt Robinson Published: July 6, 2014
I hate when holiday weekends come to an end. Why can't we all shut it down 3 days a week every week? One can only dream I guess. …
Ingredients
Instructions
Preparation: Heat oven to 400 degrees F. Place wire rack on top of a bake sheet. Combine melted butter and oil and brush on to one side of flour tortilla; set aside.

Combine the scrambled eggs, the cooked sausage, and cheese. Divide mixture between the tortillas. Roll tortilla starting from the straight edge. Place rolled taquitos seam side down on a wire rack. Bake for 20-25 minutes or until golden brown.