If your pores are sweating gravy from all the Thanksgiving leftovers, I've got you covered with this 30-minute, easy-to-make apple strudel—a little sweetness to balance out all of that savory.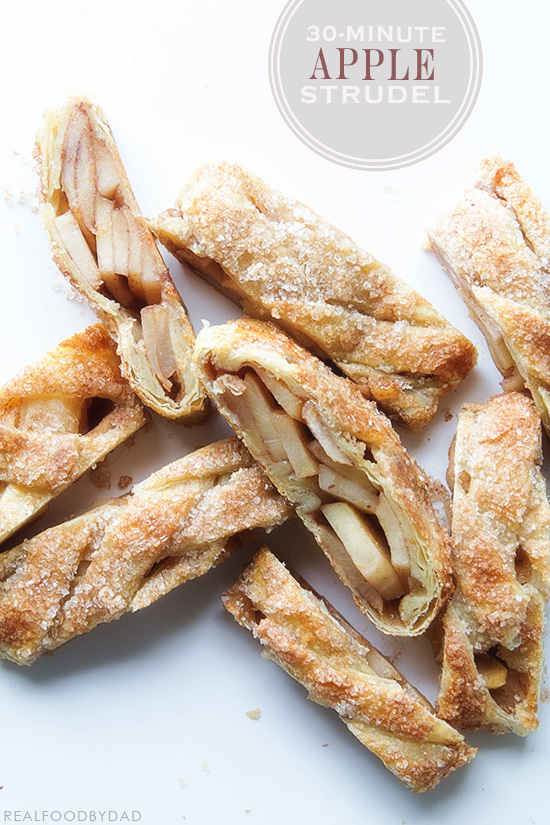 I know, I'm pushing it with this, but food logged or not—let's start talking Christmas. I can't believe that in a little more than three weeks, I'm going to be back to filling my 9-inch plate from edge-to-edge with turkey and 5-7 sides.
I love holiday food, can you tell?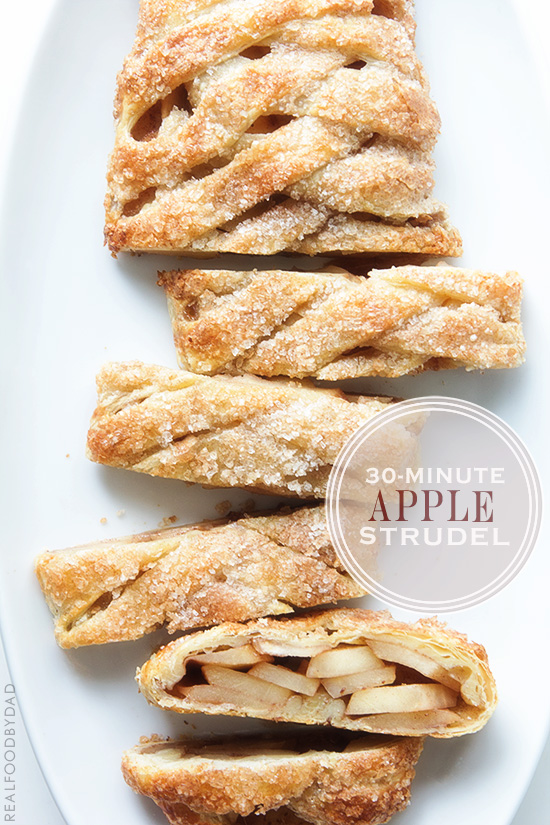 Well this year, Naomi and I decided to host Christmas day dinner at our home for my family and this strudel is going to make an appearance alongside Naomi's dessert.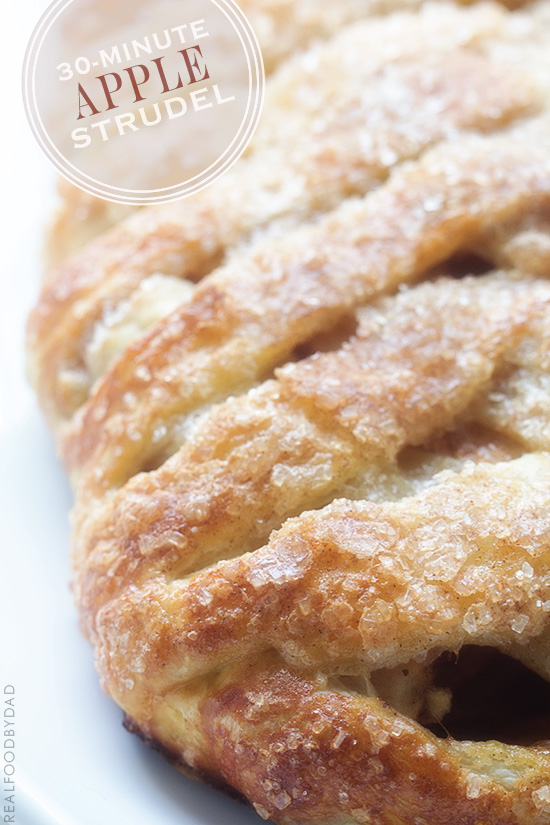 I have no idea what she has planned for dessert, or if it fits the scheme, the menu or whatever it is people do to coordinate flavors. But this apple strudel is my easy way out for the baking portion—30 minutes and done—yay me!
Of course I still have to figure out the savory stuff, but that, as I've learned, needs to be coordinated—no mish-mosh of things thrown together like some cheap buffet. So, yeah, you may just see some of those Christmas dishes here in the coming weeks.
Until then, enjoy the strudel! And if you are tired of apples, try swapping out the apples and cinnamon for pears and cardamom, or persimmons with cinnamon and Grand Marnier.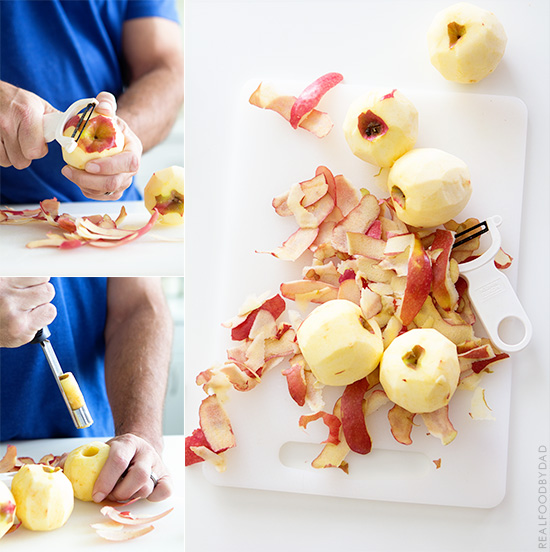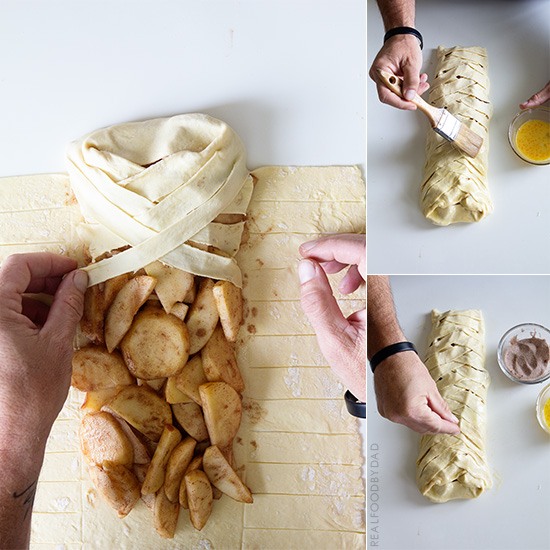 Easy 30-Minute Apple Strudel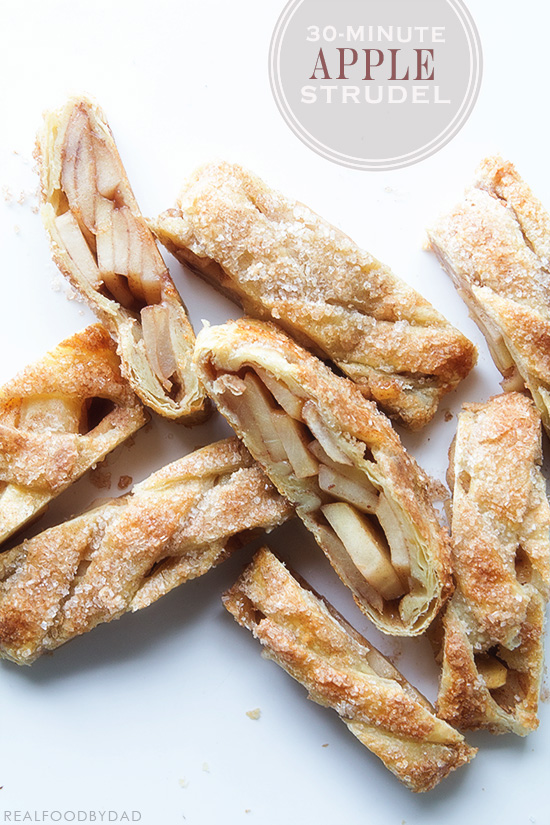 Ingredients
1 puff pastry sheet, thawed according to instructions
4 cups honeycrisp apples (about 5 medium apples), peeled, cored and sliced
1/2 cup sugar
2 teaspoons cinnamon
1 teaspoon vanilla extract
1 tablespoon plus 1 teaspoon flour
Topping
egg wash
4 tablespoons cinnamon sugar (4 tablespoons sugar and 1 teaspoon cinnamon combined)
Instructions
Preparation: Heat oven to 400 degrees.
Remove one sheet of puff pastry from freezer and thaw according to instructions. In the meantime, add apples, sugar, cinnamon and vanilla extract in a bowl and toss to combine; set aside for minutes 15 minutes to sweat. Add in flour and toss to combine.
Roll out puff pastry to a 12x16 rectangle on top of a sheet of parchment paper, Lightly score puff pastry into three vertical columns, with the middle column being 7 inches wide and the two outer columns at 21/2 inches. Cut slits on either side of the center column to 1 inch wide and 2 1/2 inches long.
Place apple mixture in the center and fold top of puff pastry down. Begin to pull alternating slits from one side to the other, making sure ends reach the edge of filling. Brush egg wash on top and sprinkle with cinnamon sugar. For extra crunch, finish with a sprinkling of coarse sugar.
Transfer strudel on top of parchment paper to the oven and bake for about 10-12 minutes or until golden brown. Remove from oven and cool on a wire rack for 5 minutes before slicing into it.