Easter is around the corner, and like any holiday, I'm all about easy-to-make overnight meals. This no-fuss Easter brunch dish can be prepped the night before and then just pop it in the oven the morning of, leaving you more time for Easter baskets and egg hunts. At least that's how it's going to go in my home.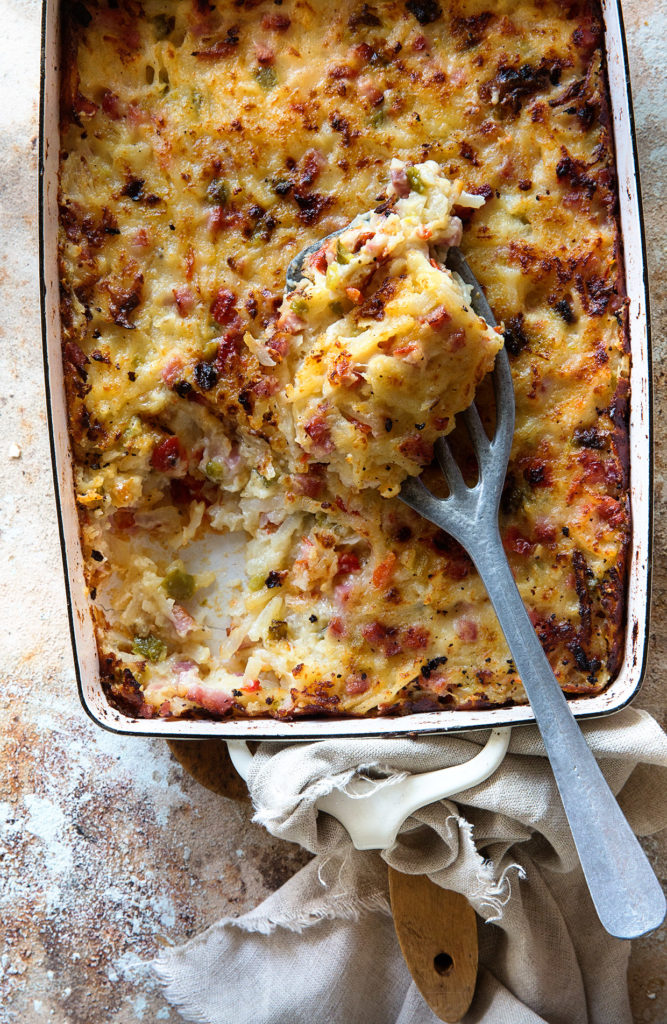 Easter is second to Christmas when it comes to surprises for my boys. I'm a sucker and love any opportunity for guilt-free spoiling. Nevermind that my fifteen year old still plays along and will tell me what the Easter Bunny should bring him–see what I mean by guilt-free spoiling now? But gulp, he just got his driving permit, so his asks might be way big this year!
Whatever it may be,  I'm going to squeeze every bit of holiday mileage I can because he's growing up way too fast. Thank goodness he has two little brothers to play along for, so that fast-approaching adulthood is tempered just slightly. But I know one day, the Easter Bunny, like Santa, will pass by my house, but until then – the rule is: You have to believe to receive, even if it's just so I don't have to let go yet.
Here's to a no-fuss Easter dish and another year of Easter baskets and egg hunts.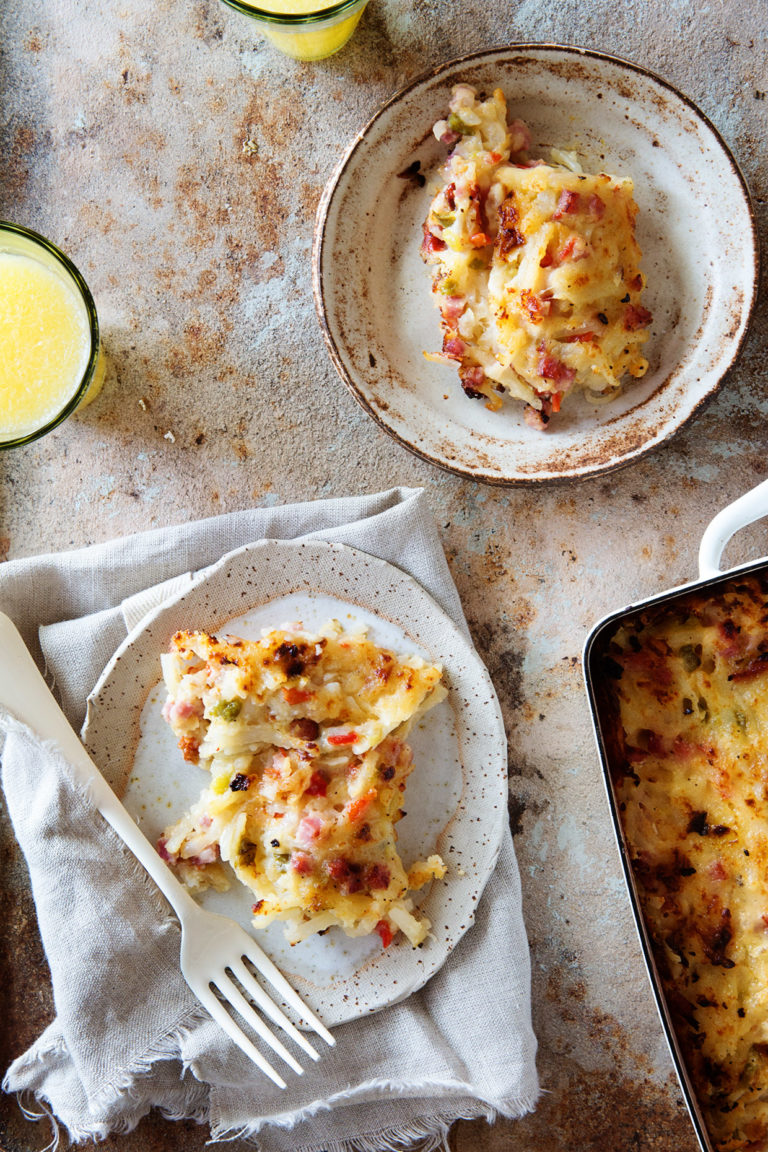 Yield: Serves 6
Easter Hash Brown Casserole
Ingredients
3 tablespoons shallots, minced
1 garlic clove, minced
2 tablespoons butter
1 tablespoons canola oil
3 tablespoons flour
1 1/2 cups milk
1 tablespoons onion powder
1 tablespoon garlic powder
2 teaspoon kosher salt
6 oz. diced ham
1 red bell pepper, roasted and diced
1 green bell pepper, roasted and diced
2 oz. green chiles
8 oz. extra sharp white cheddar cheese
4 oz. mozzarella cheese
4 oz. parmesan cheese
1 lb. hash browns (not frozen)
Instructions
In a large saute pan over medium high heat, bring butter and oil to a sizzle. Add shallots, cook and stir until translucent and fragrant, about 2-3 minutes. Add garlic, cook and stir until browned, about 30 seconds. Slowly stir in flour and cook until browned, about 3-4 minutes. Pour in milk, cook and stir until thick, about 5-7 minutes. Remove pan from heat, stir in onion powder, garlic powder, kosher salt, ham, red bell pepper, green bell pepper and green chiles. Fold in cheese and stir until well combined. Add hash browns and fold until well combined. Transfer mixture to a 13x9 pan that is lightly covered with non-stick spray. Cover with plastic wrap and store in refrigerator overnight if not baking right away.
Heat oven to 350 degrees F. Bake for 35 minutes. Flip oven to broiler and broil for 2-3 minutes to brown top. Serve immediately.