I was craving cookies. It's not often that I want sweets, but when I do, it usually comes in the form of cookies. And since my little guy Cole is the same way, he was all over helping me out.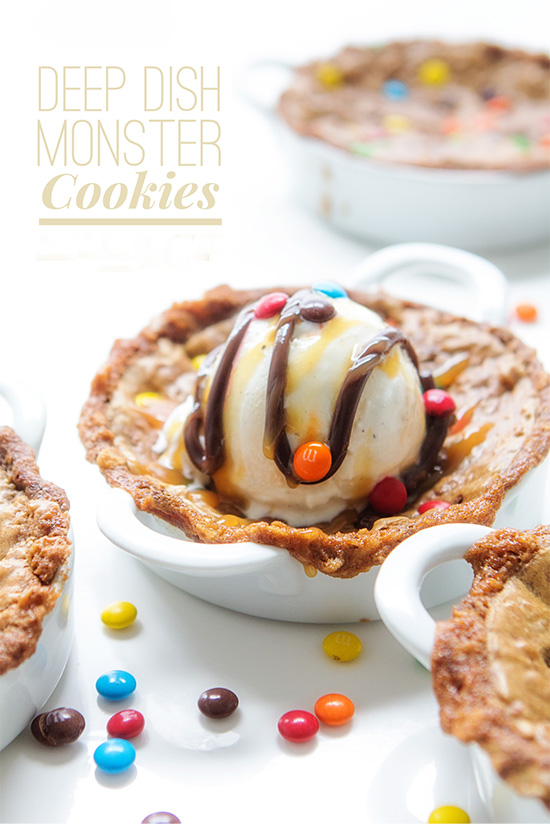 These initially started out as chocolate chip cookies, but before I knew it, Cole had all kinds of ideas for what we could add-in. Some things made it in, most things did not—things like: red hots, gummy bears . . . he's been watching too much Chopped and probably channeling his mom's tendencies for candy in cookies.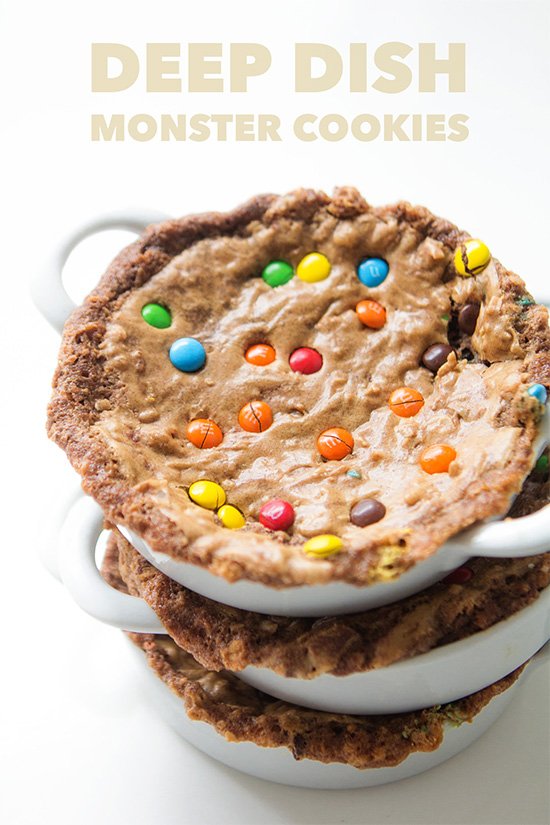 Like I said, most things did not go in, but the things that did: oatmeal, coconut, toffee bits, M & Ms and of course chocolate chips. And since this is a super easy recipe, he was once more my kitchen side-kick. I love it when that happens. Every since I got the Sharp R-830 Convection Microwave Oven Cole has staked it as his own little oven—hello, Easy Bake Oven just got a major upgrade!
But seriously, we both love it. The convection oven makes baking easy and the counter top design makes it easy to use while keeping the house cool—convenience and utility all in one makes it one of my favorite appliances. And most importantly, check out how well the goods came out! The cookies have that perfect construction I like— crisp edge with a chewy center.
Yield: Four 6-inch deep dish cookies
Deep Dish Monster Cookies
Ingredients
3/4 cup all-purpose flour
1/2 cup old fashion rolled oatmeal
1/2 teaspoon baking soda
1/4 teaspoon salt
1/2 cup unsalted butter
3/4 cup brown sugar, lightly packed
1/2 cup granulated sugar
1 large egg
1 teaspoon vanilla extract
1/2 cup mini chocolate chips
1/2 cup mini M&Ms
1/3 cup sweetened shredded coconut
1/4 cup toffee bits
Instructions
Heat oven to 375 degrees.
In a large bowl, whisk together flour, oatmeal, baking soda and salt; set aside. Place butter in medium size saucepan over medium heat, cook and stir until melted. Turn off heat and stir in both sugars. Add in egg and vanilla, whisk to combine. Slowly add in flour and whisk until combined and flour streaks are no longer visible. Fold in remaining ingredients.
Scrape and dived batter into four shallow 6 inch ramekins. Bake at 375 until cookies are browned on top and center is just set. Remove from oven and transfer to a wire rack to cool.

This is a sponsored post in partnership with Sharp USA; however all opinions are my own. Thank you for supporting the brands that help make running this site possible.