Creamy Pan-Fried Gnocchi with Chorizo ~ Think golden crispy gnocchi with a soft pillow-y interior. Then add smoky chorizo, sweet sugar peas and drape it in a cream sauce for a restaurant-style dish, but made fresh and tastier.
**This is a sponsored post in collaboration with Albertson. All thoughts and opinions are my own.
Yes, it's every bit as good as it sounds! It's also a weeknight meal you can knock out in 30 minutes or less.
Well 30 minutes if you don't get side-track by text messages, screaming kids and spilled cream because you went to reach for you phone and your elbow knocked over the carton.
Multi-tasking fail—I have a way of making things longer than they should be.
But if you stay focus, you got this in 30.
And, pro-tip, check out your local Albertsons Companies store to find everything you need for this recipe at a great value and use their Deals & Rewards or Deals & Delivery app to save even more! My local store is Albertsons, but you may have a Safeway, ACME Markets, Jewel-Osco, Randalls, Tom Thumb, Pavilions, Shaw's, Star Market, United Supermarkets or Vons store in your neighborhood. The Signature and O Organics® products I used for this dish can only be found at Albertsons Companies stores and the O Organics® line is USDA-certified organic and always non-GMO which I love. Check out their convenient Delivery or DriveUp & Go™ options if you're pressed for time!

Here are a few Q&A + Tips before you get started:
Do I need to cook the gnocchi before it's pan-fried?
No. Cooking them ahead of time will turn the gnocchi to mush. The idea is to pan fry for the crispy exterior and as they cook in the sauce the interior will soften.
Can I skip the pan-fry portion of the gnocchi?
You can, but omitting that step will yield some considerably softer gnocchi.
For the chorizo what kind is best?
There are two types of chorizo most people are familiar with. Chorizo made with fresh ground pork and seasoned with chiles, herbs and spices. The other is chorizo that resembles salami— cured cured or semi-cured— that's air dried and seasoned with mostly paprika and some other spices.
For this recipe, use the fresh kind because that's where most of the flavor for this dish comes from. Fresh chorizo can can be found in the meat section near the pork.
I hate peas, what else can I use?
Cauliflower, broccoli, diced sweet potatoes will work too. Keep in mind if you do want to use those suggested veggies, make sure to pre cook—or better yet— roast them ahead of time for maximum flavor.
How can I lessen the calories?
You can sub half the heavy cream with milk.
Yield: Serves 4
Creamy Pan-Fried Gnocchi with Chorizo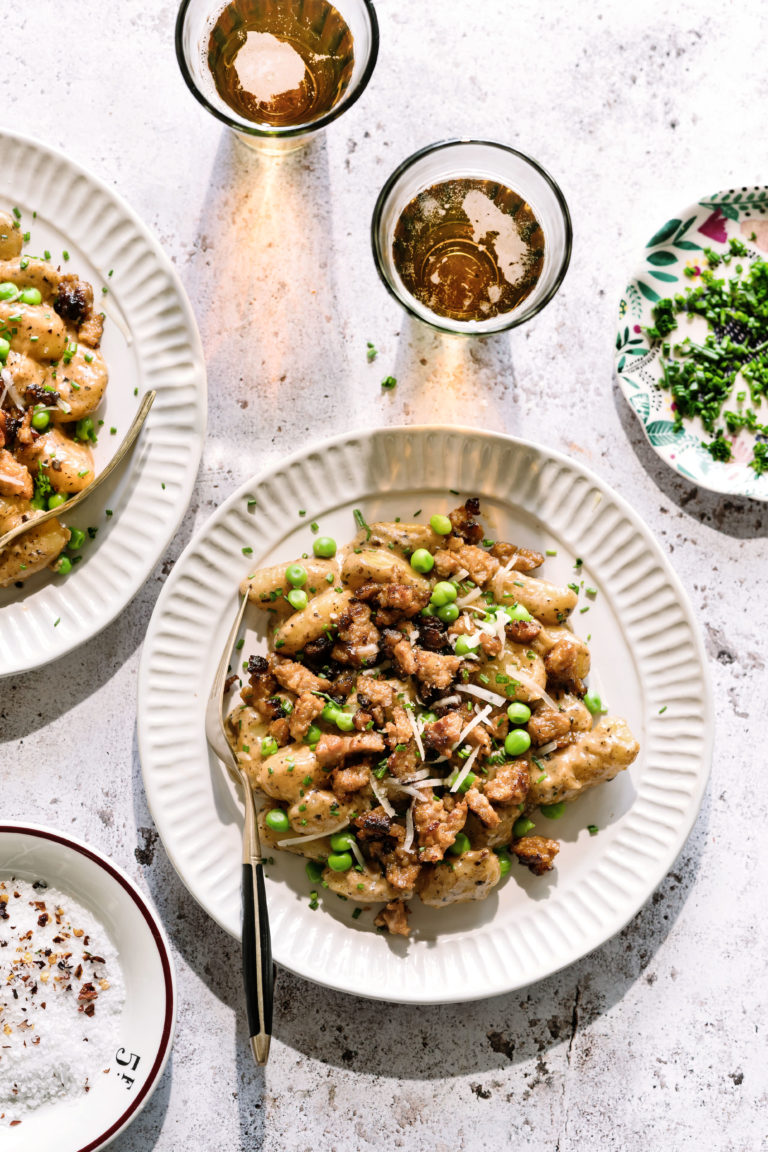 Ingredients
4 tablespoons O Organics® olive oil
1 lb. chorizo
2 medium shallots, finely chopped
2 teaspoons O Organics® fresh tarragon
2 O Organics® garlic cloves, finely chopped
1 lb. uncooked gnocchi
3/4 cup O Organics® chicken stock
1 cup Lucerne® heavy cream
1/2 cup (+ more for topping) fresh grated Primo Taglio® parmesan cheese
¾ cup fresh or O Organics® frozen peas
3 tablespoons O Organics® fresh chives, chopped
Instructions
In a large pan, heat 2 tablespoons oil over medium-high
heat. Add the chorizo, stir and cook, about 5 minutes. Remove from heat and transfer to a paper-towel-lined plate.

Add the shallots and tarragon, cook and stir until shallots
are translucent, about 2 minutes. Add the garlic and cook for 30 seconds. Place the gnocchi in the pan and sauté until slightly browned.

Pour in the chicken broth and cream, scraping the bottom to
release any browned bits. Season with salt and pepper taste. Bring to a simmer and cook until reduced by a third. Remove from heat.

Fold in the3/4 of the cooked chorizo, peas and
parmesan. Divide gnocchi among bowls. Finish by topping each bowl with remaining chorizo, chives and freshly grated parmesan.