**This post is made in collaboration with Le Creuset.  All content, ideas, and words are my own.**
This is what Sunday looks like in our home this year. Easy one-pot pasta dishes in Le Creuset's new spring palette, featuring: Fig, Meringue and Sea Salt. A color palette that is perfectly aligned with my goal for living a more deliberate and intentionally calm life.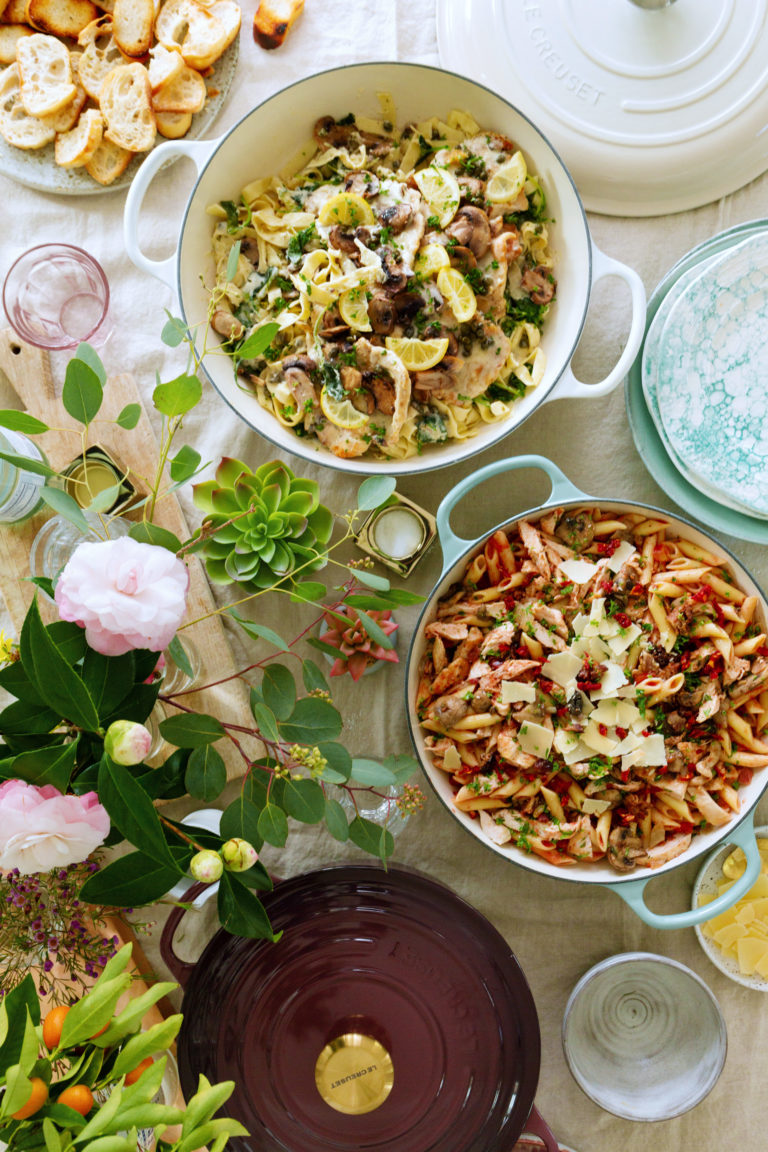 This spring, Naomi and I are working towards being more purposeful and restrained with every aspect of our life. We are learning to say, "I'm sorry, no. I can't. We can't." It's harder to do than I expected, especially when it comes to the kids and their wants. I'm also learning that less is more — we are curbing their activities for more family down time.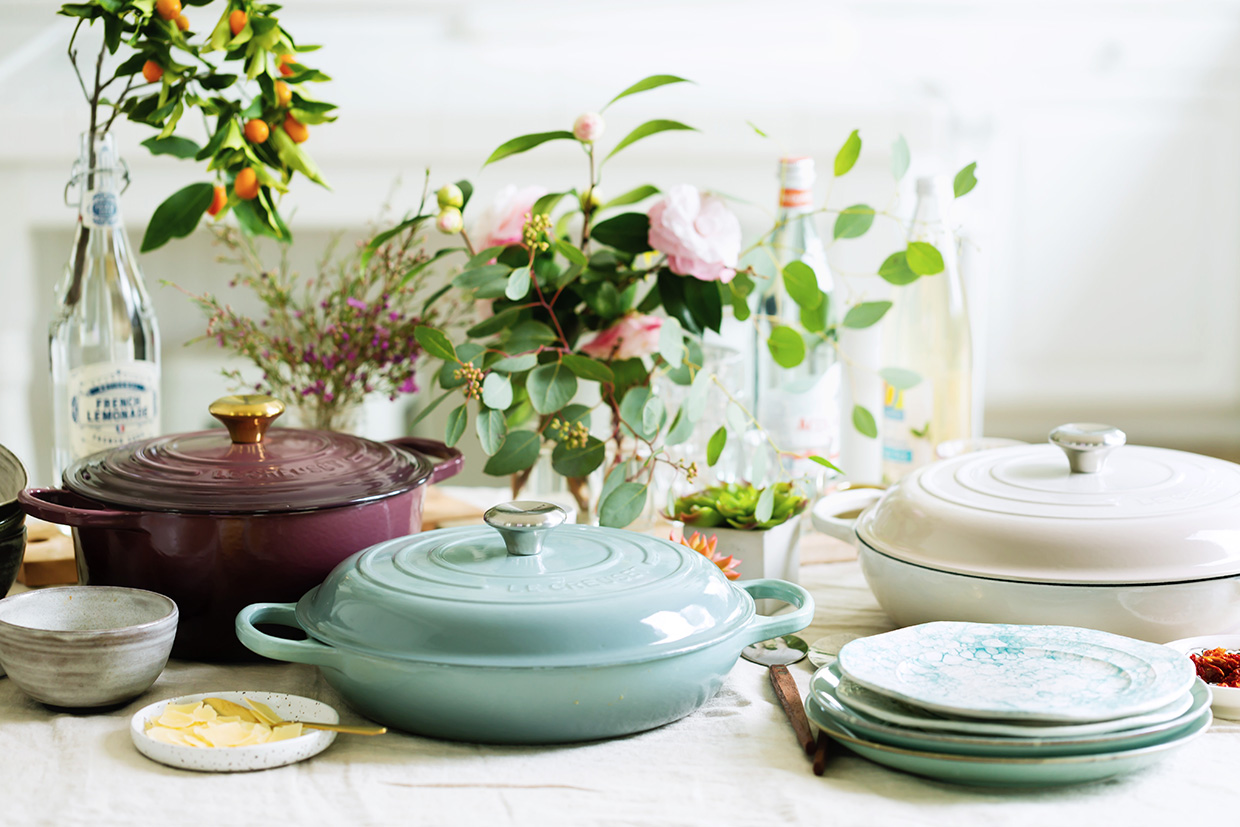 Sundays are now saved for family kitchen time, where we will turn out dishes like these. Every one grabs a recipe and we work together to make it. In between there are only a few rules: no work talk, no texting and no social media. It's my favorite day of the week. It's when I see my little guys grow in confidence as their evolving kitchen skills carry them from one task to the next. I want to make sure they grow up learning that kitchen is a calming place and to be at ease while cooking.
Naomi and I are also guiding them to develop their own palates and kitchen personalities through experimentation and discovery. Cole is the risk-taker in the kitchen. He's much more likely to take a chance, even if there is a strong likelihood he will fail.  Whereas Connor is methodical, measured and cries when things go wrong — he's our perfectionist.
I'm letting them do, as they do, to come into their own, but what I have armed them with are certain sets of non-negotiable kitchen tools, things like good cookware. The right tools matter, and the right tools for the right job make everything easier. That's why Le Creuset cookware is and has been my top choice.
Its superior quality and design mean I never have to choose form over function or vice-versa. Their cookware is optimized for steady, even heat, which means no hot spots, uneven cooking and the enamel interior is resistant to staining, dulling— every day wear and tear. This is a must when you cook as much as I do. I also love that it can go from stovetop to oven (up to 500F). This means less pots to clean and because Le Creuset is dishwasher safe.
Along with that, I'm slowly replacing some of my Le Creuset pieces with their new spring color palette, for a more soothing kitchen calm. I'm picking out a few pieces in the Meringue and Sea Salt for its soothing tone, while adding just a few of the fig, for a little pop of color
See how Sunday cooking with the kids is so much more than just making food? It's about making lasting memories with my kids and teaching them skills they can take with them in and out of the kitchen. And I already know that these Le Creuset pieces will become family heirlooms. They are built to last. Now all the boys have to figure out is which color will define their kitchen personality. To see the complete spring collection, make sure to click here.  
Tuscany Chicken Pasta
1 tbsp. extra-virgin olive oil
4 skinless and boneless chicken breasts (about 1 1/2 lbs.), halved horizontally
Sea salt and freshly ground black pepper
1 tablespoon garlic powder
6 slices bacon
2 cloves garlic
2 cup diced tomatoes (fresh or canned)
1 cup chicken stock
1/2 cup whole milk
1/2 cup heavy cream
1/3 cup grated Parmesan
1lb. cooked penne
Instructions:
Coarsely chopped parsley, for garnish (optional)
Season both sides of the chicken with salt, pepper and garlic powder.
In a large skillet over medium-high heat, heat oil. Add the chicken, working in batches as needed to avoid crowding the pan, sauté until chicken is cooked through and golden brown, about 3 minutes on each side. Transfer chicken to a plate. Repeat as necessary, making sure to add more olive oil as if needed between batches. Let rest for 10 minutes before slicing into 1-inch pieces.
In the same skillet, add the bacon and cook over medium heat until crispy, 8 minutes. Transfer to a paper-lined plate to drain. Let cool then chop. Pour off half of fat from skillet.
Add garlic and tomatoes to skillet and cook over medium heat until fragrant, about 2 minutes.
Season with salt and pepper, then add chicken stock, milk, heavy cream, and Parmesan, Simmer 5 minutes.
Add cooked pasta and toss until fully coated, then add chicken and bacon and toss until combined.
Yield: Serves 4 to 6
Creamy Chicken Picata Pasta with Kale
Ingredients
4 skinless and boneless chicken breasts, halved horizontally
Sea salt and freshly ground black pepper
1 tablespoon garlic powder
1/3 cup all-purpose flour, for dredging
6 tablespoons unsalted butter
3 tablespoons extra-virgin olive oil
1 shallot, finely chopped
8 oz. baby bella mushrooms
6 oz. baby kale
3/4 cup chicken stock
1/4 cup fresh lemon juice
1/4 cup brined capers, rinsed
1 lb. cooked fettuccine pasta
coarsely chopped parsley, for garnish (optional)
Instructions
Season both sides of the chicken with salt, pepper and garlic powder. Dredge the chicken pieces in flour and shake off any excess.
In large skillet, over medium high heat, add 3 tablespoons of butter and the olive oil and heat until butter is melted. Add the chicken, working in batches as needed to avoid crowding the pan, sauté until chicken is cooked through and golden brown, about 3 minutes on each side. Transfer chicken to a plate. Repeat as necessary, making sure to add more olive oil as if needed between batches.
Add the shallot, mushrooms and to the pan and sauté, stirring occasionally until shallot and mushrooms start to brown and is fragrant, 2 to 3 minutes. Add the kale, stir and cook cook until kale is wilted. Add the stock, let simmer until reduced by half, about 3 minutes.
Turn heat to low, then stir in the remaining 3 tablespoons butter, capers, lemon juice, to taste. Season with salt and pepper to taste. Serve