This Creamy Chicken and Roasted Cauliflower Pasta with Spinach and Sundried Tomatoes is one of those weeknight recipes that you can easily pull together after a long day. It's also highly adaptable, so if cauliflower isn't your thing, swap it out with broccoli or almost any other hardy vegetable. As for the spinach, you can skip it all together or swap it out for kale. The sun-dried tomatoes are optional, but they add a really nice bit of sweetness to the ensemble, so I strongly suggest you not skip it. On that note, if it were up to me, I'd do roasted cherry tomatoes, but Cole has an aversion to the texture of them so we do sun-dried tomatoes.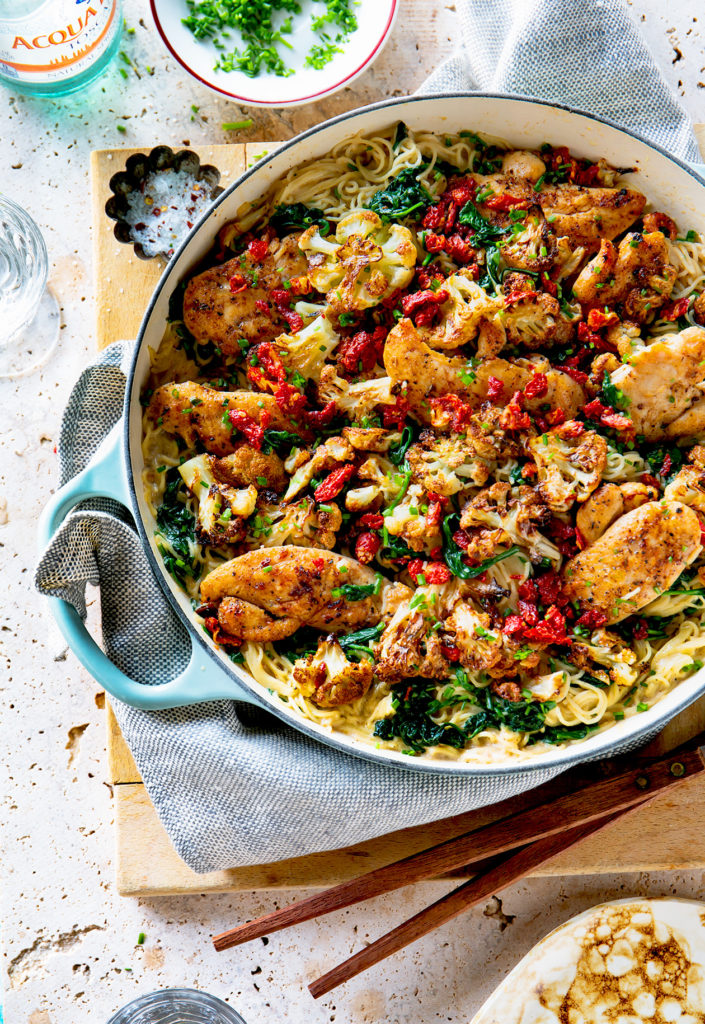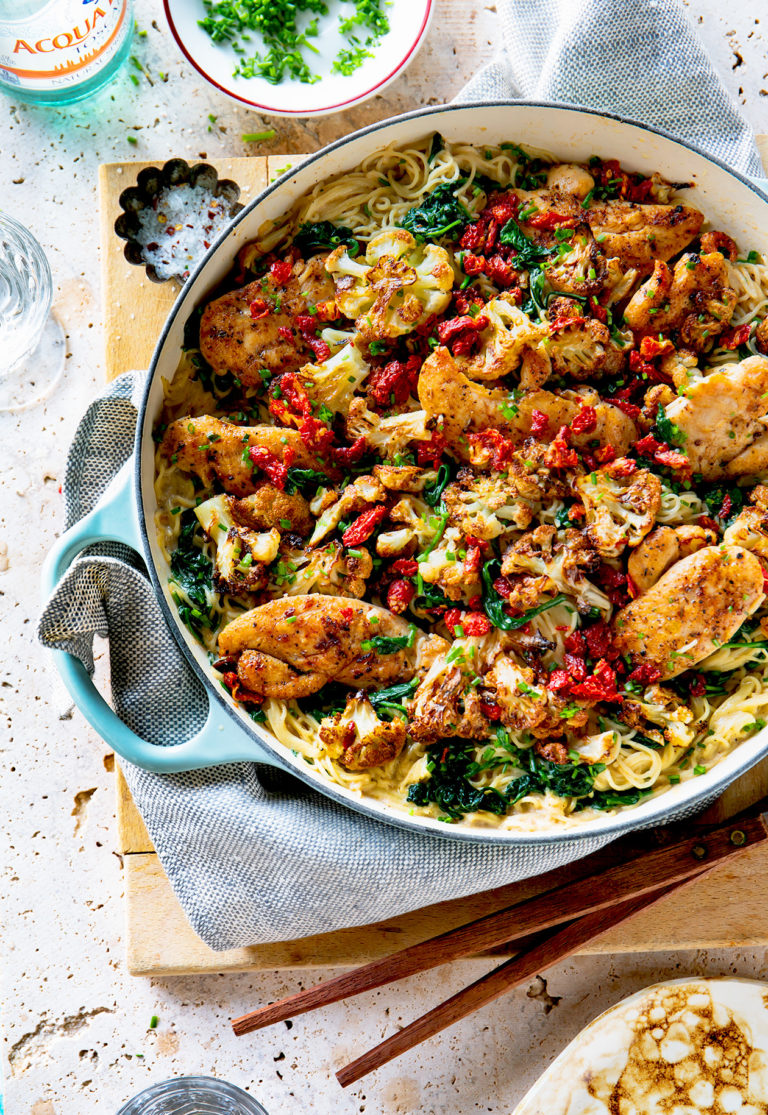 Last note on the recipe, be prepared to not have leftovers. Every time I make this, we end up eating it in shifts—we clean our plates, then take a break and go back for seconds. The worst part are the dishes, because who wants to get up and do that after being pasta-logged.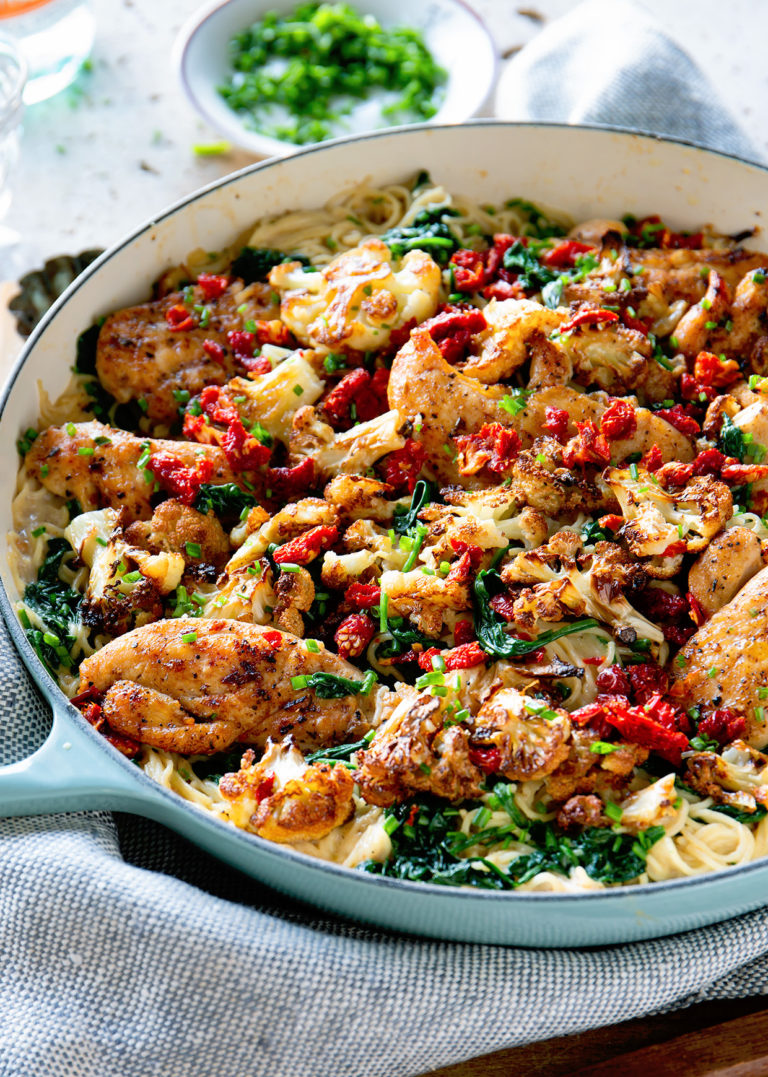 I usually end up trading house chores with Naomi for kitchen clean-up duty. I don't know how I ever agreed to cook and clean, but it's been that way since day one. The person who cooks is the person who cleans. I think it's her way of making sure, I don't completely annihilate the kitchen while cooking. As much as I hate to admit it, it works. I'm learning to clean as I go, so even when I've traded out kitchen duties like I did on this night, it's not so bad for her.
Now if only I could remember to check the laundry before making trades like this because after she too-quickly agreed to the trade, I realized why—the laundry room was littered with dirty clothes spilling out from all four laundry bins. Wahhh!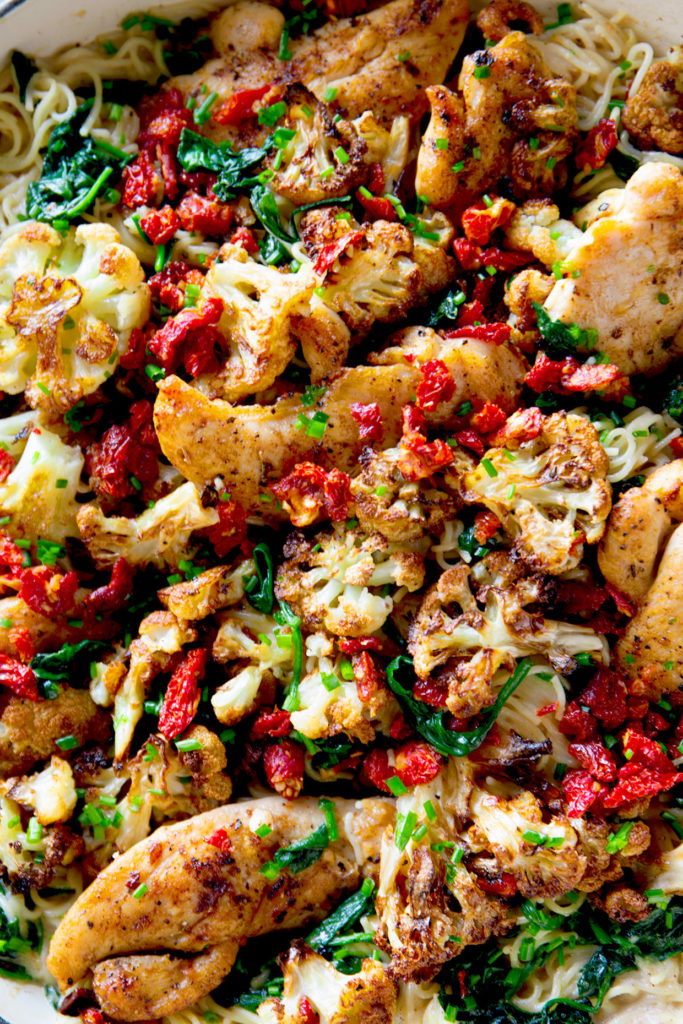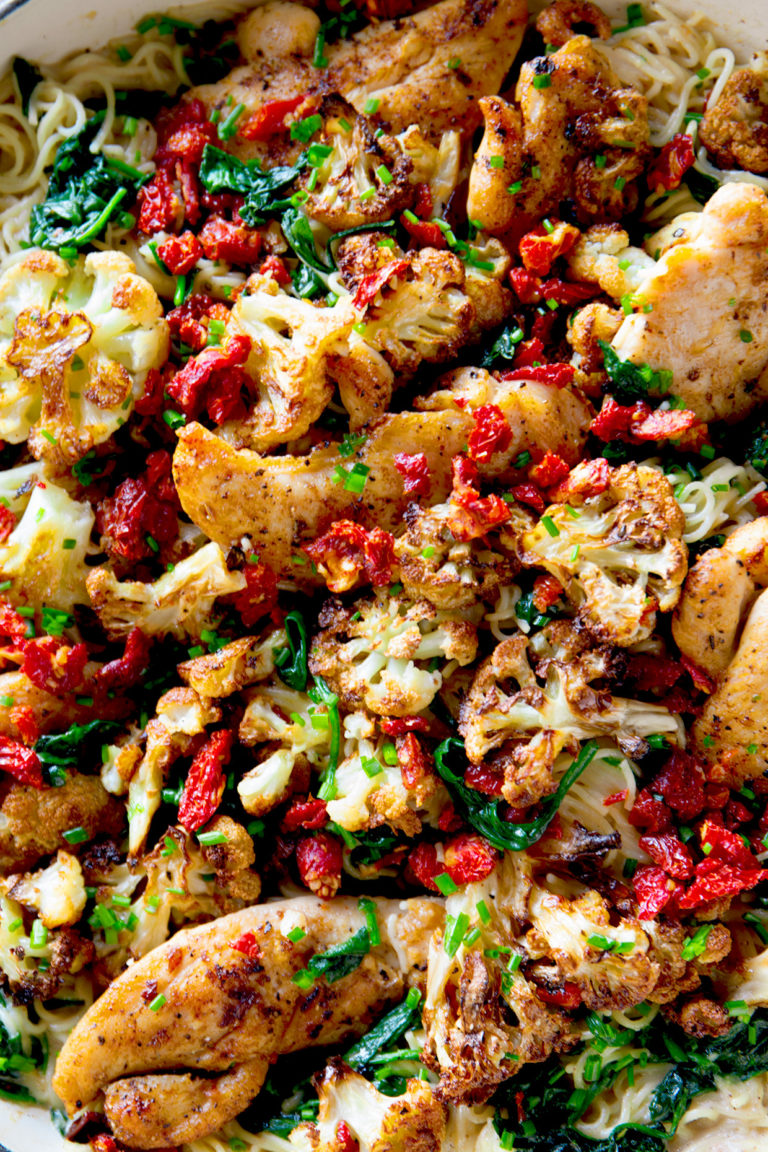 Yield: Serves 6
Creamy Chicken and Roasted Cauliflower Pasta with Spinach and Sundried Tomatoes
Ingredients
1/2 lb. thin spaghetti pasta, cooked according to package
1lb. roasted cauliflower (recipe follows)
Chicken
4 tablespoons olive oil
2 lbs. chicken tenderloins
3 teaspoons kosher salt
2 teaspoons coarsely ground black pepper
2 teaspoons McCormick's Cajun Seasoning
Sauce
1 tablespoon olive oil
2 tablespoons butter
1 shallot, finely chopped
1 garlic clove, finely chopped
2 tablespoons flour
1 cup chicken stock
2 cups milk
1/2 cup parmesan cheese
1 teaspoon McCormick's Cajun Seasoning
1 1/2 teaspoon garlic powder
1 1/2 teaspoon onion powder
1 teaspoon kosher salt
4oz. baby spinach
Garnish
1/4 cup chopped sun-dried tomatoes, (drained of oil)
2 tablespoons chopped chives
Instructions
To make the chicken: Drizzle 3 tablespoons olive oil over chicken and toss to coat. Season both sides of chicken with kosher salt, black pepper and McCormick's Cajun seasoning. Heat the remaining tablespoon of olive oil in large frying pan over medium high heat. Add the chicken, making sure not to crowd the pan (cook in two batches if needed), and cook for 3 minutes, then turn chicken and cook for another 3 minutes. Remove the chicken and transfer it to a plate and set aside to make the sauce. Scrape up any burnt or severely browned chicken bits from the bottom of the pan and discard.
To make the sauce: Using the same pan, add the olive oil and the butter. Add in the shallots, stir and cook until translucent, about 1 to 2 minutes. Add the garlic and cook for another 30-seconds. Sprinkle flour on top, stir and scrape the pan until a paste-like texture appears, about 1 minute. Stir in chicken stock, add the milk and whisk until well blended. Add the cheese and stir constantly until cheese is fully melted. Stir in the cajun seasoning garlic powder, onion powder and kosher salt, whisk until blended. Turn off heat and remove pan from the stove top. (Sauce will be appear thin at this point, but will thicken as it cools. Don't be tempted to add more cheese of flour, or else the sauce will be too thick once the pasta and spinach is added).
To assemble: Add the spinach and stir until wilted. Add the chicken and pasta and toss to coat. Garnish with sun-dried tomatoes and chives. Serve immediately.
To roast the cauliflower: Heat oven to 395 degrees F. Trim and slice cauliflower into 1/4-inch thick slices. Place slices onto a baking sheet and toss drizzle about 3 tablespoons of olive oil. Season generously with salt and pepper toss to coat. Bake until cauliflower starts to caramelize at the edges, about 25 to 30 minutes.