I grew up in a home of 9 kids, 4 boys and 5 girls, so keeping us fed and happy I'm sure was a challenge for my mom. She did an amazing job of that too, yet I didn't really appreciate it until I had a family of my own. Sorry Mom! While growing up in a home that large, life was pretty chaotic sometimes and I usually found my peace by being outside, on my bike, or building a fort somewhere. But one of my favorite memories is of coming home for dinner time to scarf down my mom's chicken, broccoli and cheese casseroles.
With Mother's Day on my mind, I had a flashback of that and decided to make my own version of this classic, with a slight update to it, since I am so darn picky. Like most of you I imagine, we've usually had this made with a condensed soup of some kind, mushroom or chicken perhaps. I'm not a huge fan of either, so instead I went with sour cream and cream (heavy). I also swapped out the onions for something a little more mild, shallots. And let me tell you, this Creamy Chicken and Broccoli Casserole was ridiculously good and enjoyed by all of us here.
And Mom, if you happen to see this post, thank you for all you've done and sacrificed for us. I am so incredibly blessed to have you in my life and I see so much of your spirit in me. And guess what? I'm making this for you soon, perhaps for Mother's Day. However, it's my way this time!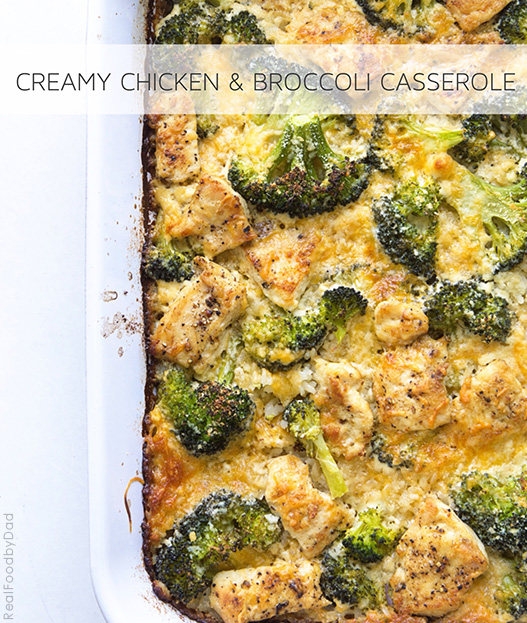 Yield: 6
Creamy Chicken and Broccoli Casserole
Prep Time 20 minutes

Cook Time 45 minutes

Total Time 1 hour 5 minutes
Ingredients
2 cups broccoli florets
1 teaspoon salt
1 teaspoon fresh black pepper, finely ground
4 pieces bacon
1 large shallot, finely chopped
1/2 cup Marsala wine
1 1/2 cups chicken broth
1/2 cup sour cream
1/4 cup cream
2 teaspoons Emeril's Original Essence, or your preferred seasoning
1/2 cup parmesan cheese
1 1/3 cups rice, uncooked
1/2 cup cheddar cheese, grated
Instructions
Blanch broccoli by bringing 3 water and 3 teaspoons of salt to a boil. Plunge florets into water for 1 minute. Drain and rinse with cold water; set aside.
Season chicken with salt and pepper. Cook bacon. Drain all but 1 tablespoon of bacon grease. Crumble cooked bacon and set aside. Cook chicken on each side until just brown, about 2 minutes (chicken may not be cooked throughly, but will be once baked). Remove from pan and set aside.
Add in shallots and cook until transculent. Add 1/2 cup marsala wine and deglaze pan. Let Marsala reduce to 2 tablespoon, then stir in chicken stock. Remove from heat and stir in sour cream, cream, parmesan, seasoning and crumbled bacon.
Assembly: Add uncooked rice to casserole pan. Pour liquid mixture on top. Add chicken and broccoli and press into rice mixture. Sprinkle with cheddar cheese on top and bake at 375 degrees F for about 45 minutes or until casserole is creamy.
NOTE: (1) The rice used for this recipe is short grain Japanese rice with a 1 1/2 cup rice to 2 cups of water ratio. (2) For the cream, any kind can be used ie. heavy cream, whipping cream, half and half or whole milk.