It was a typical weekend full of baseball madness here. Games, practices, hanging out at the fields, several trips to the snack bar. I am wiped out. And I love it. And of course, between all of that, the usual complaints about hunger. We've got 2 boys with endless appetites and keeping them fed is almost a full time job. And we've got another on the way? Yikes. I am mentally preparing myself for another couple of decades of this. Can't wait for it actually.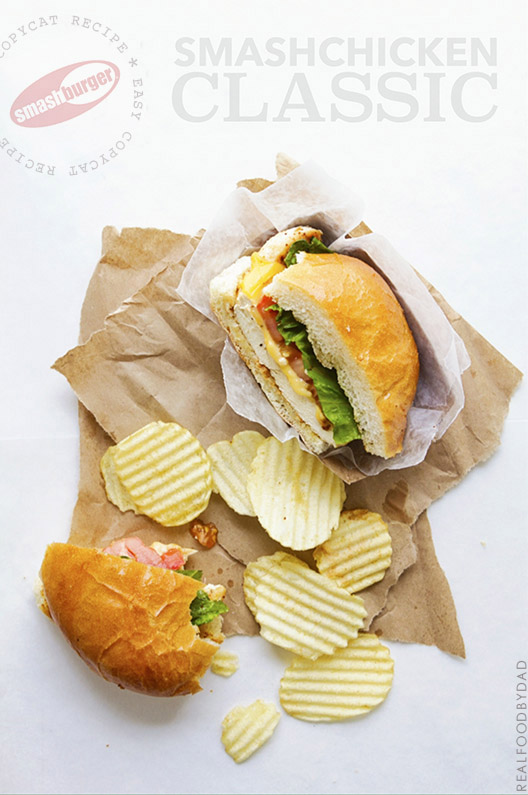 So when it comes to eating, what is it about eating out that every kid loves? I mean, don't get me wrong, I love it too occasionally, but our boys LOVE it. And as I explain to them, it gets expensive! So this weekend, I was given the hint that they wanted SmashBurger, which is a burger chain that came to Southern California a couple of years ago. We are big fans of their chicken sandwich, so I figured, rather than spending $7 a piece for a sandwich (not to mention drinks, fries, a possible milkshake), why not work out some stress and smash some chicken and make it even better? Hence, the Copycat SmashBurger Chicken Classic sandwich.
I think the reason why we love SmashBurger is due to the way they literally smash (flatten) the chicken and beef. A couple of us are picky and love it prepared this way—it's a texture thing. So, I have to admit, I had a blast pounding the heck out of the chicken breast. And as I did it, I realized why they do it. You smash a chicken breast enough times and you can literally make a few sandwiches out of it! And the seasoning is so simple, just a few sprinkles of kosher salt and some pepper and Parmesan cheese on each side of the breast before putting it on the grill.
The verdict?
Cole – "Awesome, Dad!"
Blake – "Pretty good" (come on son!)
Naomi – "I love it!"
My mom, visiting – "Matt, you should start a blog!" (Ha!)
So the way I see it, rather spending up to $40 or so on lunch, it cost less than $10 total for all of us. It was healthier, tastier, easier, and fun! Not to mention a good lesson for the boys. And I didn't hear, "Dad, I'm hungry, what's there to eat?", for at least an hour. Hey, I'll take that.
Copycat Smashburger Chicken Sandwich
By Matt Robinson Published: April 27, 2014
Yield:

4 Servings

Prep:

10 mins

Cook:

20 mins

Ready In:

30 mins
It was a typical weekend full of baseball madness here. Games, practices, hanging out at the fields, several trips to the snack bar. I …
Ingredients
Instructions
Preparation: Heat griddle to 325 degrees F or medium high (or 12" skillet on medium). Cut chicken breast as needed to make 4 servings. Evenly sprinkle each one with salt, pepper and parmesan cheese on each side. Place prepared chicken breast on hot griddle (or in a skillet, working in two batches) and cook until a golden crust develops, about 5-7minutes one each side. Top each breast patty with cheese. To serve, place 1 breast patty on each bottom bun, add lettuce and tomato. Cover with top bun and serve immediately.

*To toast kaiser rolls, split and spread a light coat of mayonnaise on each side (Optional-sprinkle each side with a 1/2 teaspoon of parmesan for added flavor) place on a bake sheet with mayonnaise covered side up. Transfer to oven and broil until golden, about 2-3 minutes. Keep a watchful eye as it goes from golden to burnt in a matter of seconds.