Confetti Hash ~ A meat and potatoes hash filled out with sweet potatoes, broccoli, red, yellow and orange peppers. There are so many ways to go with this, but for this version, I wanted the flavors of the vegetables stacked against the beef to really come through.
**This is a sponsored post in collaboration with Aldi. All thoughts and opinions are my own.
School is around the corner, so I'm giving my meal planning a refresh when it comes to getting back in the routine. Let's face it, the first few weeks of school is always rough.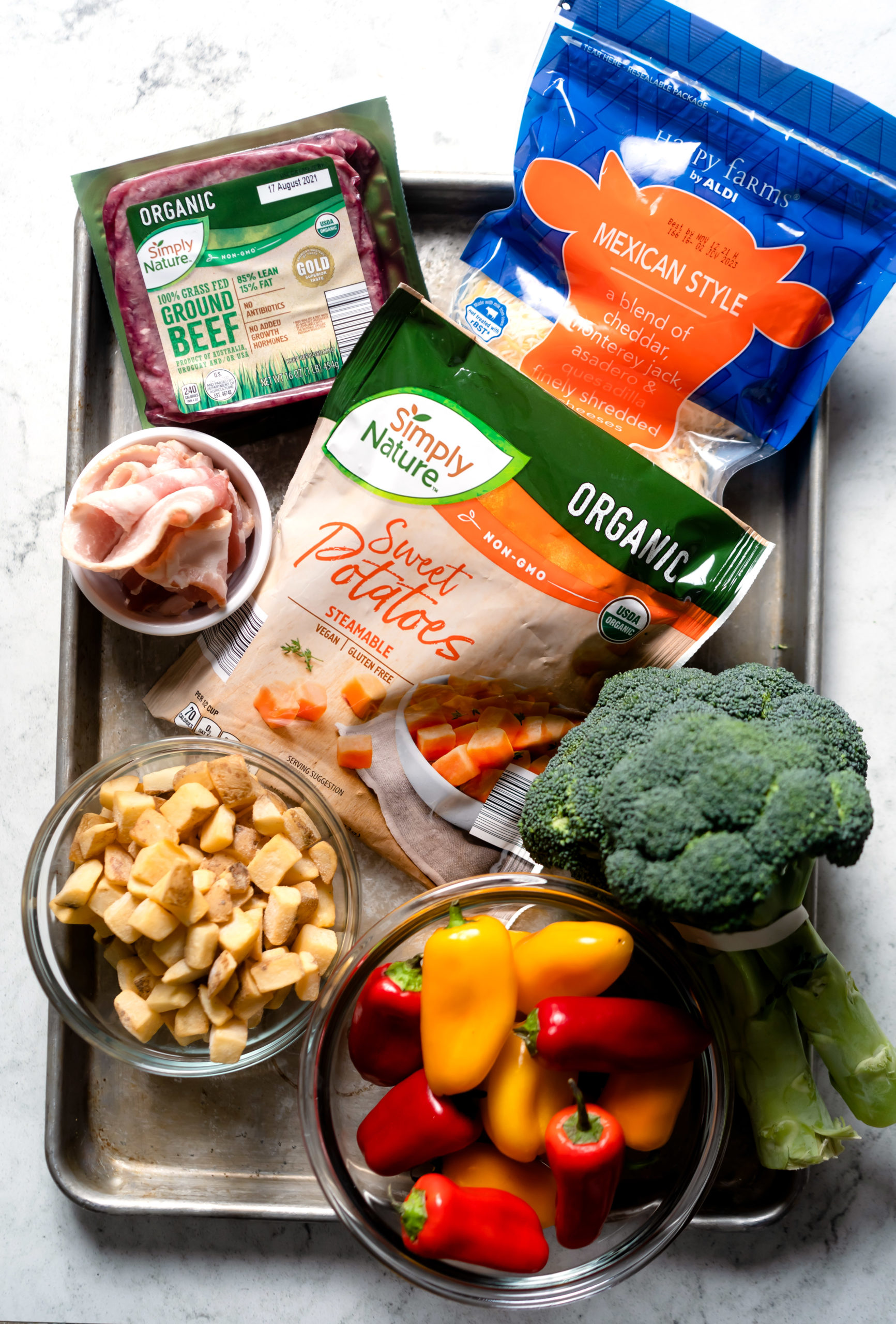 The kids have a hard time waking up, and if you're like me, you end up excessively early to everything because your timing is off—from being off so—you don't want to be late. Meals become a stressful duty of trying to keep the kids fed on time while keeping it delicious and nutritious.
That's why I'm getting ahead of the game this year by making sure I have a month's worth of meals planned. This way all I have to do is shop, cook and feed. Along the way on that three-step plan, I'm shopping at ALDI for my grocery needs because of their high–quality selection that is affordable and budget friendly.
Yay to less running around more cooking time—a win-win for me and the kids!
Now for the recipe. I wanted this to be flavorful and colorful, so I used a variety of vegetables. But of course you can work with what you have in your crisper. You can also add a few eggs on top for a full breakfast meal.
Lastly, when you make this – or any after school or dinner friendly meal— please be sure to share it on Instagram and tag me, so I can see what your making and so we can all share more ideas to keeping our kids well fed!
Confetti Breakfast Hash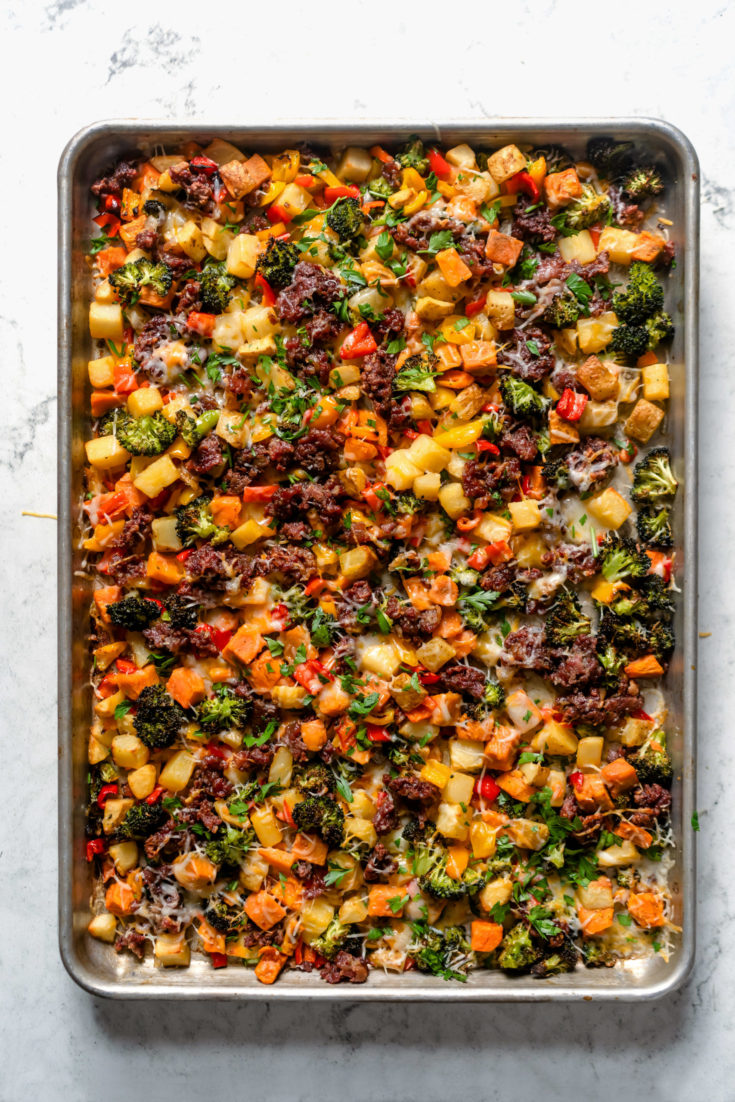 Prep Time 10 minutes

Cook Time 10 minutes

Total Time 20 minutes
Ingredients
5 tablespoons Simply Nature Organic Olive Oil, divided use
1 lb. Simply Nature Organic 100% Grass Fed Ground Beef
4 slices of bacon, chopped
1 tablespoon garlic powder
1 tablespoon onion powder
1 teaspoon kosher salt
1 1/2 cups of bell peppers (any color combination), chopped
1 1/2 cups frozen hash brown potatoes
1 ½ cups Simply Nature Organic Sweet Potatoes (frozen)
1 ½ cups broccoli chopped
2 cups Happy Farms Mexican Shredded Cheese
Instructions
In a large skillet, over medium high heat, add 1 tablespoon of olive oil and heat until sizzling. Add the ground beef and bacon, making sure to break up the ground beef. Cook until a brown crust forms at the bottom of the ground beef, about 8 minutes. Set aside.

Set oven temperature to 400 F. On a baking sheet combine and toss together the bell peppers, hash brown potatoes, sweet potatoes and broccoli with remaining 4 tablespoons of olive oil. Fold in the seasonings and scrape mixture onto pan. Roast in the oven for about 40 minutes, or until vegetables just start to brown.

Remove baking pan from oven and sprinkle cooked and crumbled ground beef onto the vegetables. Add the cheese and fold. Transfer pan back to oven and roast just until cheese melts, about 5 minutes. Once done, serve immediately.