Admittedly, I'm not a baker, nor do I attempt to be (ok, once in a while). So when Jocelyn of Grandbaby Cakes sent me her newly released book, I was relieved to find the book was full of cake recipes that were friendly to people of all levels. That includes beginners like me.
The book is a collection of recipes that Jocelyn has created along with recipes that are an homage to her southern influences. Recipes like her Pineapple Upside-Down Hummingbird Pound Cake that fuse two southern classics. Her Peach Cobbler Shortcake is her modern spin on a southern classic peach cobbler that's dressed up with "spiced peaches and syrup, crunchy brown sugar crumble, a decadent caramel sauce and fluffy whipped cream". But make no mistake, the book contains more than just southern classics with a modern edge. There's also the S'mores Lava Cake that I've flagged for Naomi to make. I know it's going to be a family favorite—who can deny a gooey chocolate cake with toasted marshmallows and graham cracker crumbs?
Now that I have you ready to click the purchase button on her book, here you go . . . here's the link.
But wait, there's one goodie to share before we part today . . . pssst, giveaway time—go enter and good luck!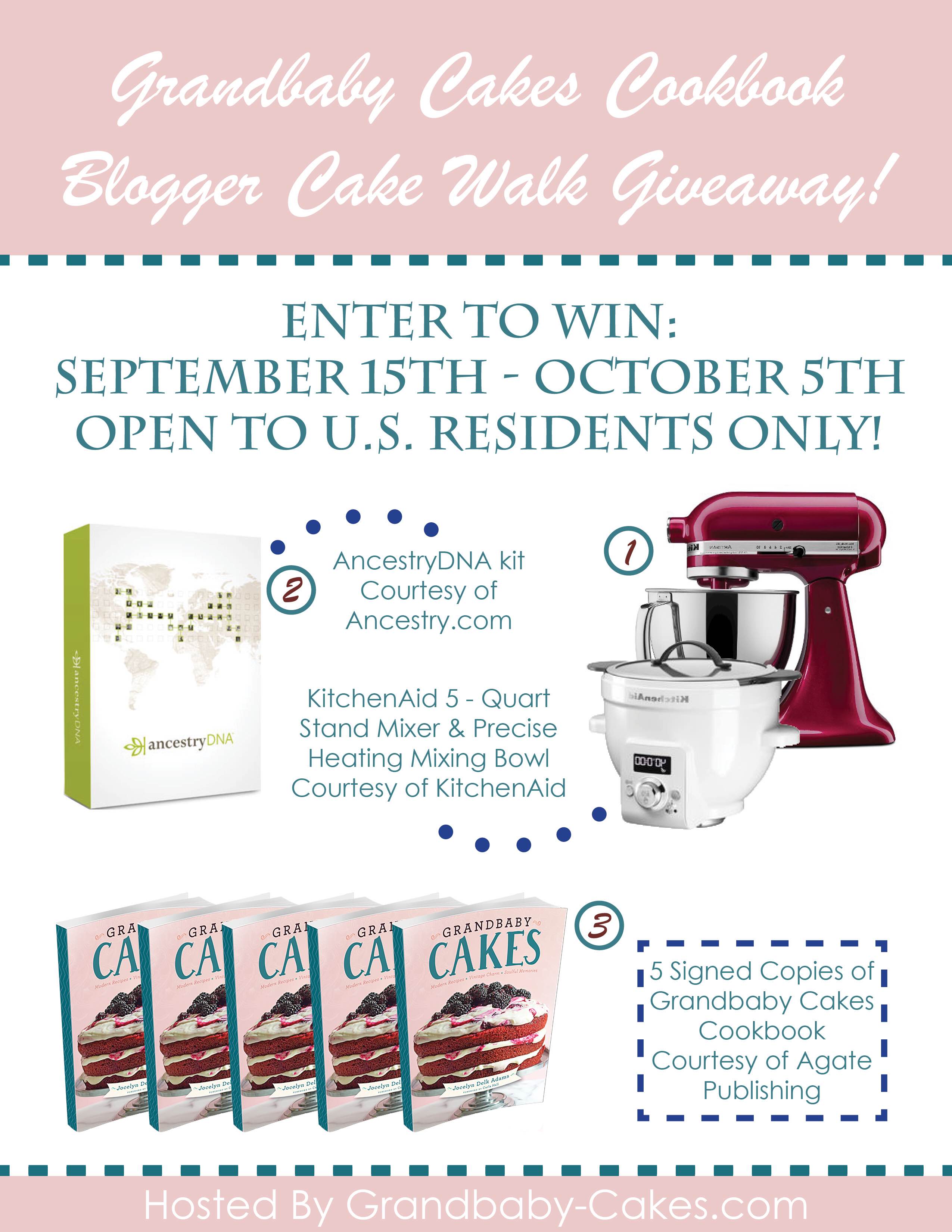 Disclaimer: The giveaway will run from September 15th- October 5th. Winners will be randomly selected on October 6th and notified. The contest is only open to United States residents. All items will be shipped separately by each brand.
Yield: 12-16
Cinnamon Roll Pound Cake
Recipe courtesy of Jocelyn Delk Adams Grandbaby Cakes book
Ingredients
1 1/2 cups (3 sticks) unsalted butter, room temperature
2 1/2 cup granulated sugar
6 large eggs, room temperature
3 cups sifted cake flour
1 teaspoon salt
1/2 teaspoon baking soda
1 cup sour cream, room temperature
2 tablespoon vegetable oil
1 tablespoon vanilla extract
Cinnamon Swirl
1/3 cup (5 tablespoons plus 1 teaspoon) unsalted butter, melted
2/3 cups packed light brown sugar
1 tablespoon all-purpose flour
1 1/2 teaspoons ground cinnamon
1 teaspoon vanilla extract
Icing
2 ounces cream cheese, room temperature
2 tablespoons unsalted butter, room temperature
1 1/2 cups confectioners' sugar
1/4 cup milk (can whole, 2%, or even refrigerated coconut)
1 teaspoon vanilla extract
Instructions
For the cake: Preheat your oven to 325 degrees F. Liberally prepare a 12-cup Bundt pan with the nonstick method of your choice,
In the bowl of your stand mixer fitted with the whisk attachment, beat the butter for 1 minute on high speed. Slowly add the granulated sugar. Cream together for an additional 5 minutes, until very pale yellow and fluffy. Add the eggs 1 at a time, combining well after each addition and scraping down the sides and bottom of the bowl as needed.
Turn your mixer down to its lowest speed and slowly add the flour in 2 batches. Ad the salt and baking soda. Be careful not to overbeat. Add the sour cream, oil, and vanilla extract. Scrape down the sides and bottom of the bowl and mix the batter until just mined. Be careful to to overmix Set the batter aside.
For the cinnamon swirl: In a small bowl, whisk together all the ingredients until well combined. Set aside.
To bake: Pour 1/3 of the batter into the prepared pan.
Drizzle 1/2 of the cinnamon swirl over the batter. Using a butter knife or skewer, swivel the mixture through the cake batter, creating a flourish pattern.
Repeat with the rest of the cake batter and cinnamon swirl. Top with remaining batter. Bake for 75-85 minutes, or until a toothpick inserted into the center of the cake comes out mostly clean.
Let the cake cool in the pan on a wire rack for 10 minutes, then invert onto a serving plate. Let cool to room temperature. Lightly cover the cake with foil or plastic wrap so it does not dry out.
For the icing: Clean your stand mixer bowl and whisk attachment. Beat the cream cheese and butter for 2 minutes on medium-high speed.
Reduce your mixer speed and carefully add the confectioners' sugar in 2 batches, scraping down the sides and bottom on the bowl as needed. once the sugar is fully incorporated, turn your mixer back up to medium high speed. Add the milk and vanilla extract and beat until the icing is smooth and pourable.
Drizzle the icing over the cooled pound cake. Serve at room temperature.