Brinner. If it isn't an official word in the dictionary, it should be. It is in our home for sure, due to the fact that it happens at least once a week. We simply can't resist having breakfast for dinner. Brinner! It's quick, it's easy, and like most people, somehow we've always got breakfast ingredients in the fridge and pantry (why is that not the case for dinner?). And tonight's brinner was one of our best in a long, long time.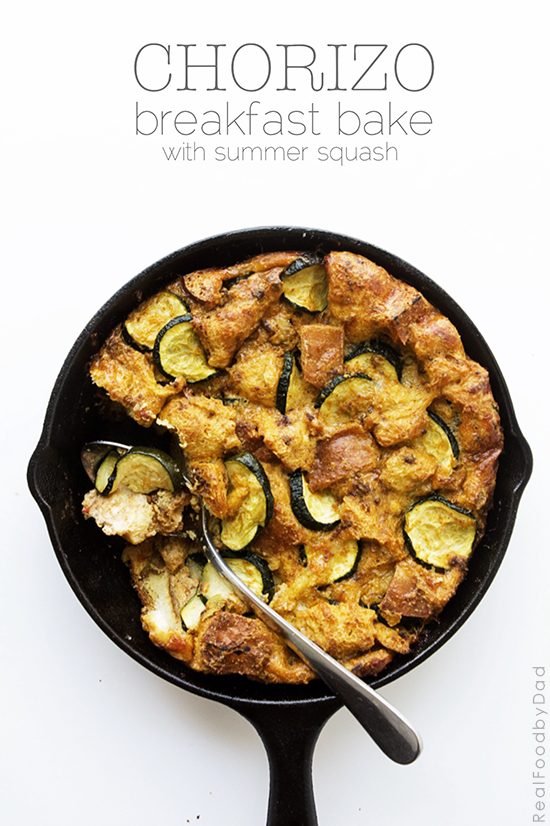 Yeah, I could have gone with pancakes and bacon, which we always love, maybe waffles, french toast or some scrambled eggs, toast and fruit, but I am craving Mexican food all the time lately. Summer does that to me for some reason. Maybe it's a Southern California thing. So I went with my cravings and got a little more creative and came up with this Chorizo Breakfast Bake. And it was amazing!
Don't be mislead by the humble look of this dish. It is literally bursting with flavor in every bite. And the key to this being so full of flavor completely lies in the high-quality beef chorizo. With this, there is so much flavor that you won't need to add any additional seasoning. It's kind of like when you cook with bacon and how the flavor is left behind in the drippings. Same thing with a good chorizo!
And to give this Chorizo Breakfast Bake and added dose of flavor, texture and color, I added some crusty Italian bread, some summer squash (my favorite ingredient), and some diced green chiles. Quick & easy and made everyone here smile with full bellies. And it's always nice to take over meal duty while Naomi continues to recover from giving birth to our new baby boy less than 2 weeks ago.
And I can't wait to wake up in the morning to have the leftovers for breakfast. I bet it will be even better then!
Chorizo Breakfast Bake
By Matt Robinson Published: June 3, 2014
Brinner. If it isn't an official word in the dictionary, it should be. It is in our home for sure, due to the fact that it happens at …
Ingredients
Instructions
In a saute pan over medium heat, add chorizo and cook, crumbling with a wooden spoon until browned. Drain off fat. In the same pan add squash and cook until edges become translucent. Transfer squash to a bowl; set aside.

In a separate bowl mix chilies, whole milk, heavy cream, eggs and cheese. Mix in the chorizo, squash and bread. Pour mixture into a 12 inch cast iron pan or a 4 quart baking dish.Cover with foil and refrigerate overnight or for at least 2 hours.

Heat oven to 350 degrees. Remove pan from refrigerator. Keep foil on and bake for 20 minutes. Uncover and continue to bake for another 40-50 minutes or until top is browned and the strata is cooked through.