Can you believe summer is nearly here? It's going to get real crazy around here with the kids being out of school.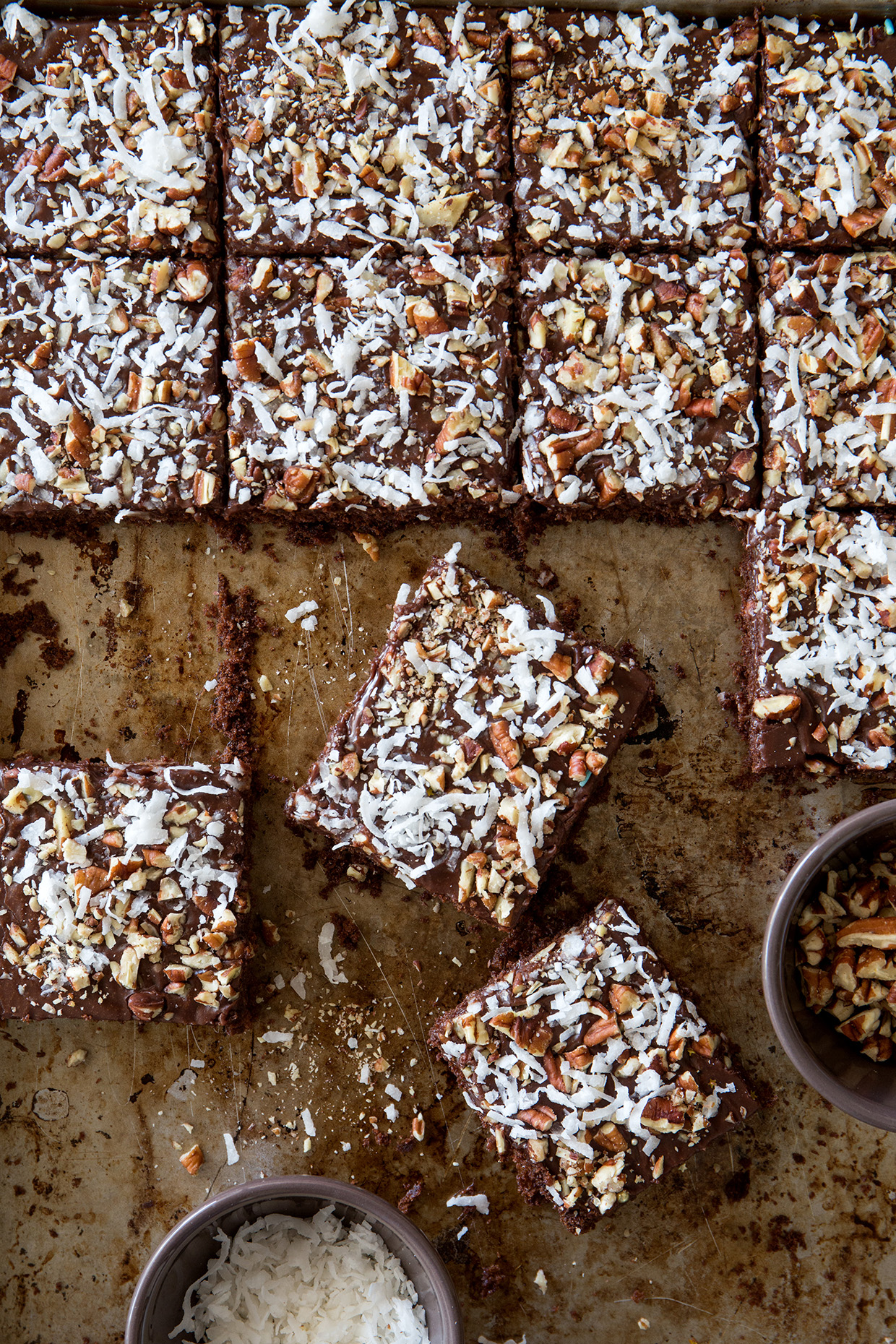 Admittedly, some days are like a fire drill, especially since I have three boys at varying ages of development. There's the crying baby, sensitive 9-year-old and the moody teenager.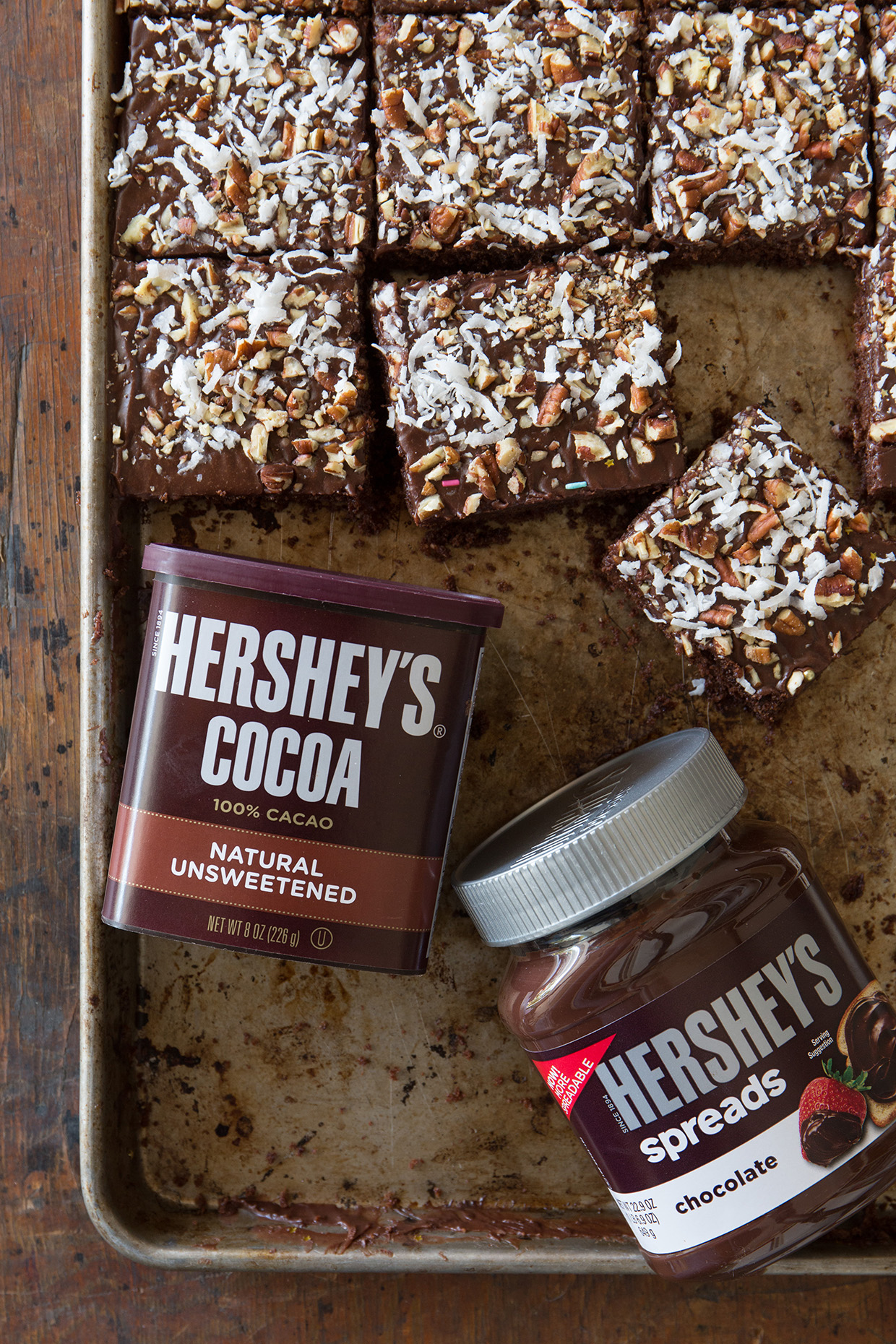 But guess what? I wouldn't trade the madness for anything, because at the end of the day, it's still about embracing life's little happy moments that come with being a family. Our #HelloHappy moments didn't stop with National Take Our Daughters and Sons to Work Day in April. #HelloHappy is all about choosing and creating happiness anywhere, at any time.
This sheet cake is one of those moments for me. It's a simple cake that is kid friendly to make and eat. The chocolate coconut and pecan sheet cake breaks down to three major steps, so I had Cole prepare the dry ingredients (because he loves playing with the sifter), while the remainder of the cake was left to the rest of us. Although it was a messy kitchen session with the baby involved, I didn't mind. It's not often I can get everyone in the kitchen to help at once, so when I can, it's definitely a #HelloHappy moment I encourage and embrace.
Of course when you make this cake for your family and friends, don't forget the unsweetened HERSEHY'S Cocoa because it's what gives the cake its rich and warm chocolate flavor. As for the icing it's all about pairing the cocoa and HERSHEY's Spreads in Chocolate – the two give it a real punch in flavor.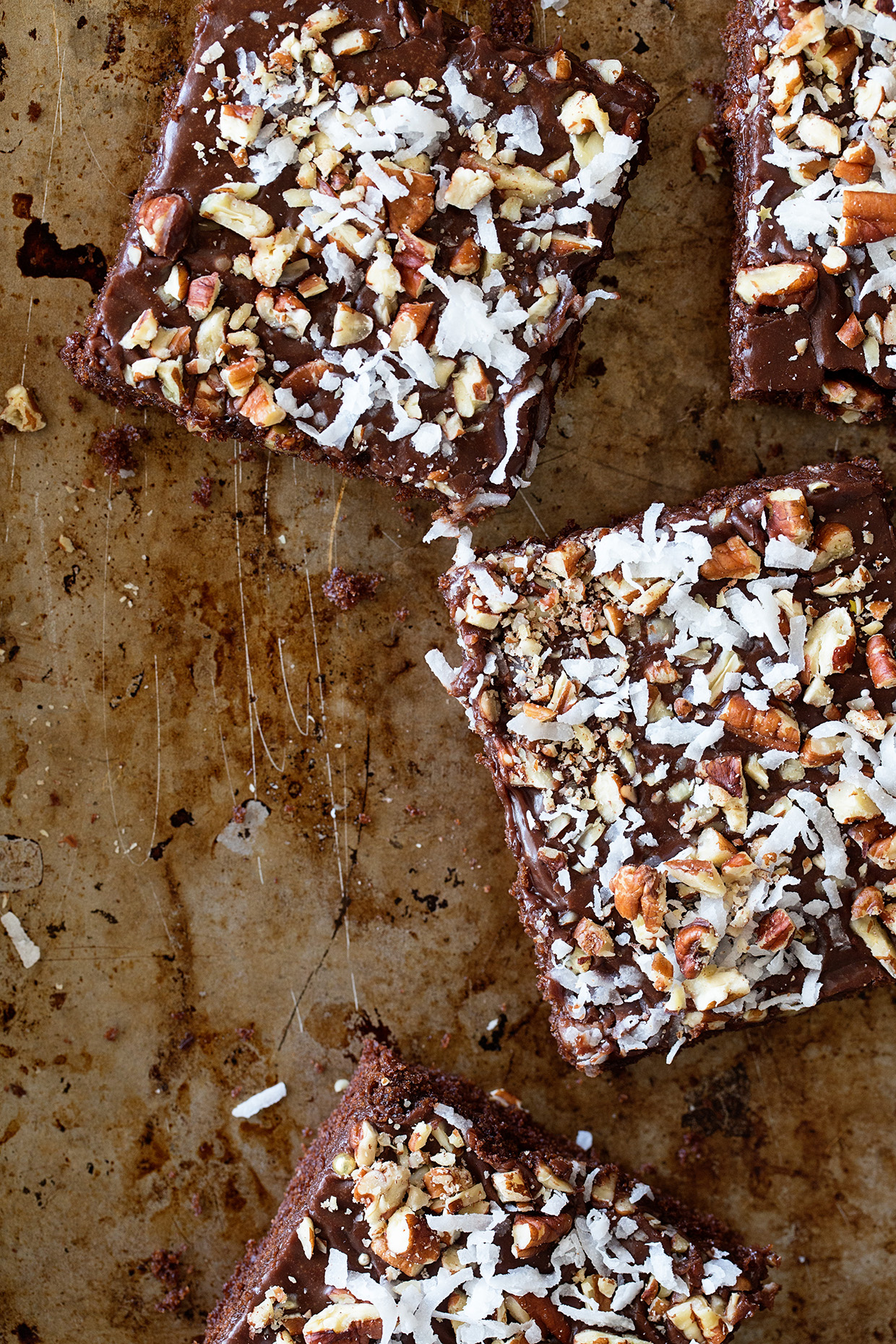 Now that we have the cake, I can't wait for us to sit down and talk about our upcoming summer vacation and other fun plans. There is nothing better than seeing everyone's excitement and hearing the plans of what will happen in the following months.
See what I mean, Hello Happy Moments don't take much—just a little food, some time and creativity, and off you go to make everyone smile.
**This is a sponsored post in collaboration with Hershey's.



Yield: Serves 12-14
Chocolate Pecan and Coconut Sheet Cake
Ingredients
Cake
2 cups flour
1 1/4 cup sugar
3/4 cup brown sugar
1 teaspoon baking soda
1/2 teaspoon salt
2 large eggs
1/2 cup buttermilk
1 teaspoon vanilla extract
1/2 cup unsalted butter, melted
1/2 cup oil
1/2 cup unsweetened HERSHEY'S Cocoa
3/4 cup water
2 tablespoons instant coffee
Icing
1/2 cup unsalted butter
1/4 cup milk
4 tablespoons unsweetened HERSHEY'S Cocoa
1/2 cup HERSHEY'S Spreads in Chocolate
1 teaspoon vanilla extract
1 1/2 cup powdered sugar, sifted
Topping
1/2 cup chopped toasted pecans
1/2 cup sweetened coconut
Instructions
To make cake: Heat oven to 375 degrees F. Lightly butter half sheet pan.
In a large bowl, sift together flour, both sugars, baking soda and salt; set aside. In a second bowl, whisk together eggs, buttermilk and vanilla extract; aside.
In a small saucepan, add butter, oil, HERSHEY'S Cocoa, water and instant coffee. Heat and stir over medium heat until mixture comes together and just starts to boil. Pour chocolate mixture over flour mixture, stir until no white streaks remain. Add buttermilk mixture and stir to combine.
Pour mixture into prepared pan and bake until cake tester comes out free of wet batter when inserted in center of pan, about 20-23 minutes. Remove from oven and transfer to a wire rack.
In the meantime, make the icing by placing butter, milk, HERSHEY'S Cocoa and HERSHEY'S Spreads in Chocolate over medium heat. Gently stir until mixture is smooth and well combined. Do not let it come to a boil. Remove from heat and stir in vanilla extract and powdered sugar. Pour icing over cake and use an offset spatula to spread over top of cake. Sprinkle toppings onto icing layer. Cut and serve.