You know you want some of these. Lucky for you, these chocolate peanut butter cookie dough cups are super easy to make. To add to how effortless this is, the recipe is also a no-bake one. And that's a good thing during those hot summer days, especially for someone like me who does not profess to be a baker!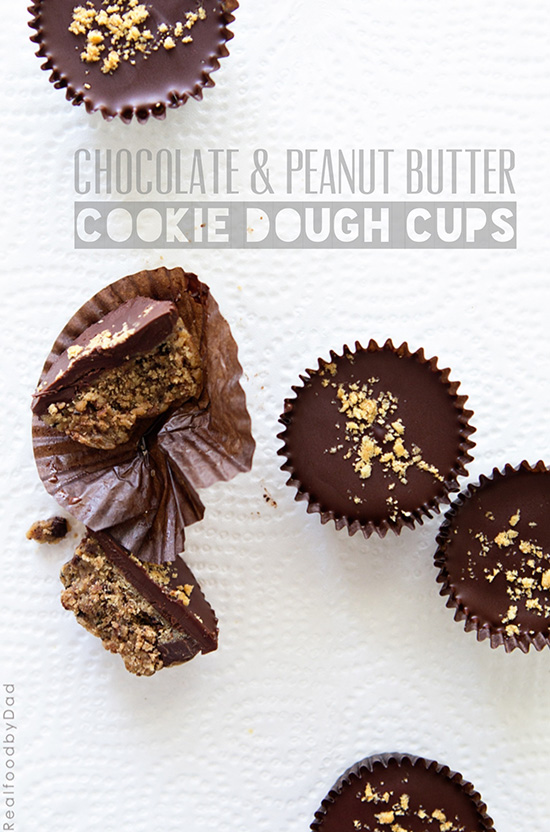 Between the pool and all the other summer activities with the boys, there's not much time for complicated recipes. Which is the exact reason that I pressed these into little liners rather than rolling them in a ball for a more traditional cookie dough truffle shape.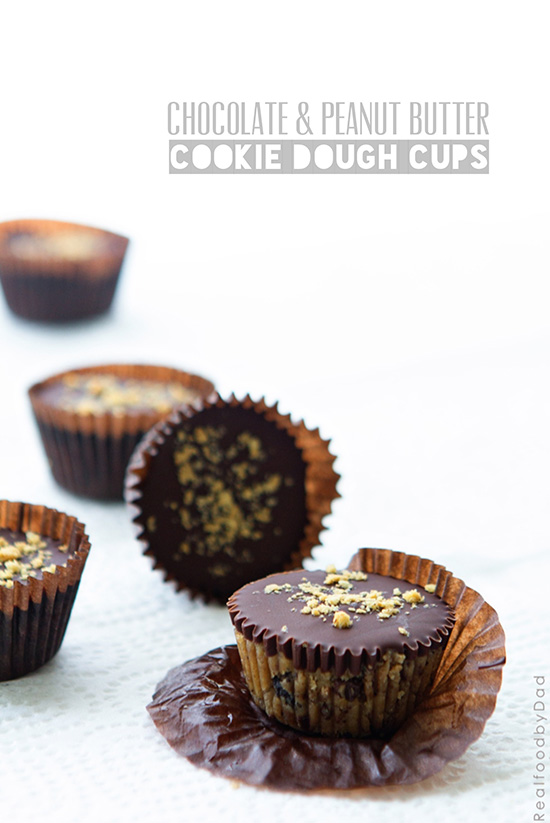 You can short cut this further by pressing them into one large pan and cutting them up, but Naomi convinced me they would be more "individualized" in the liners. What that means, I'm not totally sure—other than, that's her way of saying "cute". Smart of her since she knows I don't do cute food, but even smarter of me to nod my head in agreement and enlist her help to assemble all 30 of them since she persuaded me. Ha!
Sadly, at the end of it she couldn't even have one, since there's peanut butter in them. The rest of us here loved them, but what's not to love—peanut butter, crushed peanut butter sandwich cookies and chopped Dove Silky Smooth Dark Chocolate mixed into an edible cookie dough. And since the recipe yields a huge batch, and more than we could eat, our neighbors had some too. Thankfully, they are still answering the door when we come knocking with plates of food or desserts.
I keep thinking one day, that welcoming smile will be replaced with a "No, thank you". At which point I'm going to need another source of happy mouths to feed. Any takers?
Disclaimer: Compensation was provided by DOVE Dark Chocolate via MomTrends. The opinions expressed herein are those of the author and are not indicative of the opinions of DOVE or MomTrends.
Chocolate Peanut Butter Cookie Dough
By Matt Robinson Published: August 10, 2014
You know you want some of these. Lucky for you, these chocolate peanut butter cookie dough cups are super easy to make. To add to how …
Ingredients
Instructions
Preparation: Line mini muffin pan with liners; set aside. In a stand mixer bowl, fitted with a paddle attachment, cream the peanut butter and brown sugar until well blended. Add in vanilla extract, crushed peanut butter sandwich cookies (reserving 2 tablespoons for finishing) and Dove chocolate and mix to combine. Gradually add in the flour, alternating with the milk, mix well after each addition

Evenly divide dough among liners and press to flatten tops. Evenly pour melted chocolate over each peanut butter cookie dough cup. Transfer to refrigerator to set chocolate.