I am not a baker. Heck, I am a totally novice chef too. But sometimes, if something or someone inspires me, nothing will stop me from working on an idea until I feel pretty good about it. I haven't always been that way, but I get a little wiser as I get a little older. And boy do I feel old tonight as I write this. That's what coaching baseball non-stop for 2 days will do to a person. But as a dad, nothing is better than that. Except maybe my wife, who is the inspiration behind this Chocolate Chip & Toffee Crumb Cake.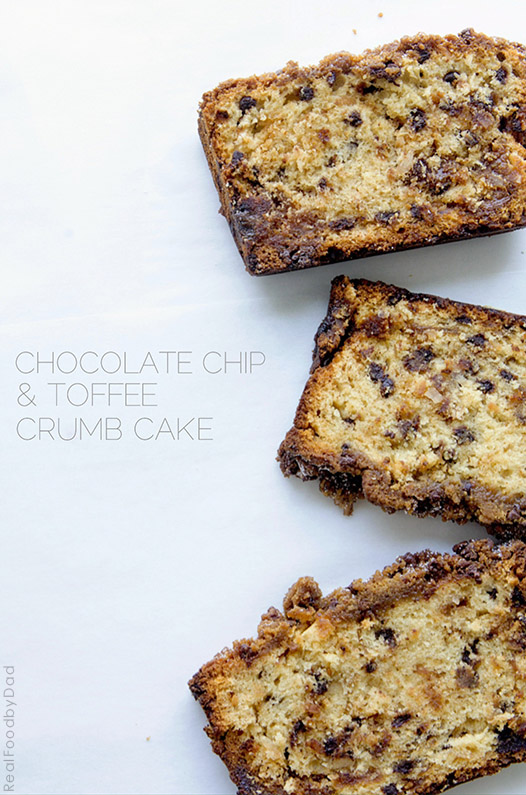 So back to my first sentence. I am not a baker. I don't pretend to be and never thought I would enjoy baking anything. Ever. Not in a million years. But living with an obsessed, perfectionist and amazingly talented baker, well, it rubs off on me a little. It helps to have things in common as we grow old together, right? And because Mother's Day is approaching, and the boys and I are so crazy blessed to be loved by my wife, I thought I would express my love and appreciation for her in a way I thought she would love. Hence, my attempt at this family recipe.
It took me two attempts to get this one right. Well, to where I thought I wouldn't be embarrassed by her reaction to her first bite. The first time around, I used a milk and sour cream combination instead of buttermilk, but while that gave the cake a finer crumb, it left it a little dry. On my second attempt, I used buttermilk and the result was much better – a thicker crumb and much more moist.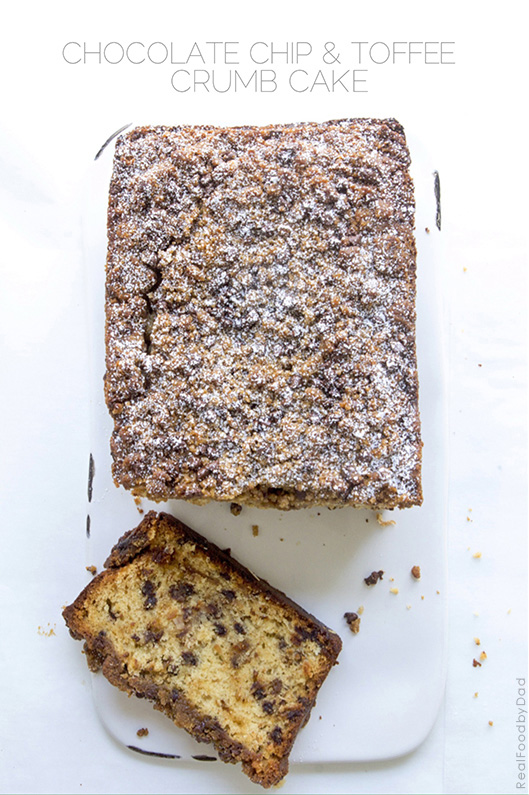 And while the base of this is indeed a family recipe, I was literally digging through our pantry to find some add-ins for the flavor to really make this one right up my wife's alley. I see her do that all the time and it cracks me up, so this time, it was my turn. What did I find? Chocolate chips, coconut, toffee and caramel. Perfect. And saved me another dreadful trip to the grocery store.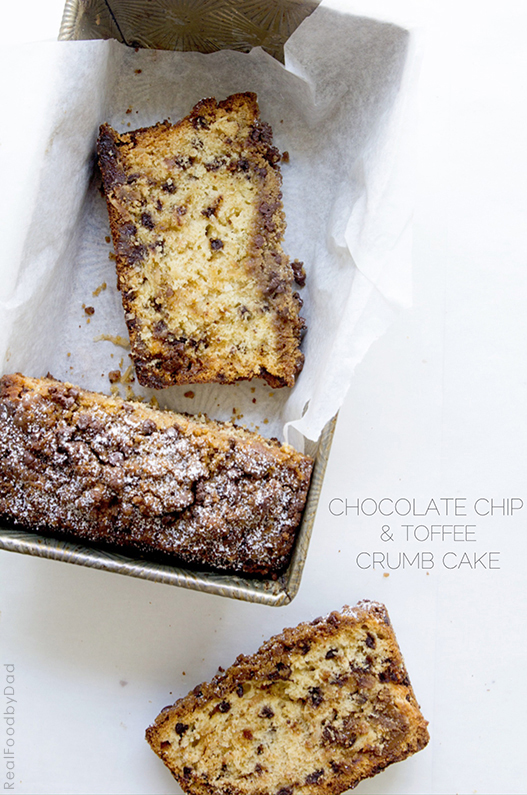 The result? Naomi loved it. Every bite. And believe me when I say this, there were a lot of bites. She's pregnant after all and due in 3 weeks. So maybe it was just her voracious pregnant appetite (which I find so cute) and strange cravings, but regardless, she smiled and went back for more. Sometimes it's simply the little things in life that make someone happy, and I think this Chocolate Chip & Toffee Crumb Cake did just that. Now it's off to the mall this week to buy her a cute post-pregnancy outfit. And maybe a couple little onesies for the little guy.
Yield: 12
Chocolate Chip and Toffee Crumb Cake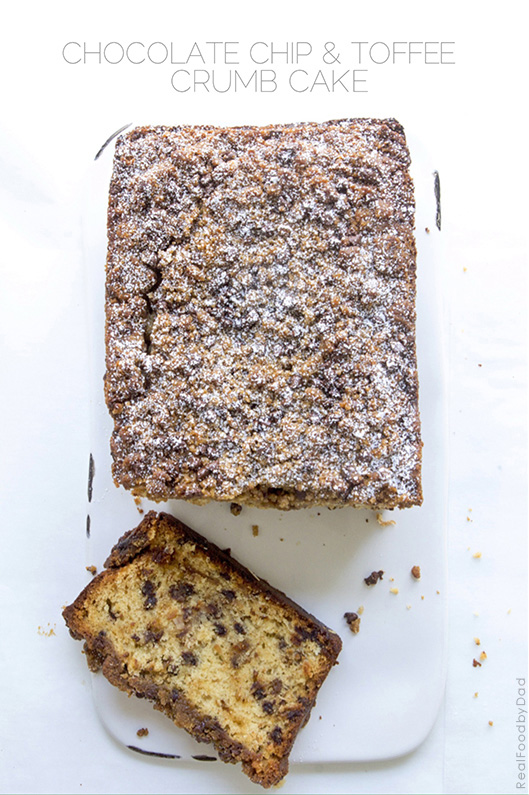 Prep Time 20 minutes

Cook Time 1 hour 30 minutes

Total Time 1 hour 50 minutes
Ingredients
TOPPING
1/2 cup flour
1/2 cup light brown sugar
1/2 cup butter, cold and diced
1/3 cup mini chocolate chips
ADD-INS
3/4 cup mini chocolate chips
1/2 cup coconut, toasted
1/2 cup toffee chips
3/4 cup Kraft Caramels, quartered, (about 19 pieces)
BATTER
1 3/4 cup s all-purpose flour
1/2 teaspoon baking powder
1/2 teaspoon baking soda
1/4 teaspoon salt
1 cup sugar
1 stick unsalted butter
1 teaspoon vanilla extract
2 eggs
1/2 cup buttermilk
Instructions
Preparation: Heat oven to 350 degrees F. Cover 9x5 loaf pan with bake spray.
To make the topping: Whisk flour and brown sugar until combined. Add in cold butter and cut into flour mixture using a pastry blender or two butter knives until mixture resembles pea-size crumbs. (Do not over-mix). Toss in 1/3 cup of mini chocolate chips. Transfer mixture to refrigerator to chill while making the batter.
To make the batter: Combine coconut, 3/4 mini chocolate chips, toffee and caramel pieces in a bowl; set aside. Place flour, baking powder, baking soda and salt in a bowl and whisk to combine; set aside. Beat butter, sugar and vanilla until light and fluffy. Add in one egg at a time, beat until fully incorporated before adding the next one. Gradually add in flour mixture, alternating with buttermilk. Fold add-in mixture to batter.
Transfer batter into prepared loaf pan and sprinkle with topping. Bake for about 90 minutes or until cake tester inserted in center comes out clean. Start checking for doneness around 60 minutes. If topping starts to brown too much, place foil on top. Cool in pan on wire rack.
**NOTES** (1) To toast coconut, place it on a bake sheet and spread it out to a thin even layer;bake at 350 degrees F for about 6 minutes or until coconut starts to turn golden. (2) Swap out or omit any add-ins (coconut, toffee, caramel pieces) to your preference.