It's little league playoff season and things are getting crazy! The little guy's team is one game away from playing in the championship game.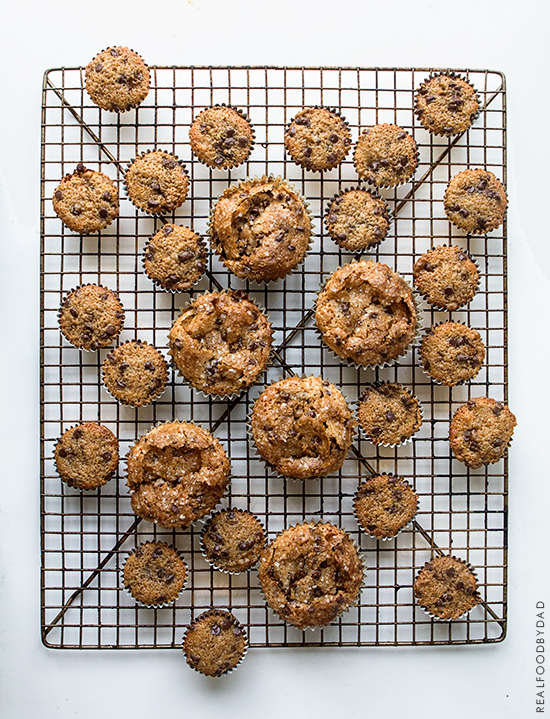 It goes without saying that I'm super proud of him and the whole team. They've worked hard all season and to see their little eyes wide with excitement as we inch closer with each game is one of the many rewarding things about coaching.
And as many of you know, kids, sports and hunger go hand-in-hand. Sure, I power up the little guy up before each game with a fruit smoothie using Silk's Soy or Silk's Almond milk, but by the end—he's spent, hungry, and going on cranky. Same for me. In fact I'm sure his "hangry" monster is a derivative of mine. To keep it at bay, we snack on pretzels during the game, but at the end we are scarfing down whatever the snack person brought and then rushing to the car for whatever fruit or granola bars are in there.
Lately, we've been working dairy-free muffins, like these chocolate chip banana muffins, into our post-game rotation. They are easy to make, travel well and stay nice and soft. The little guy loves them, same goes for me, and so do the rest of the family.
In fact, who knew soy milk could so easily be incorporated into baked goods? Of course I have the added benefit of consulting a baker first (a.k.a. the lovely wife). After that, I've been working it into all kinds of things, but my favorite being into my morning smoothie routine since it packs 8 grams of protein—it's my pre-day, pre-workout, pre-coaching—you get what I mean, it's an energy booster.
Now that I've convinced you this is the protein rich drink you should be using, click here for a coupon to go and grab your Silk Soymilk.
And psst . . . need more reason to make these chocolate chip banana muffins, aside from them being dairy free? They are are also made with whole wheat instead of the standard white flour. And you'd never know it.
Yield: Approximately 60 mini muffins (or 2 dozen regular size muffins)
Chocolate Chip Banana Muffins
Ingredients
3 eggs
1 cup granulated sugar
2/3 cups vegetable oil
1/3 cup Silk Vanilla Soy Milk
2 teaspoons vanilla extract
1 1/3 cups whole wheat flour
1 1/2 teaspoons baking powder
1 1/4 teaspoons cinnamon
1/2 kosher salt (1/4 teaspoon if using regular salt)
1 1/2 cups bananas (smashed to pea size)
1 1/4 cups mini chocolate chips
Instructions
Heat oven 375 degrees F. Line mini muffin pans with liners; set aside
Sift flour, baking powder, cinnamon and salt into a small bowl; set aside.
Place eggs and sugar into a stand mixer bowl fitted with a whisk attachment, beat on medium-high speed until light and fluffy, about 4 minutes. With mixer running, slowly drizzle oil down the side wall of the bowl, then continue with soy milk followed by vanilla. Turn off mixer. Gently fold in dry ingredients with a sturdy spatula or wooden spoon. Fold in mashed bananas and chocolate chips. Fill muffin liners 2/3 full. (*Optional: Sprinkle 1/4 teaspoon dark brown sugar on top of regular muffins for a crackled finished top.) Bake for about 8-10 minutes or until toothpick inserted in the center comes out with dry crumbs (not wet).
This conversation is sponsored by Silk. The opinions and text are all mine.