I'm not all that big on dessert, and even less on making dessert, but this chocolate and peanut butter pie is a no-bake that you can whip up in a blender or food processor. Easy.
And that's how dessert making goes for me, because as many of you know, dessert happens often in my home. Pretty much all the time. In fact, that goes for food period. So much so, that my son Blake asked me why I don't eat all the food we make; and by we, I mean two food bloggers, one house – that's a lot of food spilling over the counters, out of the refrigerator and to the neighbors.
Admittedly, this is one that I shared with our neighbors. Naomi can't do peanut butter and I certainly couldn't finish it all. However, the one I did make that disappeared mad-crazy fast – the Nutella version of this—the nutty spread that Naomi is not allergic to.
If you find yourself not fan of peanut butter, try another nut butter like cashew or almond, or even Biscoff will work.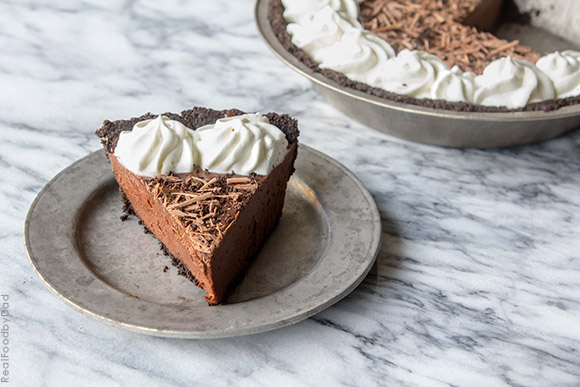 Chocolate and Peanut Butter Pie
Ingredients
• 12 Oreo cookies, pulverized and crumbed
• 4 tablespoon butter, melted
• 10 oz. chocolate chips
• ½ cup creamy peanut butter
• 1 cup heavy cream
• ¼ cup sugar
• 4 egg whites
• 3 teaspoons vanilla extract
Instructions
Mix and combine Oreo crumbs with butter. Press mixture into a 9-inch pie pan; set aside.
Place chocolate chips and peanut butter in a blender; set aside. Place heavy cream and sugar in a saucepan and heat until mixture starts to just bubble along the pan's edge. Transfer to blender and let stand for 1 minute. Blend on high until smooth. Add egg whites and vanilla and blend on high until well combined. Pour mixture over Oreo crust. Refrigerate and chill for 2 hours. *Optional: Finish with whipped cream and shaved chocolate.