This is absolutely my favorite time of year. It's the sweet spot where all things meet. Things like: basketball, football, holidays and gathering—all things that require a cozy comfort dish like this Chili Verde Chicken Enchilada that is also serving as my game day eats this week.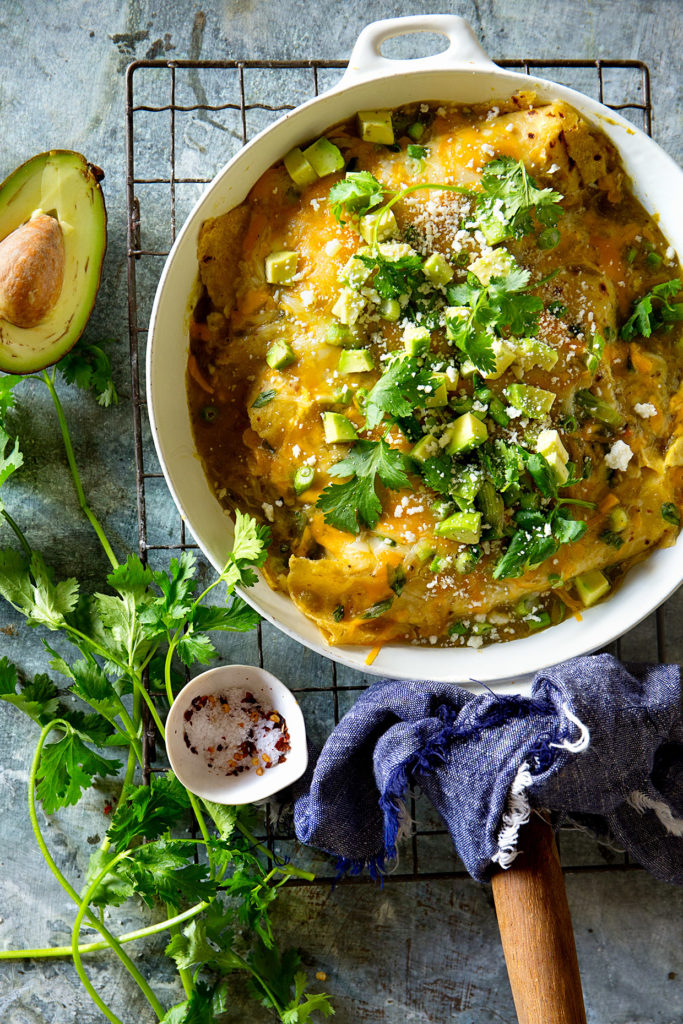 Alright, truth be told, all that aforementioned might just be an excuse to turn out one of my new favorite dishes that I recently discovered when I was trying to develop my one chili verde recipe to smother on top of another dish. While my recipe was a total fail, this one here—a total winner that has been on repeat twice in the last month.
This time around, I made it and then froze it for yesterday's Sunday football watching. You know what that means? This is being added into the make-ahead recipe rotation.
As for my failed chili verde recipe, stay tuned.  It's a work in progress. I'm determined to nail it.
For now, this Chili Verde Chicken Enchiladas recipe is adapted from Food Network's Marcela Valladolid's recipe here.  I made the most of minor of changes mostly because I didn't have something on hand and for my own preferences. See tweaks below:
To start, I made my enchiladas in a large oven-safe skillet versus 9×13 inch pan because I was too lazy to wash the dirty casserole pan.

I omitted the yellow chile and Mexican crema because it wasn't readily available in my grocery store.

I swapped out the Monterey cheese for Mexican cheese because that's what I had on hand.

I sprinkled some green onions on top with the cheese because Naomi loves it that way and has us all converted.

Lastly I added a few toppings like diced avocado, cilantro and Cojita cheese to finish it all off some extra flavor and that's the way I like it. 
If you make this recipe and tweak it to your own taste, leave a comment and let the rest of us know what you did. Enjoy!


Yield: Serves 4-6
Chili Verde Chicken Enchiladas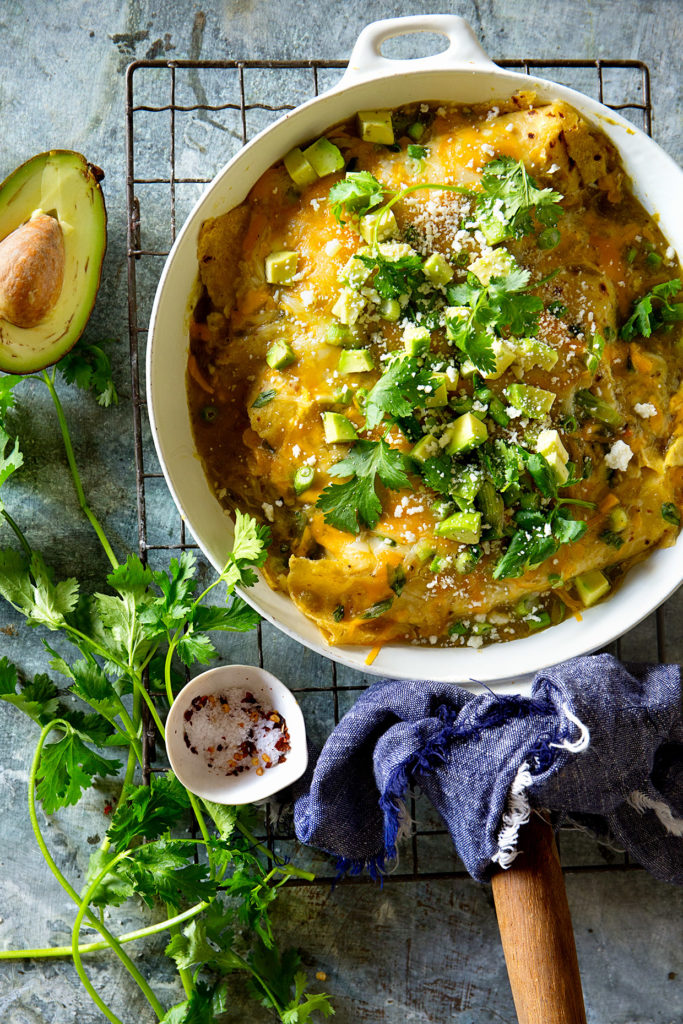 Ingredients
9 tomatillos, husked and rinsed
1/2 medium white onion
1 serrano chile
2 cloves garlic
1/2 cup fresh cilantro leaves, loosely packed
Salt and freshly ground black pepper
6 (6-inch) corn tortillas
2 store-bought rotisserie chicken breasts, skinned and shredded (to yield 1 1/2 cups)
1/2 cup Mexican crema or sour cream
1 cup shredded Mexican cheese
1/2 cup sliced green onions
1/2 cup diced avocado (about half a large avocado)
1/4 cup cilantro
Instructions
Preheat the oven to 350 degrees F.
In a medium size, heavy bottom saucepan add the tomatillos, onion, serrano and 3/4 cup water. Bring mixture to a boil over medium-high heat. Cover and boil until the tomatillos turn olive-green color, about 10 minutes. Transfer the mixture a blender and add the garlic and cilantro and blend until smooth. Season with salt and pepper to taste.
Spread 1/3 cup sauce into bottom of pan. Put the tortillas on a work surface. Divide the shredded chicken evenly among the tortillas and roll up each one. Place the enchilada seam side down in one layer snugly inside the dish. Pour the remaining sauce over the enchiladas.
Drizzle with the Mexican crema and sprinkle the cheese and green onions on top. Bake until the cheese melts and starts to brown in spots, about 30 minutes. Remove from the oven and sprinkle cilantro, diced avocado and cojita cheese on top. Serve immediately.