Get ready to lick your fingers with this Chili Cheese Pull Apart Bread. It's super easy to make and great for any gathering.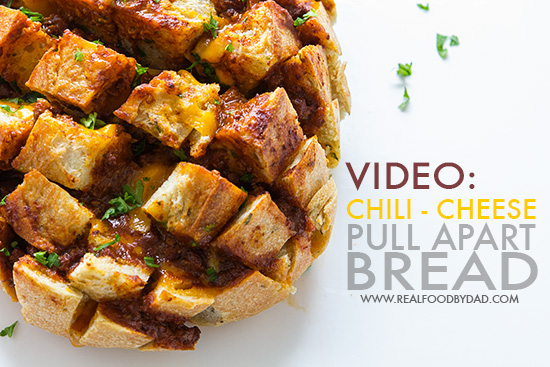 To further convince you, click on the video to see just how easy it is to make.
I'm keeping it short today, so now you have no excuse not to watch the two minute video. And since this is my first video, I'd love any feedback like—hey, slow it down, make it shorter, make it longer, add more details—you get what I'm saying.
And don't forget to subscribe for more videos coming soon!
Yield: Serves 6-8
Chili Cheese Pull Apart Bread
Ingredients
1 lb. bread
12 tablespoons butter, softened
1/4 cup of finely chopped green onions, about 3 stalks
16. oz sharp cheddar cheese
1 1/2 cups chili
Instructions
Preparation: Heat oven to 350 degrees F. Slice bread diagonally, making sure not to cut through. Butter each slice on both sides. Turn bread and cut diagonally going the opposite way to create a cross hatch design. Stuff the cuts, cracks and crevices with cheese. Don't worry about being neat. Transfer chili to a plastic bag and pipe into openings. Again, don't worry about being neat. Wrap tightly with foil and place on a baking sheet. Bake at 350 degrees F for 20 minutes. Remove the foil and return bread back to oven and bake for another 10 minutes, or until cheese is melted through.