Summer. My favorite time of year. The weather is perfect (as usual here), fruit is abundant, the beach is 15 minutes away, and the boys are out of school and enjoying every day to the fullest. We try not to sign them up for too many things over the summer. To us, summer is about taking it easy, going with the flow, finding adventure in every day. And with that, our summer dishes are usually quite simple and easy too, just like this Chicken Ranch Casserole.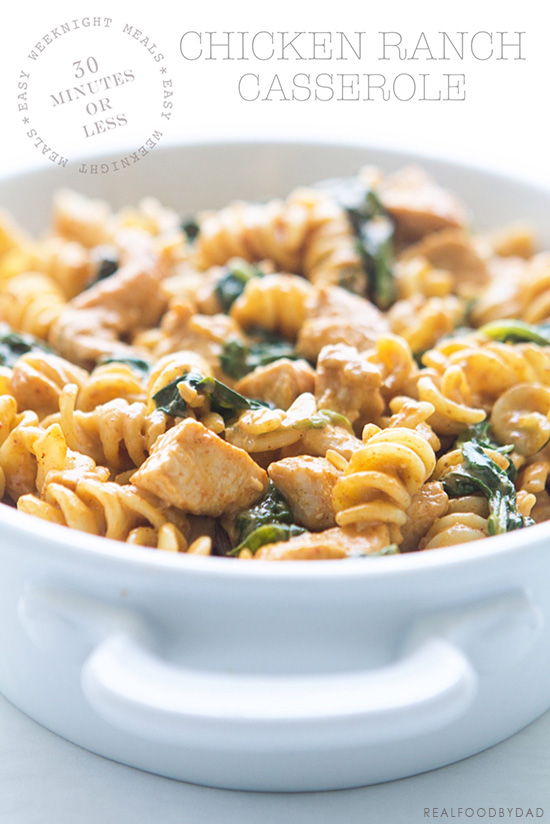 Are you looking for an easy, family-pleasing dish that takes less than 30 minutes to make? Well, look no further, you've found it in this casserole. Only seven ingredients are needed and it's so easy that the kids can help prepare this – chicken, taco seasoning, ranch dressing, chicken broth, heavy cream, spinach and rotini pasta. Of course, any pasta works, our boys just happen to prefer rotini for some reason.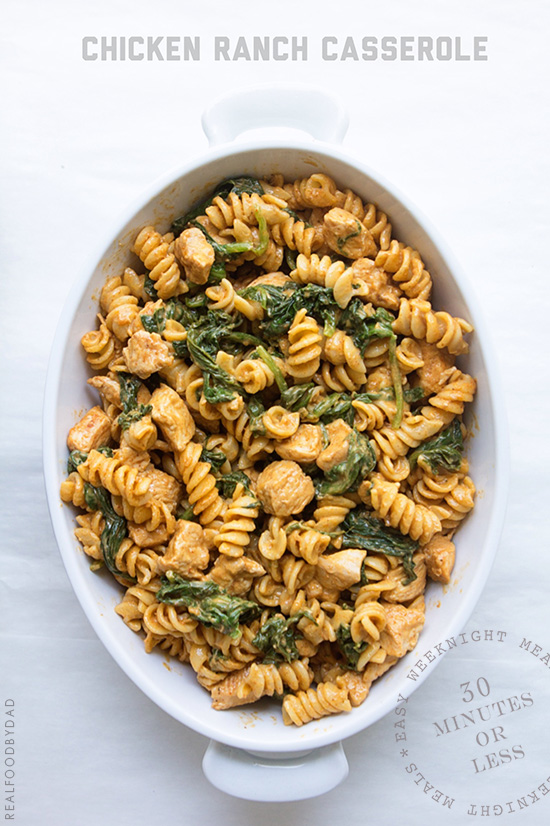 Can you tell I enjoy making casseroles? I'm sure that is a result of me growing up in a family of 9 kids, where my mom had little time and lots of mouths to feed. And not only that, there just something comforting about casseroles, no matter what the ingredients or what time of year they're made. Not to mention, they always make the best leftovers too!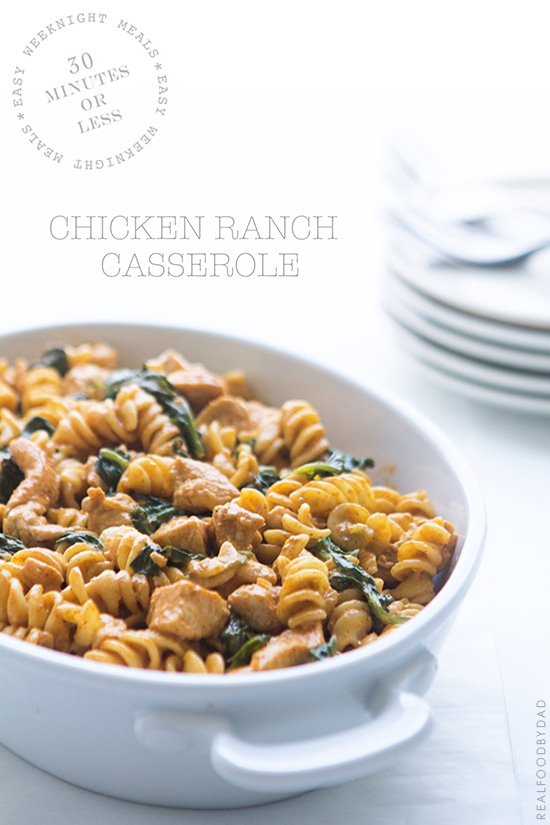 The flavoring in this casserole is perfectly subtle, which is exactly how I hoped it would be, especially with the picky eaters here. You almost need to know there is ranch dressing in there to taste it, so it's not overwhelming at all. Same with the taco seasoning. And the two combined in this dish – simply delicious. My boys couldn't get enough of it. So next time the kids come home from a long, fun summer day and they're telling you how hungry they are, make this casserole and you instantly be their hero. At least until you tell them it's time for bed.
Yield: 4
Chicken Ranch Casserole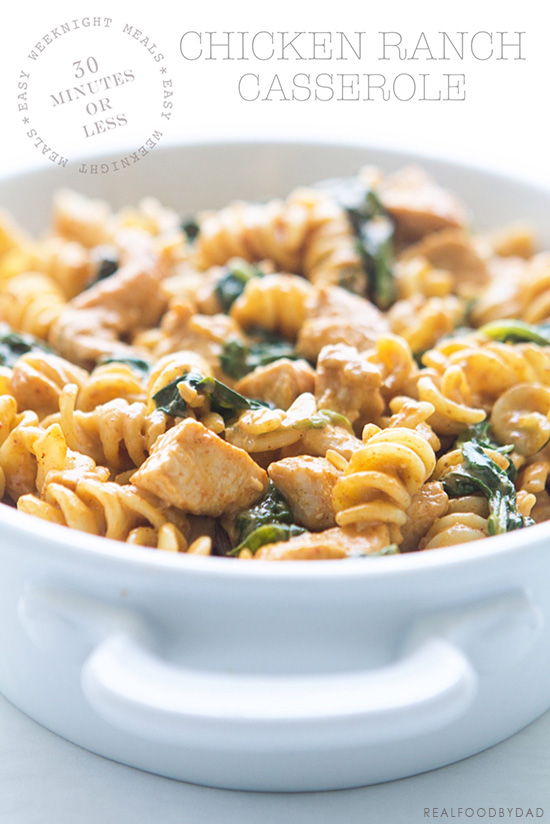 Ingredients
1.5 lbs chicken, cubed
3 tablespoons taco seasoning
1/4 cup Ranch dressing
3/4 cup chicken broth
1/2 cup heavy cream
1/2 lb cooked pasta
6 oz. bag of spinach
salt and pepper to taste
Instructions
Coat a large frying pan with a little olive oil. Place cubed chicken in pan over medium heat and sprinkle taco seasoning on top. Allow to cook without stirring for 5-7minutes. Add in ranch dressing and stir and cook chicken to doneness. Pour in chicken broth and let boil. Add in heavy cream and cook until slightly thickened. Stir in spinach and pasta. Salt and pepper to taste
**Notes** Spinach will wilt and soften as it settles into the hot casserole.