I'm all about fast and easy lately. The end of summer is closing in on us and my boys are determined to make every day count.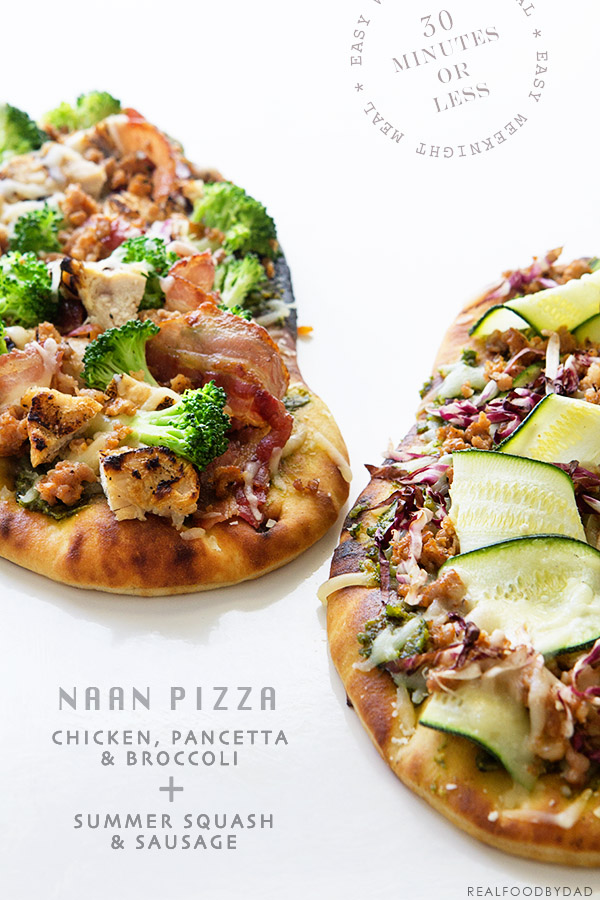 That means lots of pool time, baseball, going to the indoor trampoline park and playing outside.
As a result, meal time to my boys is a pretty low priority. Food at their ages is all about fueling and that's it. They aren't interested in sitting down and talking about their day. This means they are happy to eat just about anything, including junk food if I allowed it- which I admit, happens on occassions.
On other ocassions, I find it easy to get them involved with the cooking because that ensures they'll eat. This is especially true for my lazy eater, Cole. I don't know if it's a phase, the age or what, but he just doesn't care for food. So getting him into the kitchen is key.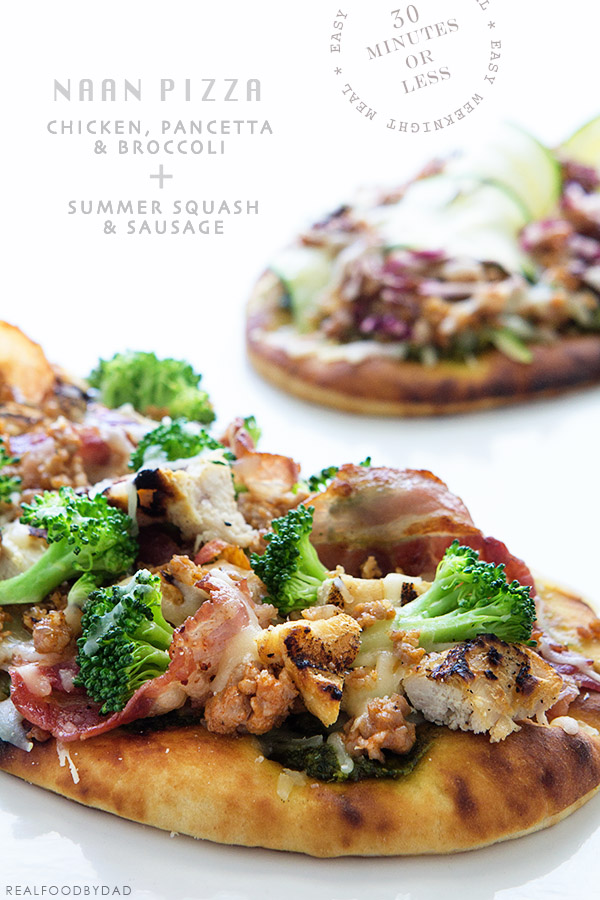 As you can see, we were too lazy to even make our straight pizza dough, so I opted for naan pizza–something you can pick up in the bread section of the grocery store. The naan allows each of us in the house to quickly create our own pizzas. Mine was basically the meat-lovers with chicken, pancetta and a little crumbled sausage and broccoli. Cole's was sausage and summer squash. I gave him free reign with what we had on hand and told him to pick a protein and vegetable–I think he did a great job with his. I'm not even going to mention Naomi's because she loved hers so much that she's flipping it into a post for her blog.
So grab some naan and let's celebrate the last few days of summer vacation with some fast, fresh and healthy meals! And for those of you already with kids back in school, this is a great weeknight meal that comes together quickly.
Chicken, Pancetta and Broccoli Naan Pizza
By Matt Robinson Published: August 14, 2014
Yield:

1 Servings

Prep:

10 mins

Cook:

10 mins

Ready In:

20 mins
I'm all about fast and easy lately. The end of summer is closing in on us and my boys are determined to make every day …
Ingredients
Instructions
Preparation: Heat oven to 350 degrees F. Place naan on a bakesheet. Spread pesto on top, sprinkle and layer with remaining ingredients. Bake for 5-7 minutes or until cheese is melted.

**NOTES** (1) This is a highly adaptable recipe, so layer and sprinkle each component on to your preference or swap everything out and make this your own. (2) The sausage and squash pizza uses 1/3 cup sausage and a 1/3 of a squash thinly sliced vertically.