March Madness meets food madness. And by food madness, I mean artery-clogging, finger-licking, double-dipping Chicken and Waffles Nachos.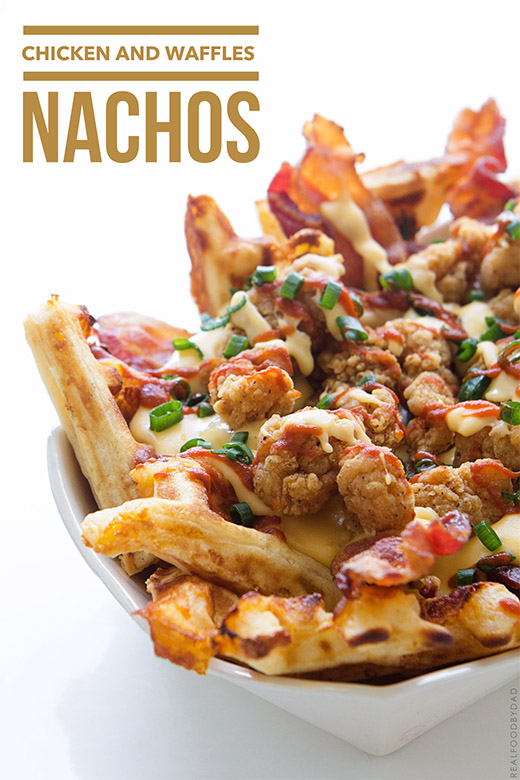 I'm on a nacho run, so get ready for a few more, but for today we are doing this one.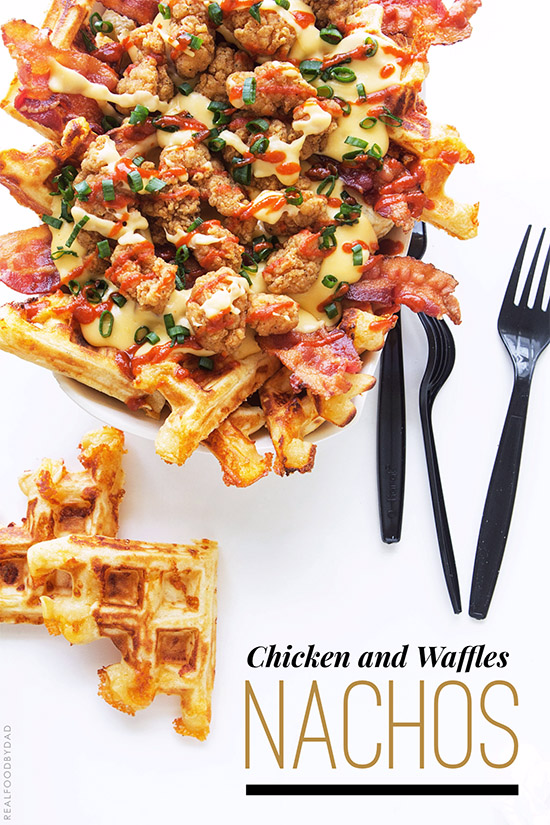 To start, the waffles are savory and flavored with a Parmesan and cheddar cheese blend. Yeah, I could have gone wild and thrown in all kinds of seasonings to give these savory waffles some added layers of flavor, but I didn't want the waffles to compete with the bacon, cheese sauce, or the deep-fried popcorn chicken. And of course to finish it all off, I gave it a quick drizzle of Sriracha for some heat.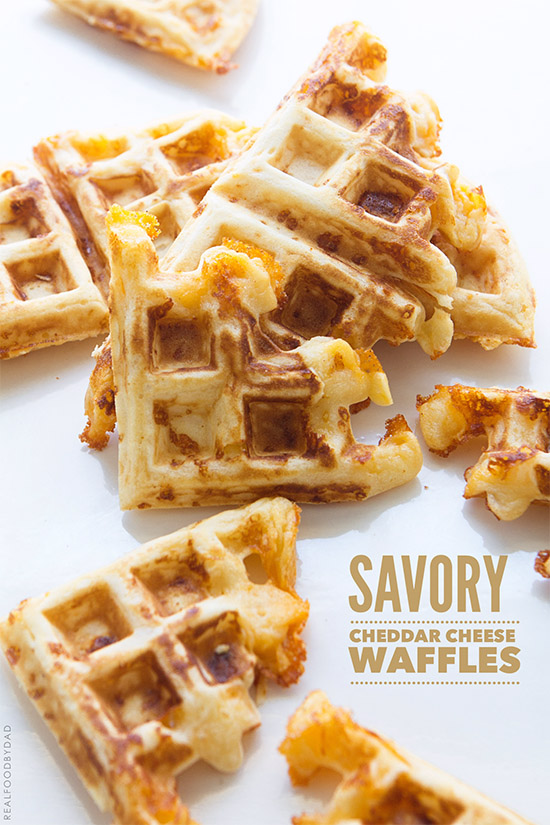 For a quick shortcut, I used popcorn chicken from one of my favorite places, but by all means, feel free to make it from scratch. If you go the route I did, you'll be that much closer to eating. An important thing when you have a hungry house of boys (myself included).
The result of this is the ultimate compliment—clean plates, big smiles and full bellies.

Yield: Serves 6-8
Chicken and Waffles Nachos
Ingredients
Waffles
2 1/2 cups all-purpose flour
2 teaspoons baking powder
1 1/2 teaspoons kosher salt
2 eggs
1 egg yolk
2 cups room temperature milk
10 tablespoons unsalted butter, melted and cooled to warm
1 1/2 cups cheddar cheese
1/2 Parmesan cheese
Cheese Sauce
2 tablespoons butter
1 tablespoon flour
1 1/2 cups sharp cheddar cheese
7 slices cooked bacon
3 cups popcorn chicken
2 tablespoons Sriracha, or more to taste
2 tablespoons scallions
Instructions
To make waffles: Heat oven to 150 degrees. Sift flour, baking powder and salt into a large bowl; set aside. In a separate bowl, combine eggs and egg yolk, whisk until yolks are broken. Pour in the milk while continuing to whisk the eggs. Next slowly pour in the butter while whisking and continue to do so until mixture is well combined. Pour egg mixture into flour mixture and using a sturdy spatula or wooden spoon, fold the mixture until flour streaks are no longer visible
Fill heated waffle iron with batter and cook until waffles are golden brown (time will vary according to individual waffle iron). Transfer waffles to wire rack in the oven to stay warm while the remaining batter is cooked.
To make cheese sauce: Place butter in a medium skillet over medium heat and cook until butter is browned and fragrant, about 3-4 minutes. Stir in flour and cook for another 2-3 minutes. Pour in milk and turn up the heat to medium high. Cook and stir until mixture comes to a simmer and thickens. Stir in cheese and cook until just melted. Take pan off of heat, and stir until cheese is completely melted and combined.
To assemble: Quarter waffles and cover bottom of plate. Pour three-quarters of the cheese sauce on top and layer with bacon and popcorn chicken. Drizzle remaining cheese on top of chicken and finish with Sriracha and scallions. Serve immediately.