**This post has been sponsored by Frito-Lay. All thoughts and opinions are my own.
I'm all about efficiency and mash-ups when it comes to entertaining. This summer Naomi and I are gearing up for a few holiday gatherings, with the first one being Memorial Day weekend. With that we are serving our lastest party food favorite: Cheetos Flamin' Hot Crunchy Fried Mac and Cheese Balls.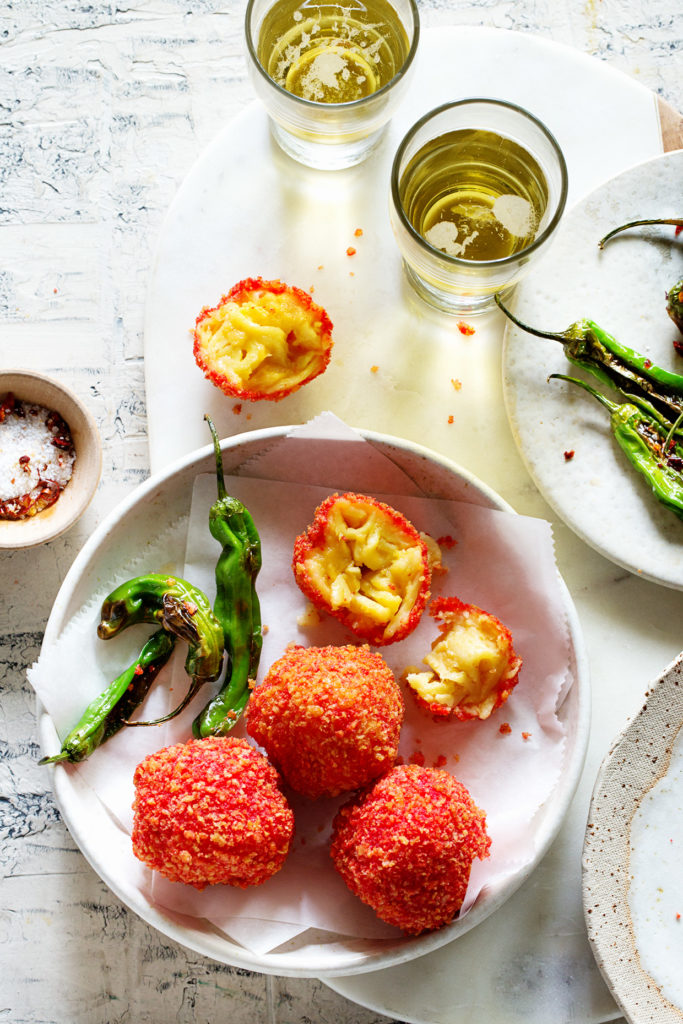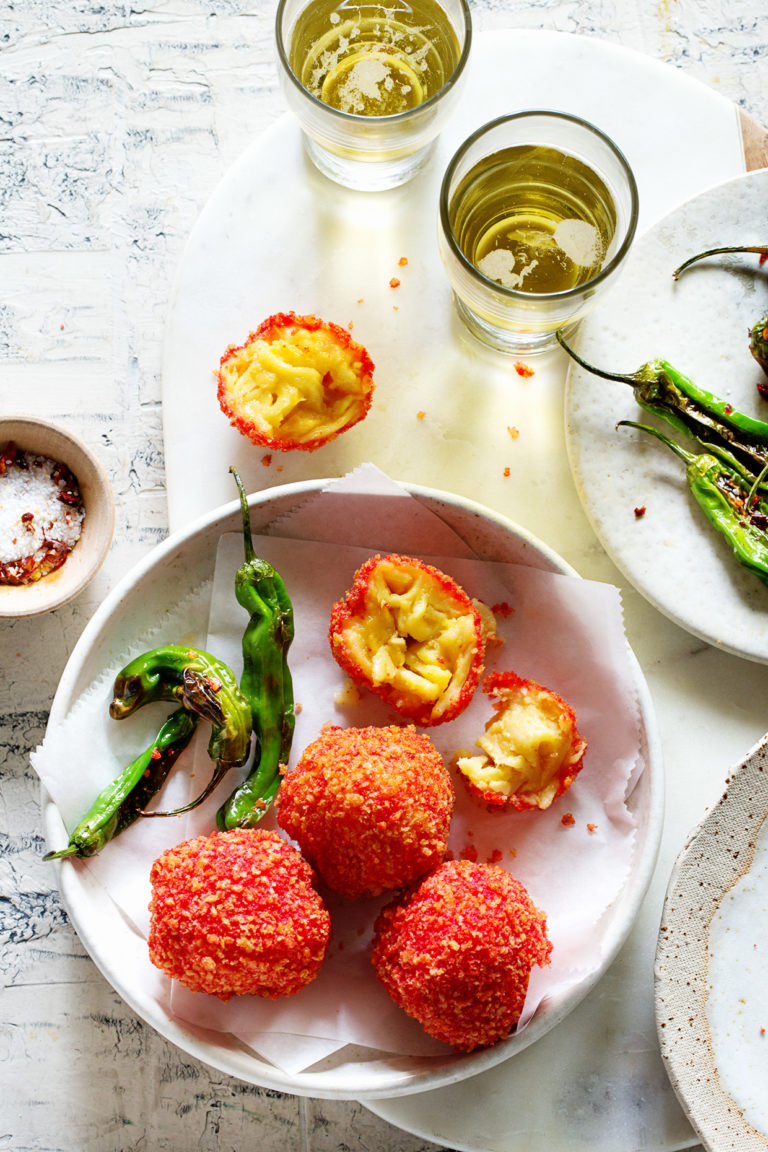 These are incredibly simple to make and only contain a few ingredients – which definitely makes it even a top ten favorite of mine. But aside from that, its the zesty and fire-y flavor of the Cheetos that makes it for me. I love the way the heat tempers the richness of mac and cheese.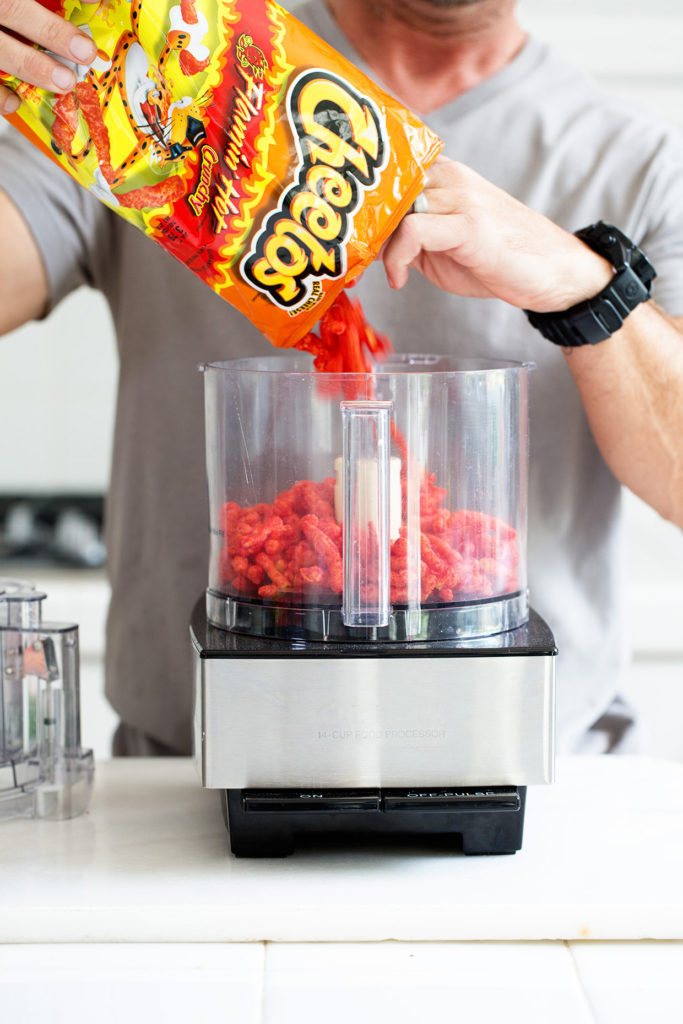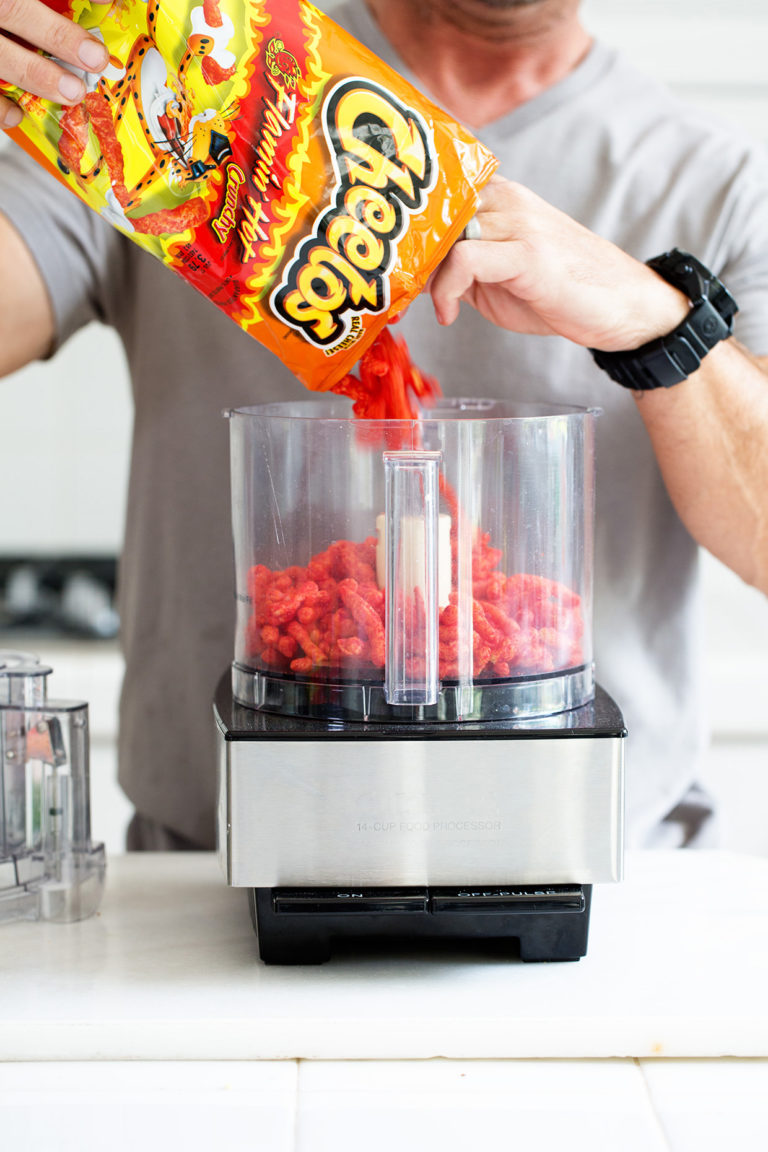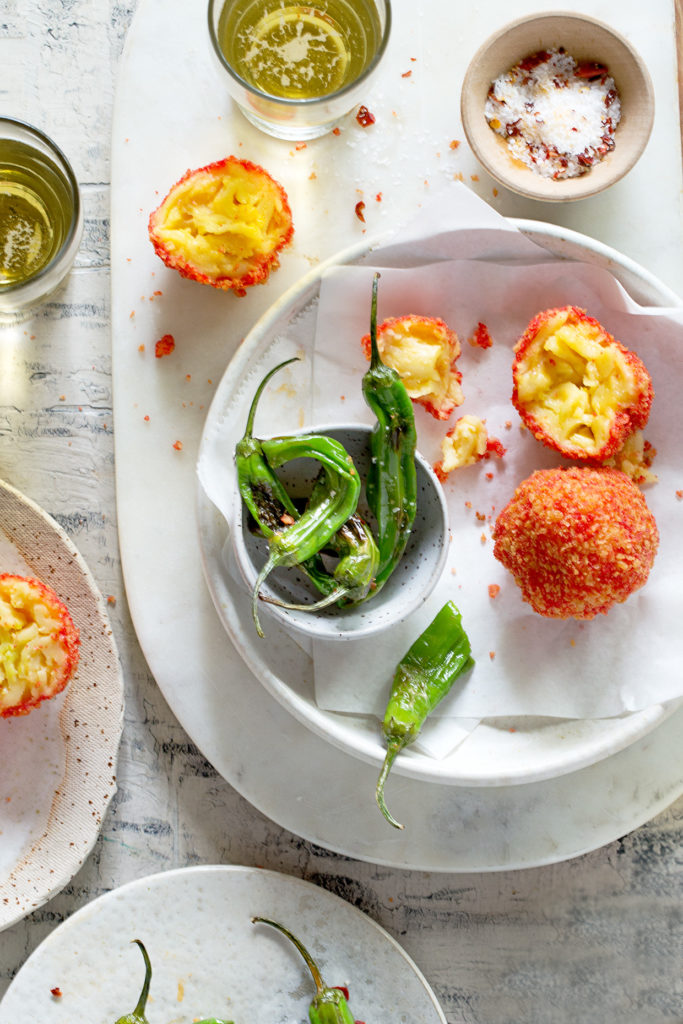 We served this over the weekend during the NBA Finals and they were the first thing to disappear. If how quickly they disappeared is an indication of its popularity, then I'm definitely going to need to double the recipe next time. I think next time, I'm going to add a little cheese bomb in the center or add an element of surprise for how I serve this.
For now, fire up your deep fryer and get going on these. I guarantee you, this will not disappoint.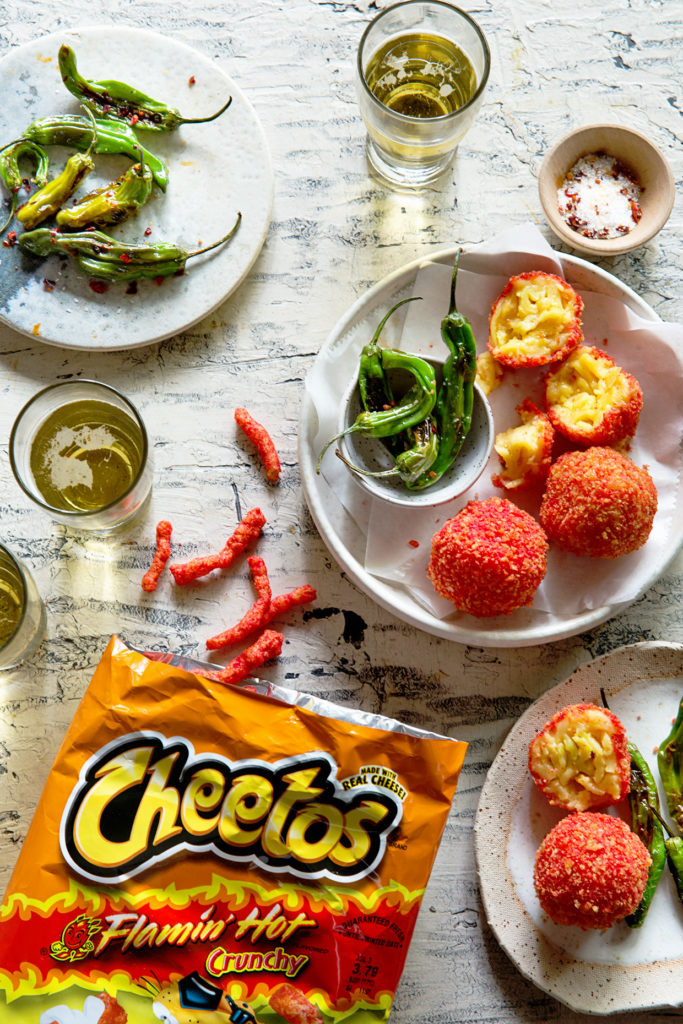 A few notes:
To easily form the mac and cheese balls, make sure you start with well chilled mac and cheese so it easily comes together as you form it.
Depending on the size of your pot, deep fry the mac and cheese balls in batches to avoid over-crowding. Additionally, any size pot will work just make sure that the oil level clears the mac and cheese balls at least ¾ of inch.
These are best served the day they are made, but if they cool down more than you prefer, you can quickly reheat them.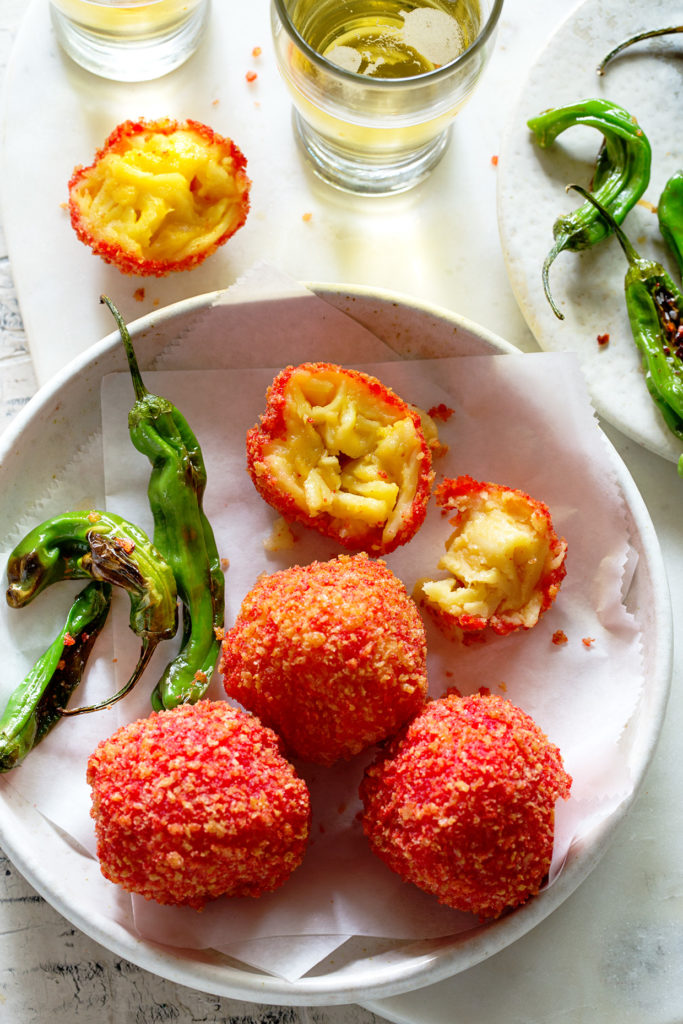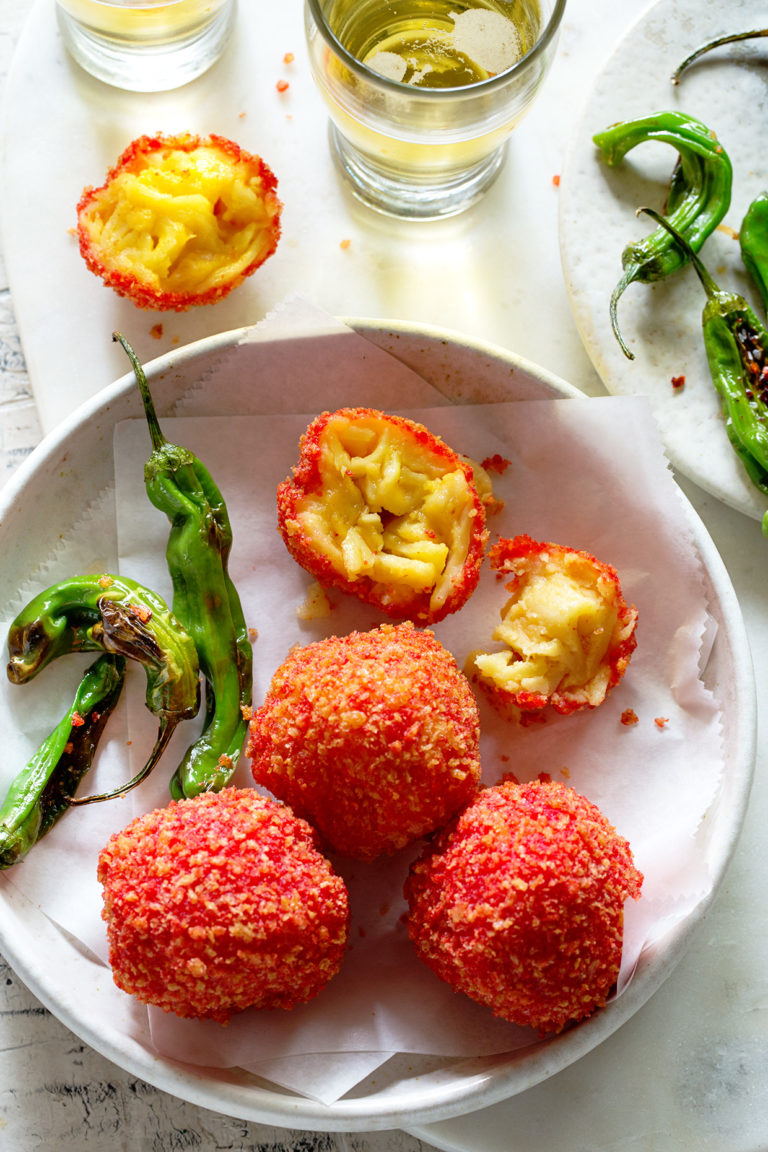 Yield: Makes 24 2-inch balls
Cheetos Flamin' Hot Crunchy Fried Mac and Cheese Balls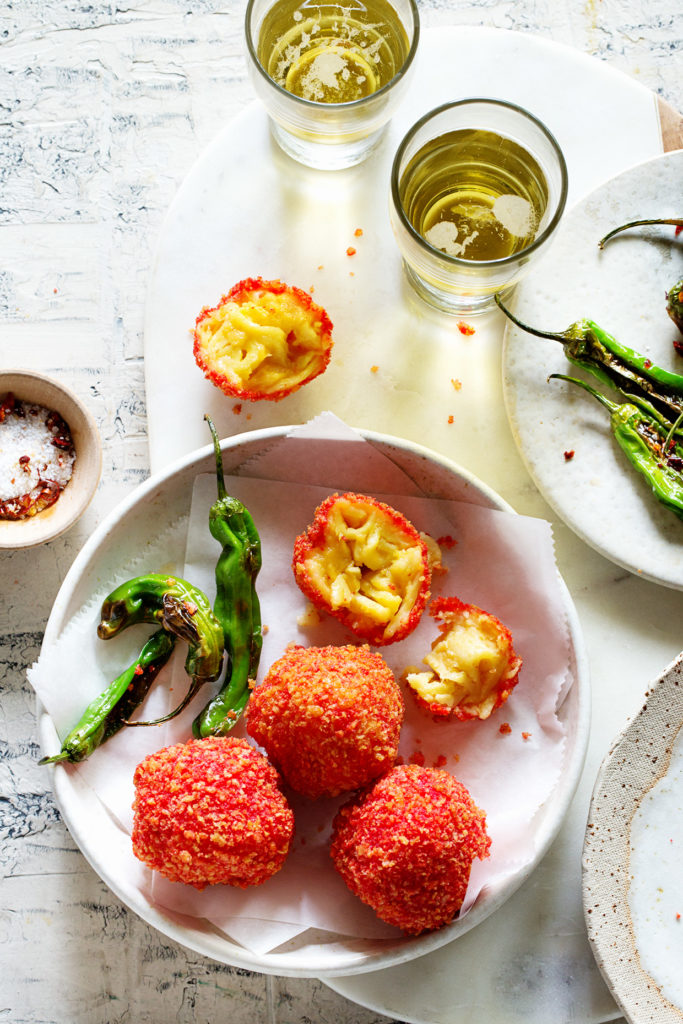 Ingredients
2 cups vegetable oil, or more, as needed
3 cups well–chilled macaroni and cheese, homemade or store-bought
2 large eggs, beaten
1 tablespoon milk
1 1/2 cups Panko
4 oz. Cheetos Flamin' Hot Crunchy , finely crushed
Instructions
Preparation: Clip a deep fryer thermometer to a large heavy bottom pan filled with oil over medium high heat. Line a baking sheet with paper towels; set aside.
In a large bowl combine the crushed Cheetos Flamin' Hot Crunchy and Panko crumbs. In a small bowl beat together eggs and milk until just combined.
Scoop out about 2 heaping tablespoons of mac and cheese and roll it into a 2-inch ball. Place formed ball on a baking sheet. Repeat with remaining mac and cheese.
Working one at a time, dip mac and cheese balls in the egg mixture, then dredge it through the Cheetos Flamin' Hot Crunchy and Panko mixture, pressing to coat.
Working in batches as needed, slowly lower the balls into the hot oil and deep-fry until the Panko crumbs are visibly golden and the coating is crispy, about 1 minute. Transfer to a paper-lined baking sheet.
Serve immediately.