Whoa. I know, it's a bit long-winded in title, but you won't mind when you get a bite of these. I'm back at it with this tailgating recipe that is a mash-up of nachos and pizza. It's the perfect football Sunday snack.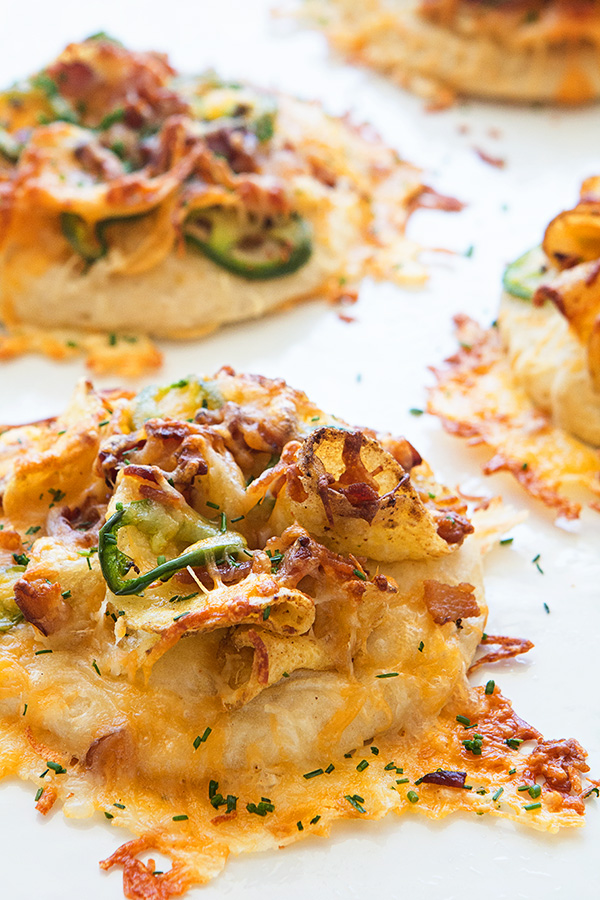 My son Blake loves fries in his burger, and my other one does chips in his sandwich, why not do as they do? So I did.
Potato chips on pizza. It came out way better than I expected. The crunchy Kettle Brand Chips are a perfect counterpoint to the chewy pizza dough—which by the way is actually those store-bought biscuits in a tube that you find over in the refrigerated section. Just separate them from one another and roll them thin.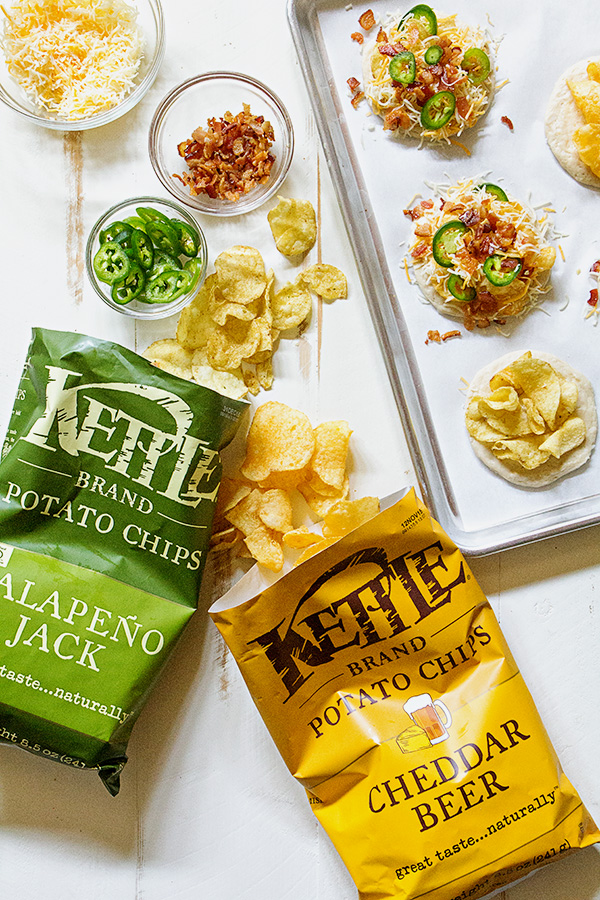 Once you are done rolling out the biscuit dough, layer it with chips—I used Kettle Brand's Jalapeño Jack and Cheddar Beer Chips, cheese, bacon, and jalapeños—but use whatever your preferred toppings may be. But don't mess with the pizza dough and potato chip pairing because that's where it's at.
Enjoy!
Yield: 8 four inch pizzas
Cheesy Bacon and Jalapeno Potato Chip Pizza Bites
Ingredients
1 16.3 oz Grands Homestyle Original Biscuits
3 cups Kettle Brand Cheddar Beer Chips
3 cups Kettle Brand Jalapeno Jack Chips
2 cups pizza blend cheese
1 cup mozzarella
2 cups diced cooked bacon
1 1/2 cups sliced jalapeno
4 tablespoons chopped chives
Instructions
Preparation: Heat oven to 350F. Line 2 baking sheet with parchment paper.
Separate biscuits and roll each one to 1/4 thick (you will have 8 four inch pizzas) between parchment paper to minimize sticking. Layer 4 pizzas with Cheddar Beer Chips and the 4 pizzas with Jalapeño Jack Chips, followed by layering each pizza with remaining ingredients.
Bake at 350F until cheese is melted and biscuit crust is a lightly golden, about 10-12 minutes. Remove from oven and garnish with chives. Serve immediately.

This conversation is sponsored by Kettle Brand Chips. All text and opinions are my own.