Guinness Brownies with Bailey's Cheesecake Swirl ~ Think Irish Car Bomb cocktail turned dessert. In my home this is otherwise known as a St. Patrick's Day dessert fail . . . "Not green, not legit." They are blunt and to the point.
Never mind that they shouldn't know what an Irish Car Bomb cocktail is or that I would even have to explain what one is and that the baking renders the alcohol portion of the Guinness and Bailey's null and void. But sometimes, just for a second, I wish my kids were a little less like me.
Parent karma sucks. So many things come back to bite you.
Things like how I wish I was more thoughtful as a boy rather than jumping into our pool and telling my mom, "Yes, I showered while pointing to my wet hair". Nowadays it's me pointing my finger upstairs to tell my boys, for what seems like half a dozen times a day, they need to shower.
Or . . . how I wish that, instead of filling my mouth with food as kid, I was busy filling it with words to tell my mom all the reasons why I couldn't eat what was in front me. Thank you to my young self, because I'm now blessed with 2 out of 3 boys that are picky eaters.
One of my picky eaters only wanted the brownie, the other – I didn't even have to ask. I knew the answer. The only one left was the adventurous one who told me, I'll try it after my shower.
I give up. Kidding. But you know some days are like that. You lose on almost every front, but you win where it counts. I wrapped up half of these St. Patrick's Day treats for Naomi and the other half went to my mom and my sister. The boys got Shamrock shakes—"A legit green dessert for St. Patrick's Day"— as s'plained by my 11-year-old while holding it up for me to study in case my fatherly eyes weren't sure what green looks like.


Yield: Makes 24 bars
Cheesecake Brownies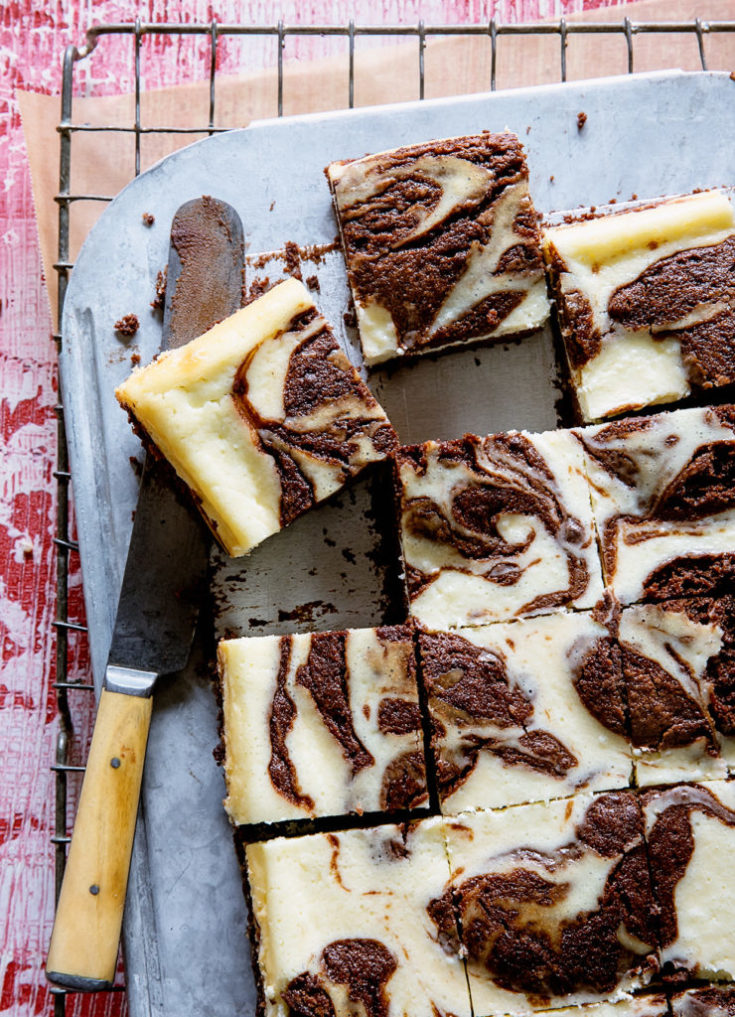 Ingredients
Brownie
1/2 cup Guinness Extra Stout Beer
1 cup all-purpose flour
1 cup unsweetened cocoa powder
1 teaspoon baking powder
1/4 teaspoon salt
1 cup butter, melted
11/2 cups sugar
3 large eggs
1 egg yolk
Cheesecake
2 8oz. cream cheese
1/2 cup sugar
2 large eggs, lightly beatened
1 tablespoons vanilla extract
1/4 cup Bailey's Irish Cream
Instructions
To make brownie: Pour the Guinness into a shallow pie pan and skim off the foam, set aside for 15 minutes. In large bowl whisk together the flour, cocoa powder, baking powder and salt. In a second bowl, beat together butter and sugar until light and fluffy, about 3-4 minutes. In a small bowl, lightly beat together the eggs and egg yolk. Add the beaten eggs into the butter and sugar mixture and beat until combined. Add Guinness and beat until combined. Dump the dry mixture into the wet mixture and fold until just combined. Set aside to make the cheesecake layer.
Heat oven to 350 degrees F. Lightly cover a 9 x 13 inch pan with nonstick spray.
To make cheesecake: Beat the cream cheese until smooth and no lumps are visible. Add the sugar and beat until well combined. Add eggs and beat until combined. Add the vanilla extract and Bailey's Irish Cream and beat until combined.
To assemble: Reserve 3/4 cup of brownie batter. Pour the remaining batter into the prepared pan. Pour cheesecake batter on top. Drop the reserved batter in large dollops over the cheesecake layer. Use butter knife and gently drag it through the brownie dollops to create a swirled effect.
Bake at 350 degrees F for 40-45 minutes. Cheesecake brownie is ready when cake tester inserted in the center comes out free of wet batter. If top starts to crack, before being completely baked, place a piece of foil on top. Remove pan from oven when ready and transfer to a wire rack to cool completely. For easy cutting, transfer cheesecake brownies to the refrigerator to chill for at least 2 hours. (For nice clean-cut sides, make sure to wipe down the knife between cuts.)