I'm always up for a casserole. Especially when we are juggling school schedules, baseball games and the daily baby stuff. And make it a cheeseburger casserole and I'm all over it. This dish combines one of my favorite things into an easy-to-make casserole that comes together in less than 30-minutes.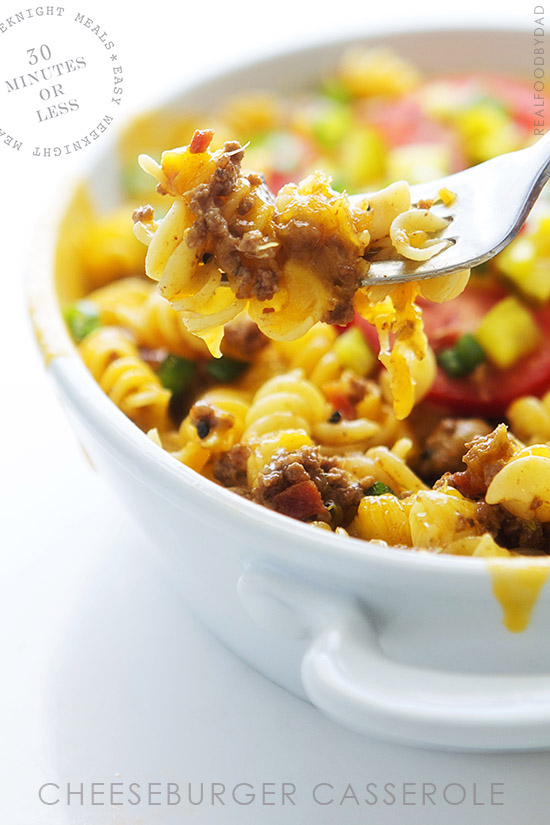 For those wondering, how much can this taste like a cheeseburger—it comes darn close.
It has all the makings of a standard burger: beef (make sure you use high quality beef), ketchup, a little mustard, pickles, and tomatoes. Of course I threw bacon in there, left out the lettuce (since I'm always throwing it out anyhow), swapped out the onions for onion sprouts (it's a texture thing) because this is how I like my burger built.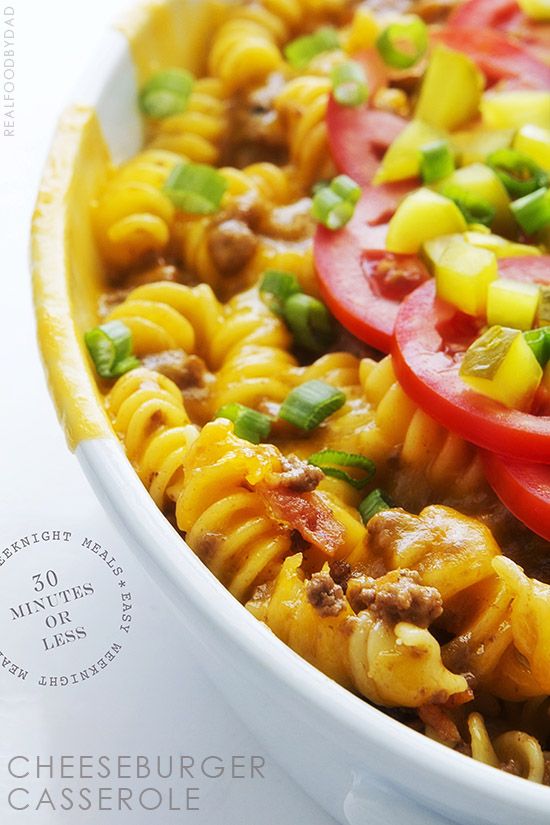 This casserole is highly adaptable, so play around and build it like you would an actual burger. And if you have burger-eating teenagers, make two—it goes quickly. But if you happen to have leftovers, it will taste even better the next day, although make sure to replace the pickles with freshly diced ones.
On that note, this is also one of those dishes that holds up well when made two days in advance and reheated the day of. Just make sure the tomatoes and pickles go in the casserole right before serving.
. . . and pssst, this is great with an egg top for breakfast. But then again, I think bacon and a fried egg will make almost anything better.
Yield: 6
Cheeseburger Casserole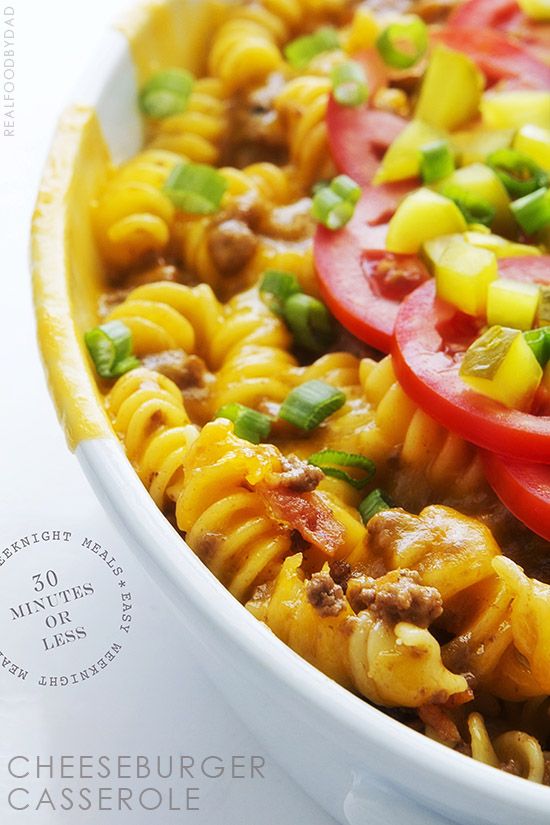 Prep Time 15 minutes

Cook Time 10 minutes

Total Time 25 minutes
Ingredients
3/4 lb. pasta, cooked
1 tablespoon canola oil
3 medium shallots diced
1 lb. 90% lean ground beef
salt and pepper to taste
5 slices bacon, cooked and crumbled
1/4 cup ketchup
2 tablespoons mustard
2 cups shredded sharp cheddar cheese
3 medium roma tomatoes, sliced
1 large Kosher pickle, diced
Instructions
Preparation: Heat oven to 350 degrees F. In a large skillet, heat the oil over medium heat. Stir in shallots and cook until soft, about 30 seconds. Stir in beef and cook until browned; season with salt and pepper. Stir in bacon, ketchup and mustard. Cook mixture for about 2-3 minutes or until thickened. Remove pan from heat and stir in 1 1/2 cup of sharp cheddar cheese.
Toss the meat mixture with the pasta and transfer it to a casserole pan. Top with remaining 1/2 cup of cheeseand bake until cheese is melted, about 7-10 minutes. Remove from oven and top with sliced tomatoes and diced pickles
**NOTES** (1) I don't like onions, so I use shallots. If you prefer onions, replace that portion with 1 cup of diced onions. (2) I topped the casserole with tomatoes, because not everyone in my home likes them, but feel free to dice up three roma tomatoes and fold them into the meat mixture.