If you tuned in on Monday, then you know I've kickstarted a series of  March Madness recipes. Here's another one for you: Cheesesteak Pinwheels!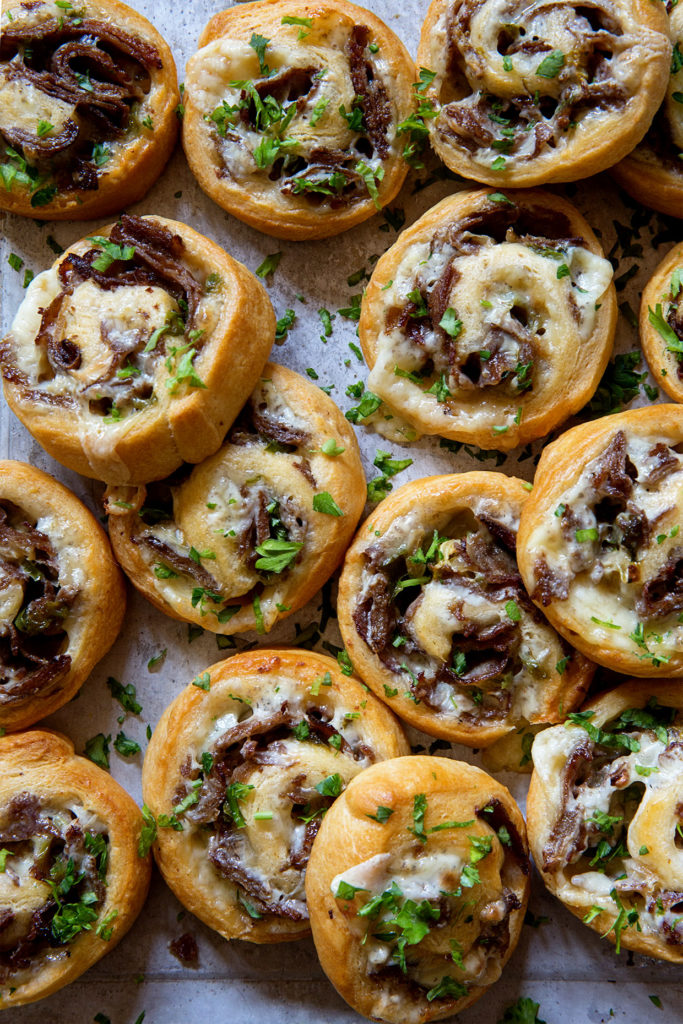 I'm predictable in that if I like something, I will find 101 ways to spin it–Philly Cheesesteaks are no exception. It's also a family favorite, so riffing, re-purposing, mashings–whatever you want to call it, it helps keeps things interesting for my boys.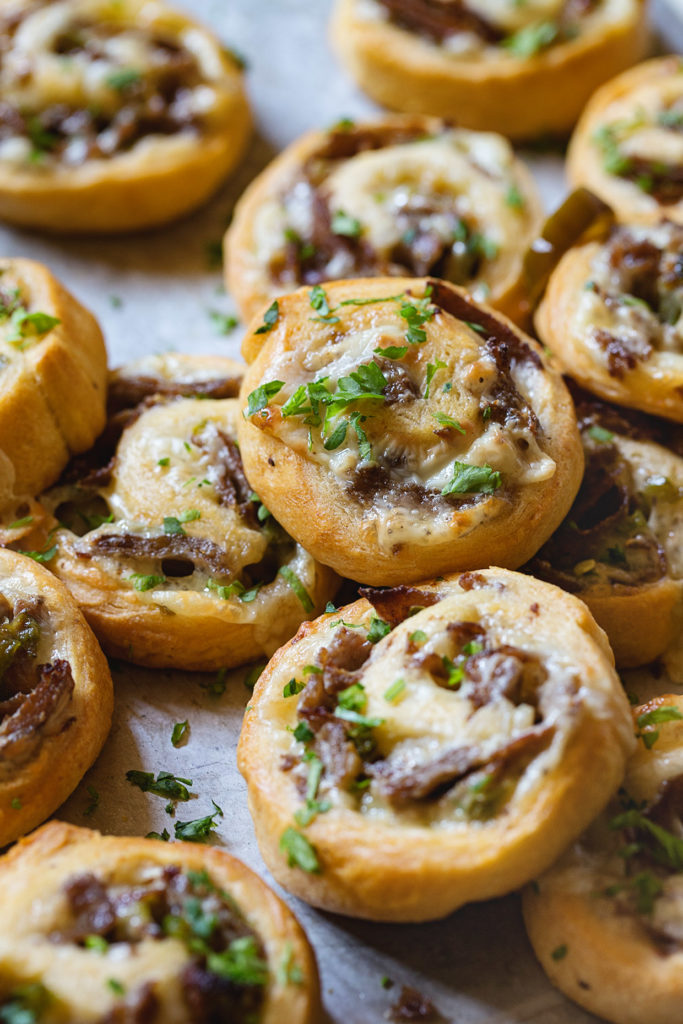 If anyone else has fun ways to spin Philly cheesesteak, I'd love to hear in the comment section. For that matter, if you have any fun riffs or mash-ups on classics, please share with the rest of us.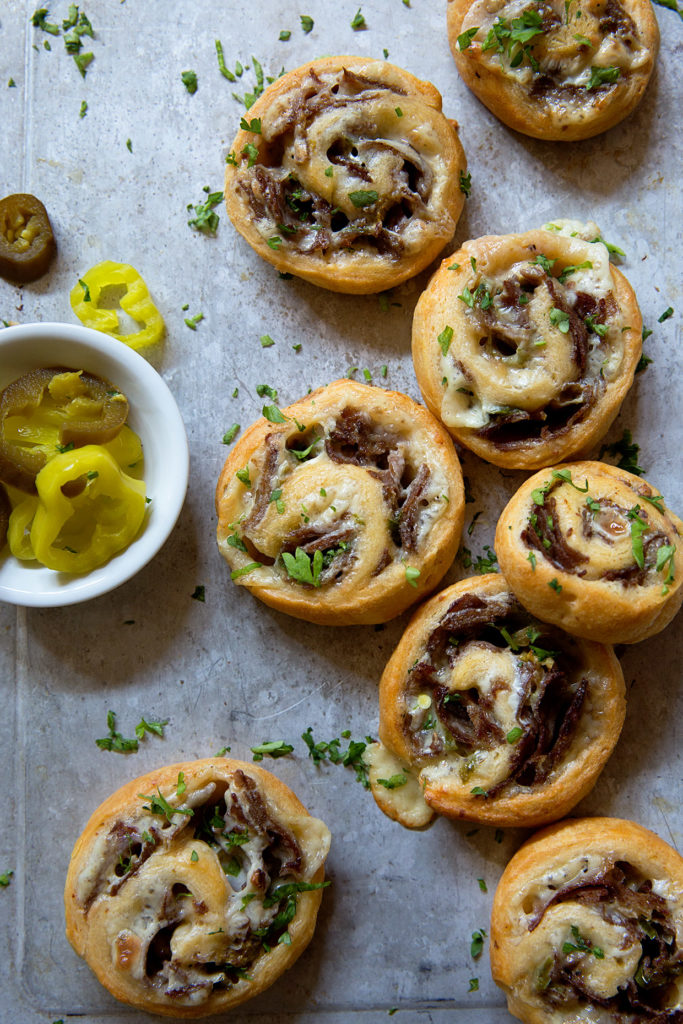 Cheesesteak Pinwheels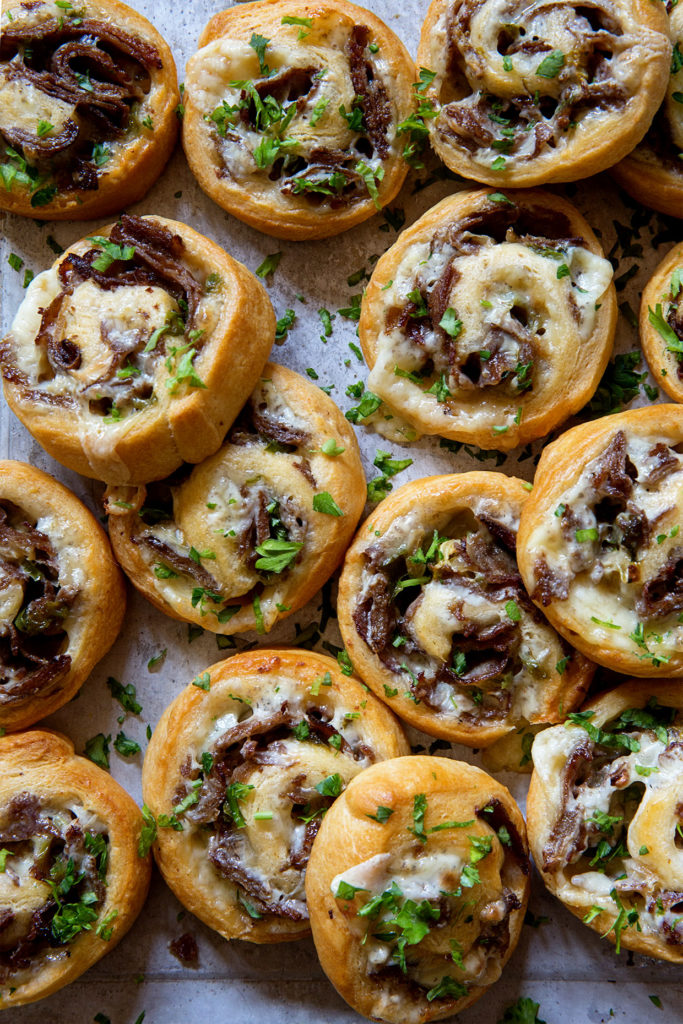 Ingredients
3 tablespoons butter
3 tablespoons olive oil
2 tablespoons sugar
2 onions, sliced
2 green bell peppers, sliced
1 lb. tri-tip meat, thinly sliced (or your preferred cut)
1/3 cup Rondele Garlic and Herb Spread (or cream cheese or a flavored cream cheese)
1 can Pilsbury Pizza Dough
6 slices provolone cheese
Instructions
Heat 1 tablespoon of butter and 2 tablespoons of olive oil in a skillet over medium-high heat. Add in onions and sprinkle with sugar on top, stir and cook until caramelized, about 10-12 minutes. Stir in bell peppers and cook until tender . Remove from pan and set aside
Add in remaining tablespoon of butter and olive oil. Stir in beef and cook until browned, about 5 minutes. Stir in Rondele cheese and remove from heat. Set meat aside to cool to warm, about 20 minutes.
Heat oven to 350 degrees F. Line a baking sheet with parchment paper.
Roll dough out and top with cheese. Layer with meat mixture. Starting at one long side edge start rolling towards the other long side to create a long log. Cut log into 3/4 inch slices. Place pinwheels on prepared baking sheet 2-inches apart. Bake at 350 degrees F until top are golden brown about 9-11 minutes. Remove from oven and allow to cool for 5-7 minutes before serving