I'm still on my tailgate food run and the season hasn't even started, but man am I going to be ready with all these burgers, here, here and here and nachos – here, here and here. Now I'm throwing this Carne Asada Taco Melt in the mix.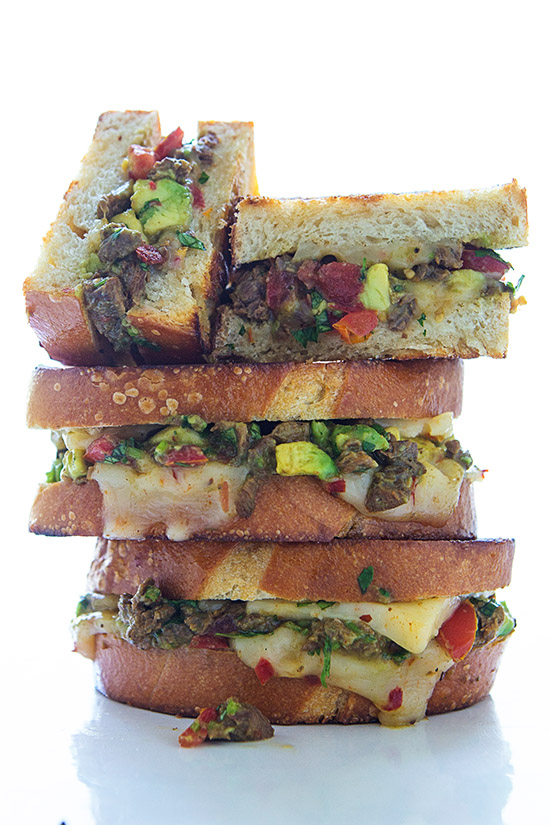 Sure, I could have just stuck with a traditional taco, but why?
Nope. Instead, I'm throwing grilled bread and ooey-gooey habanero cheese into it.
Don't get me wrong, tacos are a big thing around my home—but changing it up once in a while is a good thing. Especially, when it turns out as well as these melts did.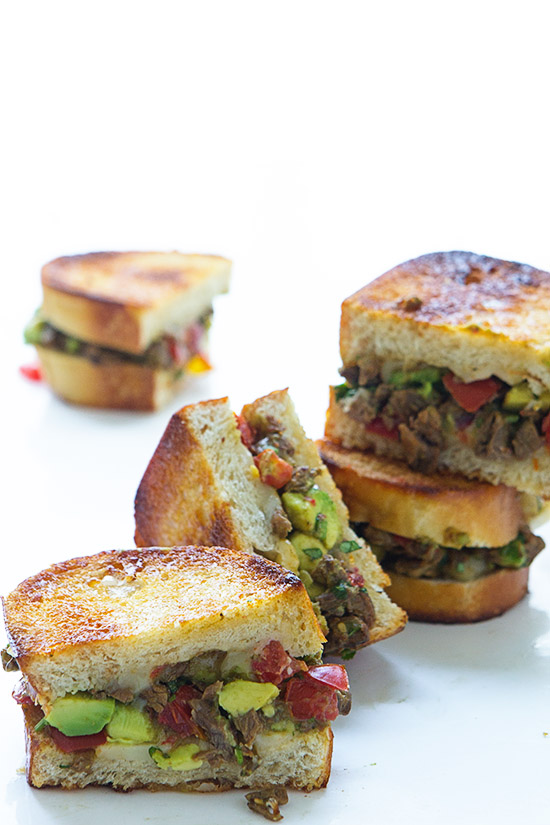 Yield: Makes 4 sandwiches
Carne Asada Taco Melt
Ingredients
1 lb skirt steak
2 garlic cloves, minced
1 jalapeno, minced
1 large handful fresh cilantro leaves, finely chopped
Kosher salt and freshly ground black pepper
1 limes, juiced
1/2 orange, juiced
1 tablespoon white vinegar
1/4 cup olive oil
Filling
1 1/4 cup diced vine ripened tomatoes, about 3 tomatoes
1 cup diced avocado, about avocados
1/4 cup cilantro finely chopped
Assembly
8 slices bread
8 slices of Tillamook Habanero Cheddar Cheese
Instructions
To make carne asada: In a blender combine and process garlic, jalapeno, cilantro, salt, and pepper to make a paste. Put the paste in a glass jar or plastic container. Add the lime juice, orange juice, vinegar, and oil. Shake well to combine. Place the steak in a baking dish and pour sauce on top. Transfer to refrigerate and let marinate for at least six hours.
Heat grill pan over medium-high heat. Brush the grates with a little oil. Remove steak from marinade and season both sides with salt and pepper. Grill the steak for 7 to 10 minutes per side, turning once, until medium-rare. Remove the steak to a cutting board and let it rest for 5 minutes to allow the juices to settle. Thinly slice the steak across the grain on a diagonal and then chop to 1/4-inch pieces.
To make filling: Toss carne asada with tomatoes, avocado and cilantro.
Assemble and cook: Spread 1 teaspoon of mayonnaise on outside of one slice. Place mayo side down and layer with a slice of cheese and filling. Place second slice of bread on top and spread another teaspoon of mayonnaise on top. Cook until golden brown, about 3 minutes. Flip until bread is golden brown and cheese is melted, about 3 minutes.

So yes, I insist that you give it a try—tailgating or not.