Pizza is a big deal in my home. My family will gladly eat a simple cheese or chicken pizza 2-3 times a week, but sometimes I need something more, something with a lot of protein and something full of flavor like this carne asada pizza.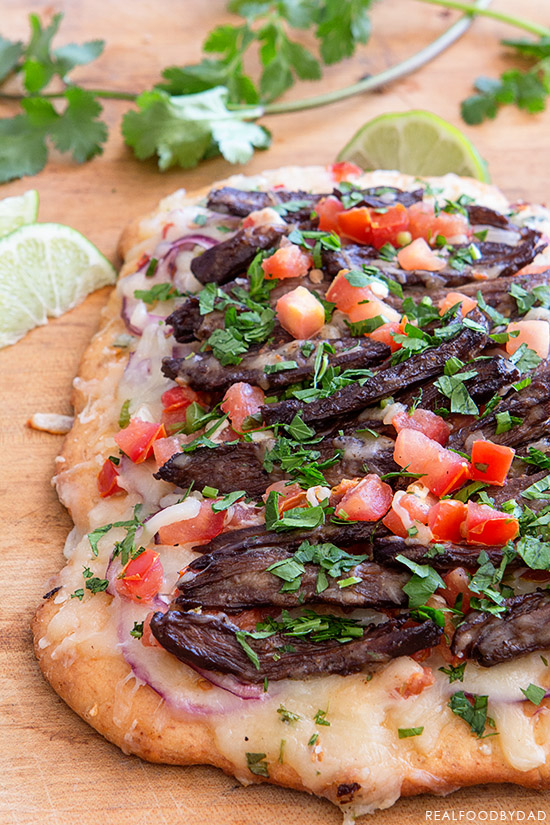 Now want to know my little secret to slicing razor thin steak pieces?
This is an important thing for a picky eater like me, because the wrong thinness or thickness can ruin a good thing by throwing off the texture ratio. You know what I mean, who wants to bite into a carne asada pizza and have the strips 1/2 inch thick vs. an 1/8 of an inch? Not me! That's too much meat-to-crust ratio. Know what I mean? Okay, so I might be splitting hairs, but if you do agree with me, here's the trick to cutting almost razor thin steak pieces—freeze it first, then slice it.
But there's one more caveat to this razor thin steak cutting routine—you are going to need a razor sharp knife. Don't try this with a dull knife or else you'll likely end up slicing a piece of your finger with the steak. And, well, that's not ideal.
There you have my not-so-secret-anymore trick to cutting super thin steak pieces. Now, get busy and enjoy your pizza.
Carne Asada Pizza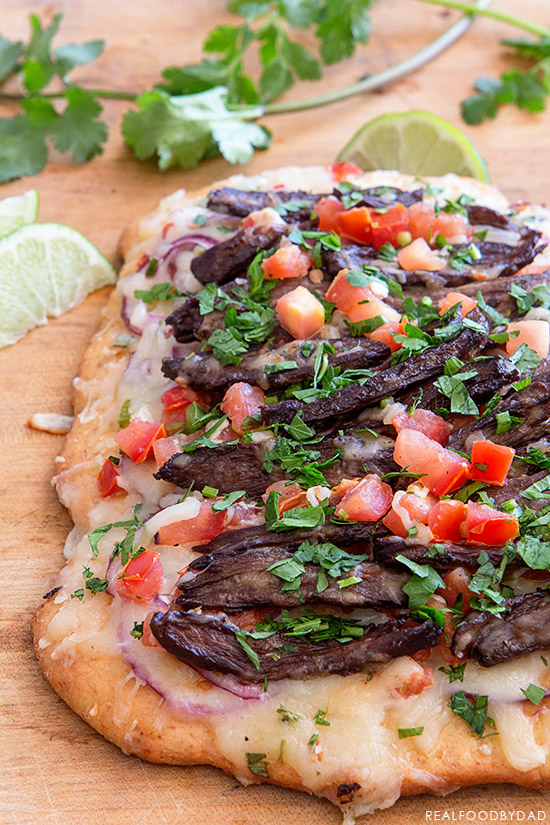 Ingredients
8 oz. skirt steak, sliced to 1/8 inch thin strips
1 tablespoon canola
2 tablespoon butter
1 teaspoon cumin
1/2 teaspoon cayenne
1/4 teaspoon chili powder
14 teaspoon salt
1/2 small red onion, cut into 1/8 inch rings
1 cup mozarella cheese
1/2 chunky salsa (your preferred brand), drained
2 tablespoons minced cilantro
Extra cilantro sprigs and limes for serving
Instructions
Preparation: Heat oven to 500 degrees F and place pizza steel or stone in lower third rack of oven.
Prepare pizza crust up to dough ball stage according to recipe here. . Set aside to make topping.
Toss skirt steak pieces in cumin, cayenne, chili powder and salt. Heat oil and butter in a large frying pan over medium-high heat. Add spice rubbed meat pieces to pan, stir and cook for 4-6 minutes. Set aside.
To roll out pizza dough, lightly grease a sheet of parchment paper with olive oil. Transfer 1 ball of dough to parchment. Stretch out dough by hand as much as possible, then lightly brush with olive oil, cover with another piece of parchment. Use a rolling pin and work from the middle of the dough outward to flatten dough to ¼ inch thickness. Peel off top parchment paper. Transfer dough with bottom parchment onto pizza steel or stone and bake for five minutes.
Remove pizza crust from oven and layer with onions rings, mozarella cheese, steak pieces, drained salsa. Return pizza to oven and cook for 7 minutes or until crust starts to turn a deep golden brown.
Remove finished pizza from oven and sprinkle with cilantro. Serve immediately with lime and extra salsa as preferred.